Part 3: What Are Some Of The Challenges Of An Intranet? (And How To Solve Them)
Intro: This is part 3 of a 4 part series on What is an Intranet and does my business need one? Part 1 covers the basics, with part 2 covers top benefits. Part 3 covers how to solve implementation challenges and best practices, our next part, part 4 covers how to implement an intranet. 
When you're thinking about how to implement an intranet network, it's essential to be aware of some of the key challenges that you might face.
Difficulty Finding Information
Any system is only as good as its input, so sometimes key information can be hard to find. To solve this, it pays to spend time up front identifying the information you'll have and how people are likely to search for it. That will help you start with an appropriate folder and tagging taxonomy.
Mobile Accessibility
Some intranet systems don't have great mobile interfaces. This is an issue, because work doesn't only happen in front of computers within an office. Google data shows that 75% of employees believe that smartphones enhance their productivity, and many executives and leaders share that view. So it's no surprise that many employees use personal devices for work. Work is done on the move, in coffee shops, in co-working spaces, and across many devices. Having an intranet system that can facilitate these nuances of remote and hybrid work is beneficial. Solve this by checking the demo and making this a deal breaker when talking to your intranet platform provider.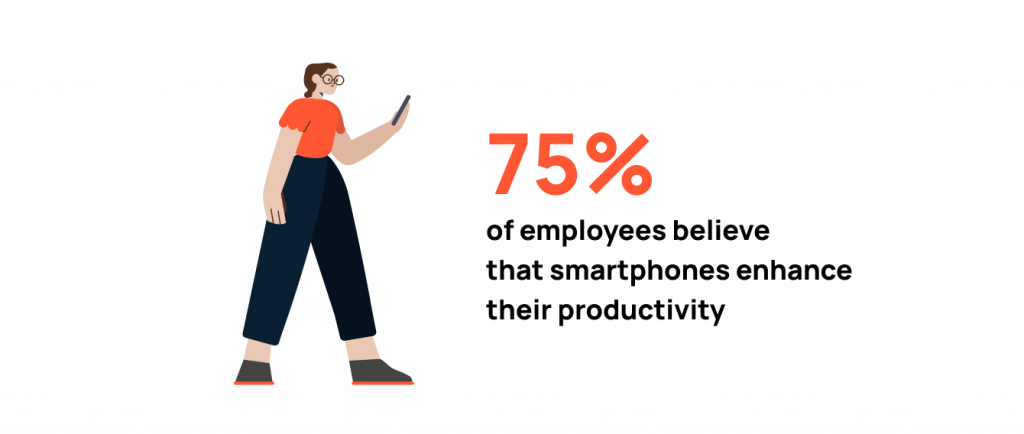 Outdated Content
Outdated content is another failure point for intranets. If people can't find the latest information when they need it, then they'll stop trusting and using the intranet. So, it's essential to have each department or an admin review content regularly and ensure it's up to date.
Slow Update Process
That said, cumbersome review processes are another possible point of failure, which create bottlenecks in getting updated content out there. It's essential to streamline the review and approval processes, so you can ensure that your intranet is reliable as a single source of truth for your organization.
Difficulty Getting Buy-In
According to research from Simpplr, the lack of executive buy-in is one of the main reasons why intranets fail. Getting team leaders to continuously use and show the value of the intranet creates a trickle-down effect so that everyone throughout the organization gets into the habit and culture of using it.
Poor User Experience
Simpplr also reveals that almost a quarter of intranets fail because the user experience is poor. It's a good idea to make information retrieval simple, which is something you can easily achieve with a URL shortener like GoLinks and an intuitive naming taxonomy. GoLinks is a link management platform that transforms companies' knowledge into short memorable urls and is great to use for managing knowledge. A majority of GoLinks clients use GoLinks within their intranets to direct users to key assets.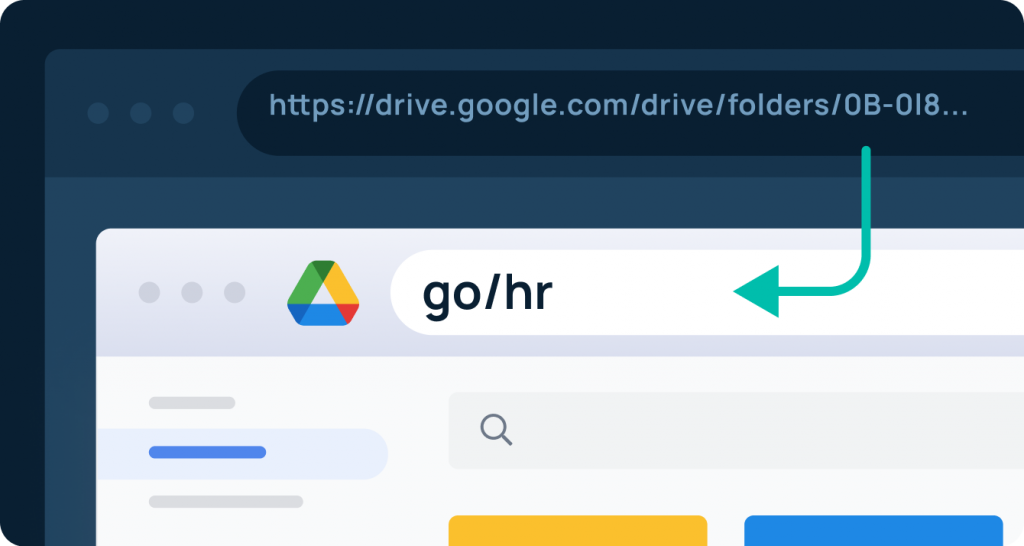 Best Practices For Implementing An Intranet
In addition to the solutions above, the following best practices for implementing intranet networks can make your rollout more successful.
Ensure The Intranet Is Easily Searchable
Searching your intranet must be super easy. Let's face it; most people aren't working inside your intranet, so they need to be able to get the information they need easily from wherever they're working and whatever tool they're using with just a couple of keystrokes. As mentioned above, integrating the GoLinks URL shortener is one way to make this happen. If employees know they can type "go/hr" or "go/it" to go to a landing page for the relevant departments, they don't need to remember complicated URLs. This removes one of the major barriers to intranet adoption.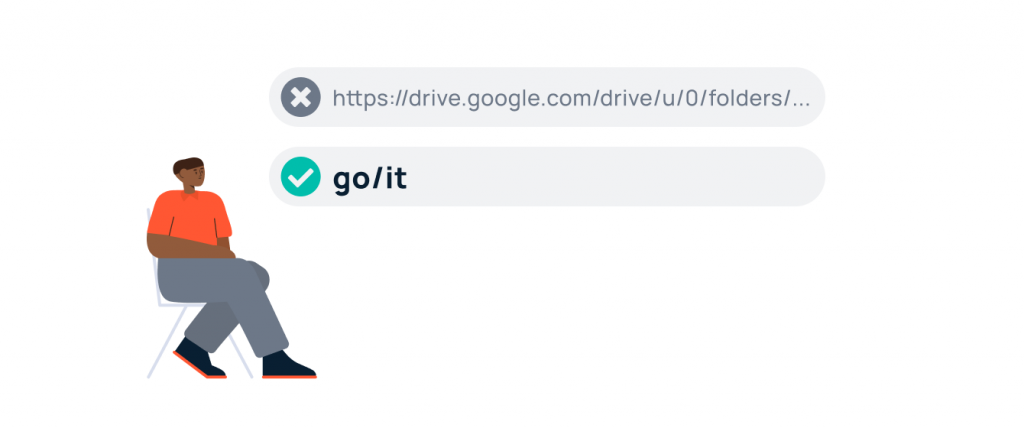 Promote Independence In Information Retrieval
Ever had a situation where you couldn't take action on something because a key person had the information you needed to proceed? That won't happen in a knowledge sharing culture with a reliable intranet. Instead, you'll have a culture where people can independently retrieve the information they need in a couple of clicks.
Keep Content Relevant And Trackable
It's worth repeating that to be useful, information has to be up-to-date and relevant. So implement a regular review process for content so that anyone who finds a piece of information can be sure that it is absolutely reliable. Most intranet solutions allow you to build in an approval process for new content (but remember to keep it streamlined).
Integrate Your Top Tools
Ensure that your chosen solution integrates with your favorite internal tools for communication, documentation, project management, and more. If you use Slack and Office 365, you'll probably be fine, but if you use less common tools, you might need to talk to your implementation partner.
Use Analytics
To make sure your intranet is really working, make sure you implement an analytics solution. This will tell you what content people are looking for and what they need but can't find. Over time, this will help you add what's needed to your intranet and remove anything that's not that useful.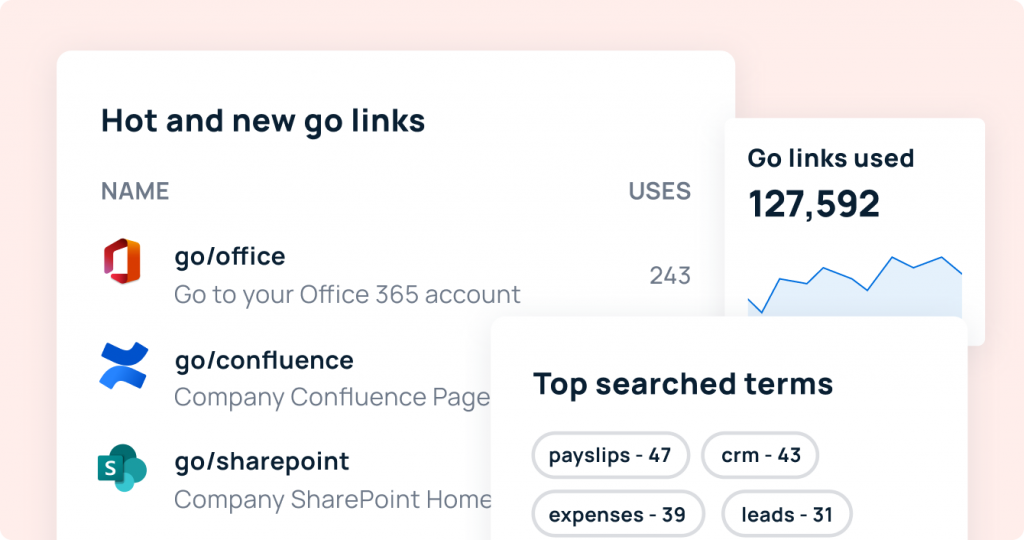 Conclusion:
Intranets require both an upfront investment due to the nature of uploading documents, but require minimal maintenance afterwards. Teams should focus on periodic reviews to ensure that knowledge is up to date. By following best practices like making intranets easily searchable, businesses can ensure that independent information retrieval—which is the backbone of success—will be maintained.
This concludes part 3 of our 4 part series on What is an Intranet and does my business need one? In part 4 we conclude with how to implement, as well as present a customer story on how a GoLinks client implemented their intranet.