Having the right information at your fingertips is key to success, whether you're chasing personal goals or professional wins. After all, with knowledge comes power.
In today's digital world, we're constantly surrounded by information — countless websites to explore, videos to view, and blogs to be skimmed for any given search.
This content can be helpful, but organizing and managing it can be challenging – especially during your workday. Time spent searching for notes, links, documents, or folders can quickly add up. On average, employees spend 9.3 hours every week tracking down and gathering information.

That's why many professionals are turning to personal knowledge management software. 
Personal Knowledge Management (PKM) is the way you collect, organize, and store your information – for quick and effortless searching, retrieval, editing, and future use. This helps boost your productivity and decision-making by creating a smooth process for handling the information you come across each day.
Knowledge management challenges for today's employees
Knowledge workers face many challenges and obstacles in today's workforce, from information overload and collaboration difficulties to adapting to remote and hybrid work environments.
Many daily tasks demand a lot of data and information, which can be overwhelming. This can quickly lead to information overload — causing a drop in your productivity and workflow. 
80% of global workers experience information overload.

Employees find it hard to organize and manage information, which slows down resource sharing and collaboration with peers. When you throw remote and hybrid teams with flexible schedules into the mix, these challenges can become more apparent. 
Enter personal knowledge management tools, the solution you need for these obstacles, and other key challenges in knowledge management.
The benefits of personal knowledge management software tools
Without a doubt, personal knowledge management is a must-have skill for thriving in the modern workplace.
While note-taking apps are commonly used methods, personal knowledge management apps offer even greater benefits. PKM tools like GoLinks are designed to quickly capture, organize, store, and recall information.
The result? Boosted productivity levels and a streamlined workflow.
Plus, quick access to information and resources boosts collaboration, fostering a culture of knowledge sharing among your team. With there being so many benefits of knowledge management, here are the best PKM software apps to try.

Personal knowledge management software – 10 amazing tools
1. Evernote
Evernote, one of many note-taking tools, assists users with note and task management. You can use it to create notes, assign tasks, and schedule them directly into Google Calendar.
How it works
As a more basic platform, the features are straightforward. Users have the ability to capture information by crafting notes using text, images, audio recordings, and more. You can then organize and find those notes using tags, internal linking, or filtering results.
For upcoming projects, you can assign tasks such as reminders and due dates to avoid missing important deadlines – while scheduling them directly into your Google Calendar.
Benefits
Centralized hub – Access information like notes, ideas, resources – all in one place.
Flexible notes – Goes beyond traditional note-taking, allowing users to import images, audio recordings, and web clippings into their central hub.
Project friendly – Ability to assign tasks and schedule projects directly into your Google Calendar instantly.
Easy to use – Evernote user-friendly interface and simple toolkit make it attractive to people new to knowledge management.
Although many tools below have much more powerful capabilities, Evernote is an excellent personal knowledge base software for beginners.
2. Microsoft OneNote
OneNote is a powerful digital note-taking software included in the Microsoft Office suite. Unlike Evernote, the software offers more helpful features, such as real-time collaborations and integrations.
How it works
OneNote is compatible with all media, allowing you to create notes using content like text, images, audio recordings, and drawings. Information is stored in notebooks, which can be categorized within sections and pages.
Benefits
Cross-device access – Automatically syncs notes across all devices, allowing you to retrieve up-to-date information when needed.
Structured organization – Categorizes notes within a notebook-section-page hierarchy, allowing convenient access to information when you need it.
Easy collaboration – Collaborate with team members in real-time – Peers can view and edit notes, making team projects easier.
Powerful integrations – OneNote integrates across Microsoft Teams, Outlook, and other third-party apps.
OneNote is a great choice if you're already familiar with PKM tools and are looking to take advantage of its Microsoft Office and third-party integrations!
3. Notion
Notion is an all-in-one workspace and productivity tool primarily used by team members. However, its combination of note-taking, task management, and database organization makes it ideal for personal knowledge management.
How it works
Notion offers a block-based interface, allowing you to easily create and organize content like text, images, to-do lists, and more. You can neatly organize and store this information using pages, sub-pages, and databases — within a structured hierarchy.
Benefits
Unified platform – Users can manage projects, jot down notes, monitor tasks, and store resources – all in one place.
Customized workspace – Store key information within pages, subpages, databases, and more. Then, tailor each element to match your unique workflow seamlessly.
Task management – Manage projects and tasks with ready-to-use kanboards, to-do lists, and due dates – helping you stay organized and on track.
Cross-platform access – Access Notion through your laptop, desktop, or mobile device, allowing you to work from anywhere.
Notion works if you're looking for a more flexible, all-in-one platform for multiple use cases. However, other options are available with less customization and a more structured approach to personal knowledge management.
4. Roam Research
Roam Research is a simple yet powerful note-taking and knowledge management tool. Users trust its "networked thought" approach for organizing and linking information. Its focus on long-term research makes it a top choice for academics and professionals across various fields.
How it works
Users start with the Daily Notes page, where they can write down notes, thoughts, and ideas for the day. This information can be linked to related notes or pages, creating a dynamic mind map of ideas and knowledge – empowering users to discover underlying connections.
Benefits
Explore insights – Roam Research helps users connect and explore ideas during their knowledge management process using their "Networked Thought" approach.
Precise organization – With block-level organization, users can quickly link and reference specific notes and pages – boosting clarity and allowing easy information navigation.
Smart summary – The progressive summarization feature assists users in uncovering essential insights within their notes, simplifying the process of gathering valuable information.
Roam is ideal for academics and people focused on long-term research. However, it may not be beneficial for those who need it for more research management purposes.
5. TiddlyWiki
TiddlyWiki is an open-source, customizable digital notebook in the form of an HTML file. It's built to capture, organize, and share complex information – which can be stored locally or on a web server.
How it works
The platform uses a modular structure called "tiddlers" to organize and store users' information. Users can seamlessly create, edit, and save information in the browser, simplifying the process of editing and updating content. Users also have complete control over the appearance and functionality of their TiddlyWiki files.
Benefits
Versatile – Use TiddlyWiki for various purposes like note-taking, task management, or knowledge organization.
Interconnect info – You can link and tag tiddlers together, nurturing a network of interconnected information to enhance insights.
Open-source – TiddlyWiki is open-source, which means it's continuously improved by the community with helpful updates and features.
Customization – Customize the structure, design, and functionality of your HTML file to suit your needs.
Tiddlywiki is a versatile, highly customizable, self-contained solution for managing and organizing information – making it one of the best PKM tools on the list.
6. Zotero
Zotero is an open-source, self-described "personal research assistant" designed to aid students and academics in gathering information, organizing knowledge, and sharing research. These helpful features make it a compelling choice for personal knowledge management.
How it works
Like other note-taking software, users can collect and import sources from various formats, including web pages, books, articles, and more. Users can categorize and manage this knowledge by using folders, assigning tags, or adding to a collection.
But what sets Zotero apart from other tools, is its ability to automatically extract metadata such as author names, publication dates, and titles – simplifying the citation process.
Benefits
Simplified source management – Zotero streamlines the process of collecting and managing research materials, ensuring users don't end up disorganized.
Helpful organization – With a simplified hierarchy structure and tagging system, users can stay organized and keep resources accessible.
Stay in Sync – Users' knowledge and information are cloud-synced, ensuring documents and resources are always available.
Time-saving – Zotero offers automatic citation creation and other time-saving features to increase workflow efficiency.
Zotero is an ideal choice for users seeking a knowledge management system tailored towards research. It goes beyond a normal text editor, providing essential Pkm management features and time-saving tools.
7. Google Keep
Google Keep isn't just another note-taking software – it offers many features and perks alongside storing and organizing knowledge.
How it works
The platform allows you to create digital notes from various media, including voice recordings. These notes are stored and represented as "cards," which users can categorize with labels or color-coding.
Benefits
Limited learning curve – Like many Google products, Keep is user-friendly and simple to use — allowing users to use it right away.
Set reminders- The reminder feature assists users with staying organized and prompting them to take action when needed.
Peer collaboration- Users can collaborate on shared notes and lists with friends, peers, or colleagues.
Google family- Keep integrates seamlessly with Google products like Docs, Drive, and Calendar – boosting user workflow.
8. Bear
Bear is designed for a distraction-free writing and note-taking experience. It's favored for its clean, minimalist interface and markdown note features.
How it works
In Bear, users have the freedom to create notes using plain text, rich text, or markdown, a markup language that allows you to format text with ease. Notes can be stored and organized using tags, nested tags, and a folder structure –- making knowledge retrieval a breeze.
Benefits
Simple interface – Bear's simple, clean interface minimizes clutter – creating a distraction-free note-taking experience.
Markdown files – Using the app's markdown feature, users can format and structure notes with readability and clarity.
Focus mode – With focus mode, you can free yourself from visual distractions and concentrate on specific sections (or paragraphs).
Privacy – With end-to-end encryption, knowledge and information are always kept private.
9. Obsidian
Obsidian is a note-taking software that organizes and stores knowledge with a "linking of thoughts" approach – helping you create, organize, and establish relationships between your ideas.
How it works
Obsidian, like Bear, uses markdown for note creation and formatting. However, the platform is set apart by its bi-directional linking feature, enabling you to establish connections between notes and explore ideas further.
This data is stored locally and can be customized to suit your workflow desires.
Benefits
Linked knowledge – With Obsidian's bi-directional linking and graph view, you'll boost your ability to uncover connections between notes and ideas – enriching your knowledge.
Markdown support – Format your notes and easily create rich content using markup.
Offline access – Notes are stored locally, ensuring you can access them wherever you are, whenever you want.
Community and plugins – Obsidian's active community continually develops useful plugins, allowing it to meet your needs.
10. GoLinks: Simplifying link management and access
GoLinks is a powerful tool designed to simplify information access and sharing – while boosting your workflow productivity.
Golinks allows users to create short, memorable go-links that bring you directly to websites, documents, and resources instantly.
How it works
With GoLinks, you can create memorable short links to resources that are easy to recall and share. These go links are stored within a searchable repository, making it easy to locate and access information quickly.
Benefits
Instant resource access – GoLinks gives you instant access to websites, documents, and other resources – without having to search for a URL again!
Searchable repository – All of your go links are stored within a searchable repository, ensuring quick information retrieval – without the hassle of bookmarks or files!
Customization – Customize your go links with preferred naming conventions and keywords, tailoring each go link to your pkm needs!
Team collaboration – Enhance knowledge sharing and access to vital resources for your entire team – taking collaboration to the next level.
Try GoLinks for free today! Enjoy instant resource access, enhanced workflows, and improved knowledge sharing.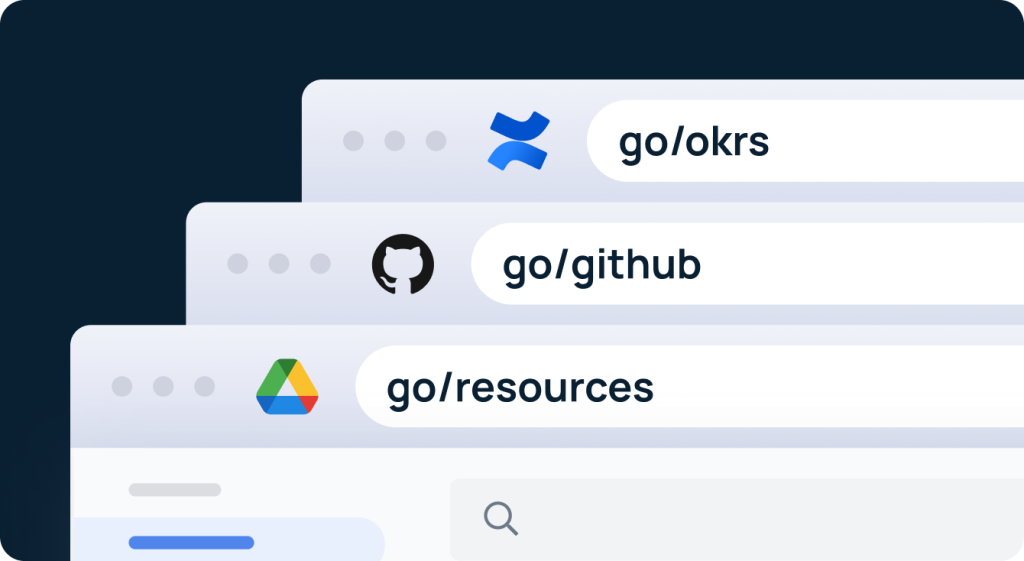 Selecting the right personal knowledge management software for your needs
Choosing the best personal knowledge management system can take your knowledge organization and access to new heights. Here are some factors to consider when making a choice:
Review your workflow and knowledge requirements
Begin by accessing your unique workflow and knowledge management needs. Understanding how you work and the type of information you deal with will help you find a tool that fits your needs.
Consider essential personal knowledge management software features
Ask yourself what features are most important for you. Is collaboration with others essential, or do you work alone? Do you need information synced across devices? These are a few questions to consider when deciding what software to use.
Evaluate learning curve
A simple user interface and ease of use are key. The tool should make capturing, organizing, and retrieving information easy. If the tool is too complex, it may be challenging to get the most out of it.
Improve personal knowledge management with GoLinks
Knowledge management is often challenging, but it doesn't have to be. The right personal knowledge management software can transform the way you find, store, and share information. Ready to get started? Try GoLinks for free to improve your knowledge management and streamline resource access.