In today's world of information overload, hybrid work environments, and departmental silos, the benefits of knowledge management tools are needed more than ever. Mckinsey found that the average worker spends nearly 20% of their workweek tracking down information, and as you can imagine, this results in a lot of lost dollars.
Without proper knowledge management processes, your team may find themselves…
Taking 2 minutes to find a document that they forgot the URL to.
Taking 10 minutes to track down a colleague who has the information they need.
Taking 30 minutes to create a new process that someone else has already outlined.
These wasted moments add up fast.
That's where knowledge management tools come into play, helping organizations with knowledge creation, knowledge transfer and ultimately setting teams up for optimal performance and success. In this article, we're going to cover the benefits of knowledge management and how the right tools can help you:
Increase Team Productivity
Eliminate Redundant Effort
Break Down Cross-Departmental Knowledge Silos
Improve Remote & Hybrid Work Processes
Streamline Onboarding and Training
Prevent Tacit Knowledge and Explicit Knowledge Loss During Turnover and Reductions
Ignite Innovation and Growth
Improve Overall Employee Experience and Engagement
Let's dive in!
1. Increase Team Productivity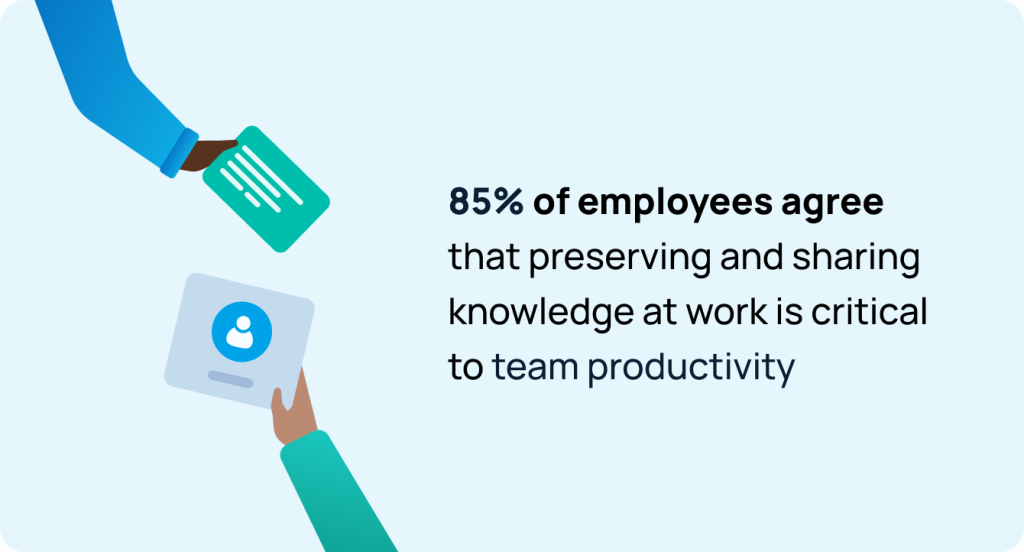 85% of employees agree that preserving and sharing unique knowledge in the workplace is critical to increasing team productivity, according to this Panopto Report. Fortunately, one of the significant benefits of knowledge management is the ability to save and share information seamlessly. When modern knowledge management tools and processes are set in place, employees can easily access all the resources they need to make informed decisions and successfully problem-solve. Suddenly the 2 minutes they typically take to find a document becomes 5 seconds, and the 10 minutes they take to track down new information takes 1 minute.
2. Eliminate Redundant Effort
Have you ever unknowingly created a document or a process already established by someone else on your team? We know from personal experience that this can be incredibly frustrating! Without one centralized knowledge base, new employees (and sometimes even experienced employees) may not know what information already exists and might not have access to it. One of the best preventative measures you can take to reduce redundant effort is to implement knowledge management. By making internal knowledge sharing simple and intuitive, employees will be significantly less likely to waste time duplicating work.
3. Break Down Cross-Departmental Knowledge Silos
What exactly are cross-departmental knowledge silos? They occur when departments in your organization have different systems and tools for sharing information. If employees don't take the time and effort to share knowledge across the other department's platforms, knowledge silos start to occur.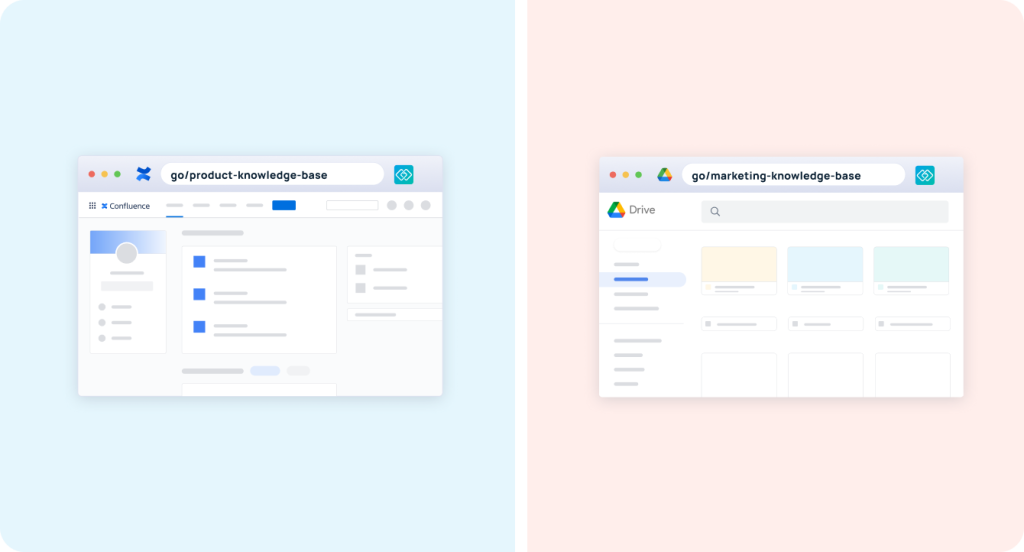 For example, your marketing team may store information in google, while your product team may use confluence. Unless these teams intentionally communicate and share between platforms, silos will become a problem. These silos can drastically inhibit collaboration and, over time, lead to a lack of company alignment. By implementing easily adoptable knowledge management systems, teams can find and share information, no matter their platforms. 

4. Improve Remote and Hybrid Work Processes
It's no secret that remote and hybrid work models are becoming the new normal. Upwork predicts that 36.2 million US workers will be remote in 2025. With employees spread across the US, maybe even the world, team members may find themselves frequently waiting to hear back from colleagues in different time zones. Perhaps they need to know the name of a particular tool, or maybe they need access to data in order to make a well-informed decision. Whatever it may be, waiting an hour or more for the information required to finish a project is frustrating.
Knowledge sharing solves this problem by removing the middle man and streamlining search processes. Rather than waiting to hear back from a coworker, employees are empowered to quickly find resources on their own and work asynchronously. Discover more knowledge management benefits in our blog: Why Knowledge Management is Critical for Remote Hires.
5. Streamline Onboarding and Training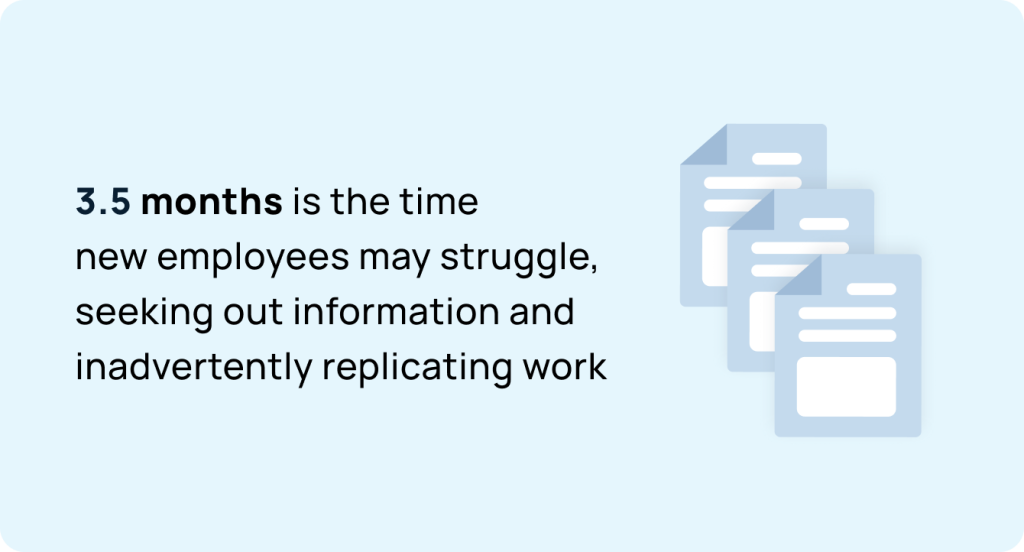 It's not easy to reprogram our brains as we start a new job to remember all the tools and links we need on a daily basis. A report by Panopto found that employees may struggle for up to 3.5 months, seeking out information and inadvertently replicating work. Additionally, it can take a lot of a manager's time to compile lists of resources for new employees.
The key to making this transition easier is to use knowledge management tools that make information intuitive to find. For example, the GoLinks knowledge management tool makes any URL intuitive to find by shortening them to one word or phrase. A company could use go/benefits as the link to their benefits summary or go/onboarding as a link to all their onboarding resources. So even if a new employee forgets an exact link or tool, they should be able to find it by searching for a word or phrase.

6. Prevent Knowledge Loss During Turnover and Reductions
With the great resignation of 2021 and the economic downturn in 2022, many companies have recently experienced significant turnover or workforce reductions. Unfortunately, this loss of key employees often wreaks havoc on productivity. Panapto found that 81% of employees state that knowledge gained from hands-on experience is the hardest to replace once lost. On top of that, in companies with higher turnover rates, employees were 65% more likely to state that it could be "very difficult" to get the information they needed to do their jobs well.
On a positive note, it can be easy to prevent this implicit knowledge loss when employees leave with the help of knowledge management! When the right processes and tools are established to preserve know-how, your company can keep projects moving forward, no matter the circumstances.
7. Ignite Innovation and Growth
I think we can all agree that collaboration and idea sharing help fuel growth and innovation. But the reality is, we don't always have time to hop on a meeting and brainstorm or share our unique past experiences. You've probably noticed that on days full of high-priority tasks and essential meetings, brainstorming falls to the back-burner.
Knowledge management helps you solve this by facilitating idea sharing outside of in-person meetings. It allows your team to organize recorded data and thoughts in a way that's easily accessible. For instance, let's say a company wants to launch a brand new product. This takes ongoing planning, and not everyone can make weekly meetings. Using a knowledge management tool, the team can view and add ideas anytime without information becoming scattered.
8. Improve Overall Employee Experience and Engagement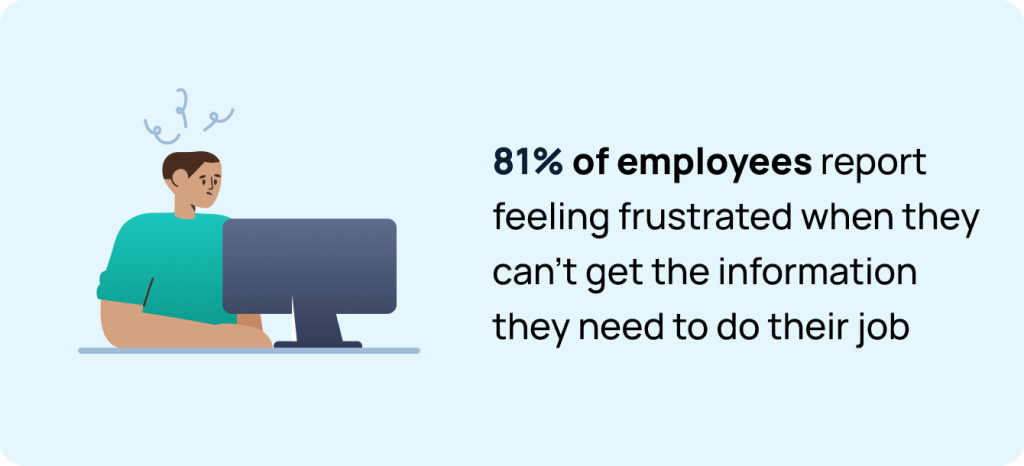 The benefits of knowledge management go beyond saving time, money, and effort. They can even change employee morale. For example, Panapto found that 81% of employees report feeling frustrated when they can't get the information they need to do their job. This frustration can quickly lead to a culture of complaining, dissatisfaction, and ultimately, high turnover. Knowledge management tools can help companies cultivate more open and transparent organizational cultures by making information readily available.
How to Start Implementing Knowledge Management
Knowledge management is often an afterthought for fast-paced, quickly growing companies. However, if you want to empower your teams to do their best work, you need to aggregate knowledge bases and make it easy to store, manage, and share information. Now that you know the benefits of knowledge management, are you ready to get these processes set in place? Here are a few additional resources to help you get started:
Access and Share Resources Seamlessly with GoLinks.