With over 80% of MAUs, read how Instacart leverages GoLinks to save over 1000 hours per month.
About Instacart
Instacart is an online grocery marketplace that lets customers buy groceries online and have someone deliver them to their doorstep in as fast as an hour. Instacart partners with the most popular national and regional retailers, such as Albertsons, ALDI, Costco, CVS, Kroger, Loblaw, Publix, Sam's Club, Sprouts, and Wegmans, among others. The Instacart marketplace touts more than 300 retailers and trusted local grocers that customers love.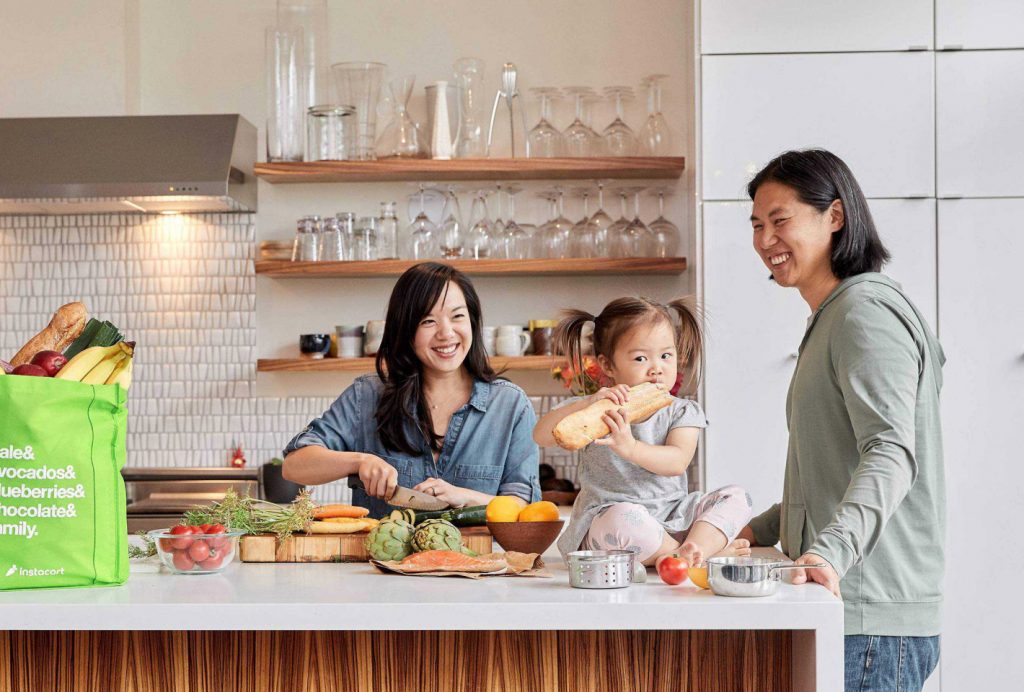 Goal of integrating GoLinks
Instacart was looking to improve their employee experience and wanted to improve access to information. By allowing access to all resources company-wide Instacart wanted to foster a culture of knowledge sharing and discovery. "A key insight for me was when [I saw] that anyone could create a go link and then [it] essentially helps you understand what documents and links people care about and what's being shared," says Instacart Founder, Max Mullen.
Solution
While Instacart's IT team had prior experience with homegrown go link systems from previous companies, they were seeking a solution that is easy to roll out, didn't require on-prem access to use, and had built-in security to make it a perfect fit. GoLinks Enterprise also allowed Instacart to quickly scale their user base as they add more staff. Also, with the help of the GoLinks support team, Instacart's IT team was able to get up and running in less than 2 hours.
Part of improving the Instacart employee experience was in regards to 2 key areas; onboarding new hires, and knowledge discovery. They are so embedded in the culture of Instacart that "it's a household name." Instacart has widespread adoption amongst staff according to IT Project Manager, Jack Canio.
Onboarding new hires
When a new employee is onboarded, they are immediately introduced to GoLinks. This ensures that as Instacart continues to grow its team, it will keep adoption rates high. A benefit of having high usage is it naturally allows staff to get the immediate benefits of using go links; they'll be able to search for documents to assist them with efficiently getting up to speed. The other is that it continues to improve knowledge discovery; as new team members develop new documents it ensures that everyone has access to these.
These are some go links used during the onboarding experience:
go/wiki → Confluence wiki
go/benefits → Employee benefits doc
go/[group] → Specific Employee Resource Groups
go/returntooffice → Updates on plans in returning to the office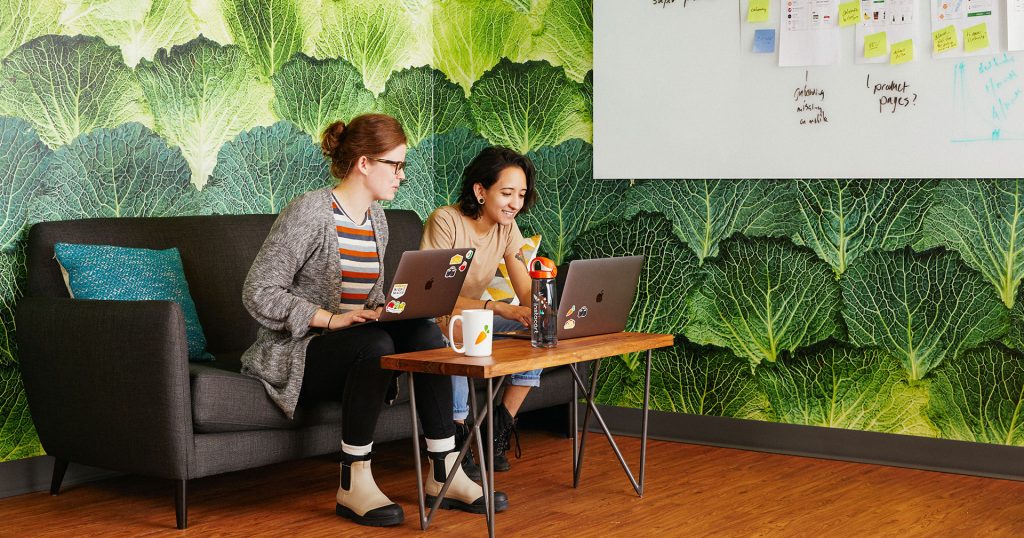 Increasing organic knowledge discovery
Instacart wants to increase accessibility to their resources; whether they're documents or tools that they need to do their job efficiently and effectively; the larger goal is to increase knowledge discovery. By using GoLinks, they're able to ensure this through features like trending go links; the most popular go links bubble up to the top of the GoLinks dashboard to help expose commonly-used resources. This is a key GoLinks feature that Max likes. Another feature that supports this goal is analytics; users can quickly see the activity of the entire workspace, helping to discover high-value tools.
Employees have found GoLinks to be great in reducing the time they spend searching for information. Instacart uses short go links for as many assets as possible.
By using GoLinks, Instacart employees are able to instantly retrieve information from their entire tech stack. Whether it's a document in Confluence, Instacart's primary knowledge base, or finding resources in the individual users' or a shared team Google Drive, the reduction in searching for information has greatly improved the employee experience. The team also notes that SaaS tools are more efficient by using go links. There is more utility in the SaaS tools because they are now much easier to access and share, especially resources that may live deep within the tool. For a few examples:
go/knowledge-base
go/playbook
go/org
go/github
go/quarterly-review
As a new hire, Jack Canio was immediately introduced to GoLinks during onboarding and training. Jack has found it to be especially helpful for cutting downtime in searching for documents. "GoLinks is an easier way to access information rather than having to dig into places. It makes information instantly available versus having to search." He really liked the convenience of it and as the use of GoLinks is embedded in the company culture, it made resource discovery easier.
Improving IT support experience
One element of improving the employee experience pertains to IT support requests; the process is automated through a help desk bot in a slack channel. Some instances where GoLinks improves Instacart's IT experience are for action-oriented tasks:
To submit IT bot help desk tickets:

go/it is located on their Slack channel to submit a query, the bot will try to resolve common problems and will direct users to a go link if a solution is there. If not a ticket will be created.
IT embeds go/it in the signature of emails

For security training: go/securitytraining
Help desk articles will contain go links to help users quickly resolve common problems, saving the Instacart team valuable time by having great recall should the problem arise again.
Jack describes how if go links weren't there, staff would have to rely on search which yields many results, and then this would still require employees to sift through each result to find the information they need.
"Having that [go link] for everyone just to click on or type into the search bar is more convenient than going into a wiki, searching for articles, and trying to figure out which to click on. Nine times out of 10, when you search in a Confluence, a slew of links pop up and you're just like 'okay, which one is it?"
"If I had a go link, it would direct me straight to the thing I'm looking for."
With a focus on improving efficiency and fostering a culture of knowledge sharing it's clear why GoLinks is a household name at Instacart, and why they continue to be a market leader. With the adoption of GoLinks, Instacart's staff are empowered with knowledge to do their jobs more efficiently. If you're looking to drive productivity and meet your business objectives in 2021; check out golinks.io and try it for free today.
Curious to see how GoLinks can work for you?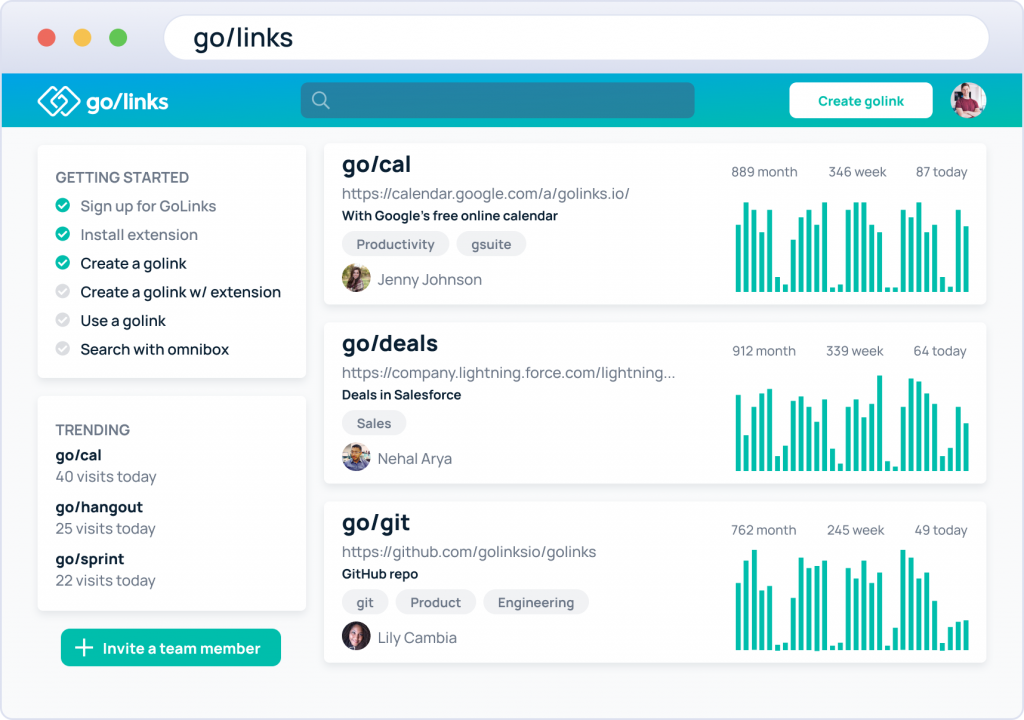 GoLinks is the choice for companies looking to drive productivity and meet their business goals in 2021. If GoLinks sounds like the knowledge-sharing tool for you, fill out this form to request a demo.