Building a good base of initial go links is crucial to having a successful adoption of go links at your company. In this post, we'll go over some popular go links to get started with.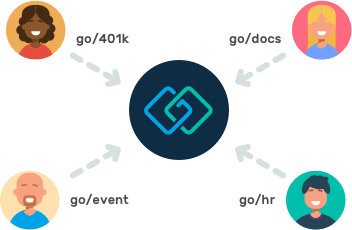 In the beginning, creating those first few go links does take some thought because the possibilities are endless. Each company is different, and the go links that are popular at your company will be different from another company depending on the size of the company and industry.
Here are a few guidelines and tips to help you get started when creating those first few go links.
💡Not sure how to create a go link? Watch this:
When creating the initial set of base go links, remember these tips
Keep it short
Make it memorable
Be general
A good example is go/docs. It's short, easy to remember and can be used by everyone.
A bad example is go/microsoft-word-document. It's long, hard to remember, and is not general. If your company one day wants to switch from Microsoft Office to Google Docs, everyone will need to remember a new link. But with go/docs the go link can stay the same but the URL can change.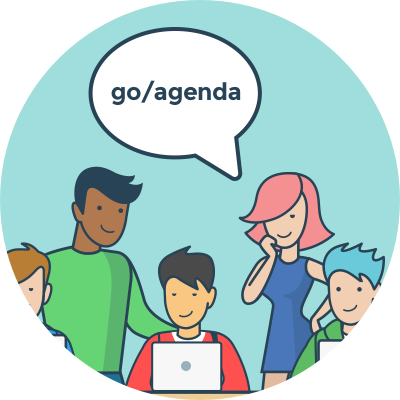 Need some ideas?
If you're new to the company, find someone who can help champion the effort of building out the initial go links. Someone who's been with the company often, and knows which tools and websites employees access the most.
Here is a list of the most popular go links we've seen companies use to get started, and you should use them too!
New Hire
When new employees are joining the company, there are a ton of questions they will have about how to get started. Giving them a go/link to find all that information is a great tool for onboarding
Org Chart
Another highly used go link we see is for organizational charts. People want to know who someone is, and how to contact them.
Communications
Quickly accessing your email, calendar, notes or docs, are great uses for go links.
Travel
Employees want to know which holidays they get off so they can plan their vacations. Also useful for tracking employee expenses on business trips.
Food
This is by far the most popular used go/link at most companies. Employees want to know what's for lunch!
Goals
Tracking quarterly goals, and personal goals are a key strategy for most companies, and getting to those goals quickly is a benefit of go links!
Task Manager
Daily tasks that product managers and individual contributors need to access all the time become very popular go links. Fun Fact, go/jira is the most used go link across all companies (Probably because the JIRA URLs are so complicated!)
IT
Having computer problems? Employees need a quick way to contact IT and make sure they get their computers back up and running.
Benefits
For those few times a year, like open enrollment or tax season, employees want to be able to quickly access their benefits and paychecks!
Engineering
Engineering departments are by far the biggest users of go links, maybe because they deal with complicated URLs all day, and prefer the terminal-like aspect of GoLinks.
Recruiting
Recruiters seem to be the second biggest users of go links, and here are some popular links.
What are some popular go links that your company uses often?
Looking to bring GoLinks to your company? Get started today at https://www.golinks.io/