The average company has a whopping 254 different applications available for its employees. That avalanche of technology tools can be overwhelming for workers, but perhaps even more pressing—it can be a major expense for employers.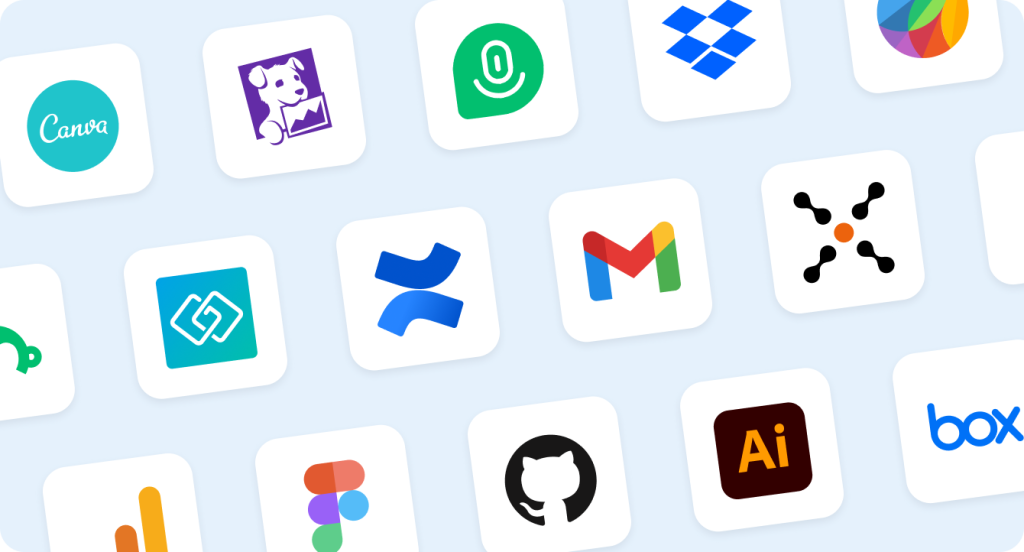 With a potential recession looming large in everybody's mind, many companies are finding ways to tighten their belts and do more with less. One way that they can cut some costs (without reducing their workforce)? Effective SaaS spend management.
What Is SaaS Spend Management?
SaaS spend management is the process of understanding, controlling, and monitoring the amount of money you invest in the various software platforms and technology tools for your team.
Particularly as remote and hybrid working continue to reign supreme, research shows that the state of SaaS in 2022 is overwhelmingly positive—especially since adoption of digital technologies on work teams has continued to climb at record-breaking levels.
When they're implemented thoughtfully, those various software tools and platforms can give major boosts to productivity and collaboration. But, if you aren't mindful, spending on them can quickly snowball out of control.
How to Audit Your SaaS Stack
So, how can you figure out which tools are worth investing in—and what ones should hit the chopping block as you shift your budget to ride the waves of the current economic climate?
When you want to figure out how to optimize SaaS spend, the best place to start is with an audit of your current tools. Your goal is to understand all of the software you're currently paying for as well as how it's being used. Here are a few quick steps to follow.
1. Create a Simple Spreadsheet
First things first, you need a place to organize and store all of the information you find. Keep it simple by creating a spreadsheet with the following columns:
Tool: Name of the tool
Cost: How much you're paying
Billing terms: Whether you're paying monthly, annually, per user, etc.
Paid through: How long you can keep using the tool from your last payment
Who uses it: What specific departments or team members use the tool
Need: What need this tool fulfills within your organization
Last used: When the tool was last used or accessed
As you identify all of the software your team is using, you can list it in your spreadsheet along with all of the relevant information you'll want to be able to reference later.
2. Plot Your Software Tools
Now you need to find all of the tools you're currently paying for (yes, every single last one) and plot them on your spreadsheet.
If you're worried about missing some, take a look at your expense statements to see any software that's listed there.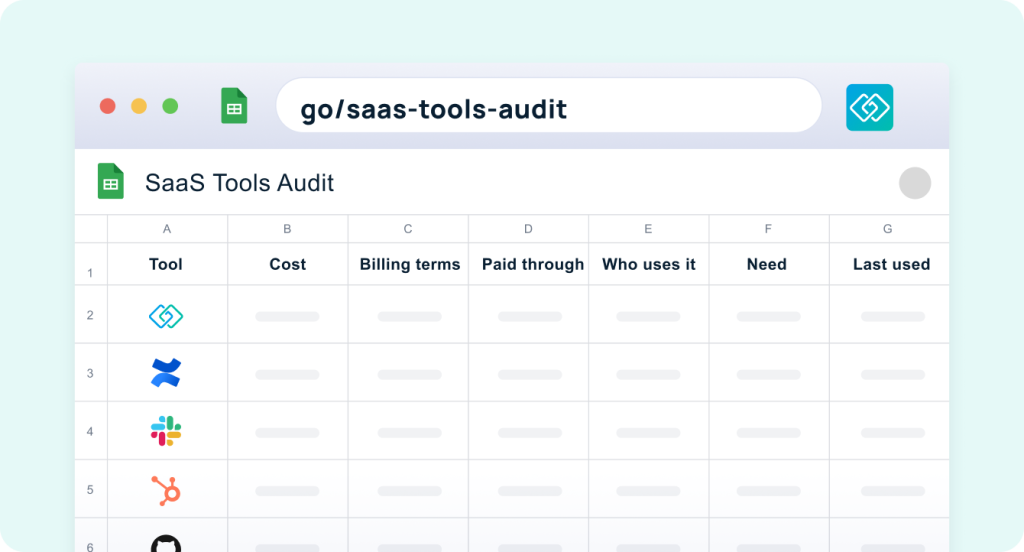 3. Solicit Feedback
With your spreadsheet filled out, you might immediately see some tools that you're paying for that are completely forgotten, but before you start deactivating accounts, it's important to collect feedback.
You shouldn't make these decisions alone, particularly since you won't have insight into how every tool is being used. For example, one team might not have touched a tool in months, but that's because they only need to use it at certain points in the year.
Even with other people chiming in, it can also be helpful to support your evaluation with some data. GoLinks will show you when a new tool is connected or featured in a go link, so you can stay on top of what SaaS your team is using.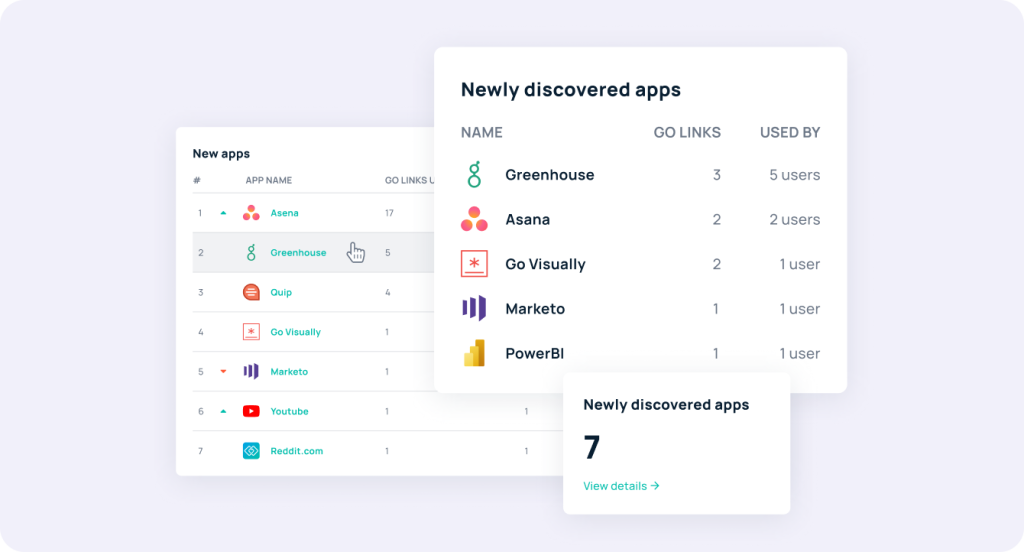 4. Address Unmet Needs
Auditing your tech stack isn't only about determining what tools need to go—you should also figure out if there are any others you need to bring on.
As you connect with team members for feedback, ask if there are any current or future needs that aren't being met with your existing technology solutions.
When 91% of employees admit that they're frustrated by inadequate workplace technology, this is your chance to build and refine a tech stack that best serves your team.
5 Helpful SaaS Spend Management Strategies
Armed with your spreadsheet, you're ready to make some hard decisions for better control of your SaaS spend. But, what tactics can you actually implement to keep your software expenses under control? Here are a few tips.
1. Eliminate Any Unused Tools
The first strategy is the easiest one: Get rid of any tools that aren't actively being used.
You might be surprised by how many immediately fall into this category, but research shows that less than half of employees are regularly using the tools that are available to them.
Maybe some tools were rolled out for specific projects six months ago but are no longer needed on a regular basis. Or perhaps you're still paying for a tool that has since been replaced by something better. Those are ones you can easily slash.
2. Understand All of the Features of Current Tools
Your team might have such a huge array of tools because they lack familiarity with the full capabilities and feature sets of the ones they're using.
For any tools you keep, make sure that you watch demos and tutorials, participate in trainings, and read best practices to get in-depth knowledge of everything that it can do.
That'll be helpful for identifying any overlap between tools (more on that next!) and getting rid of the ones that aren't needed.
3. Remove Any Redundant Tools
Technology tools are becoming more and more comprehensive, which means you're bound to spot some redundancies between various tools you're paying for.
For example, are you paying for a time tracker but realize that your project management software already has one built in? Now you know you can easily eliminate the time tracker and get that same functionality elsewhere.
4. Step Down to a Lower Permissions Level
Some software solutions and tools price based on the number of users, which is why it's helpful to figure out who's using what during your audit.
You might be paying for 50+ user licenses but realize that only 10 people on your team need to use that tool. Check to see if you can step down to a different plan or permissions level and save some money.
5. Change Your Billing Terms
If there's a tool that you intend to keep using, it's worth checking out the billing terms to see if you can reduce your costs that way.
Many platforms offer a discount for paying annually instead of monthly. And, if you're confident the software is something your team will continue using for the long haul, paying the larger chunk upfront can reduce your expenses without eliminating the tool.
Is There SaaS Spend Management Software?
Auditing and controlling your SaaS spend might seem daunting, but it doesn't have to be.
GoLinks shows you your top-used go links so you can see what apps are being used and what ones are forgotten. That can help you make confident decisions about your tech stack and your spending. The analytics add-on can help you dig even deeper into your most-accessed apps.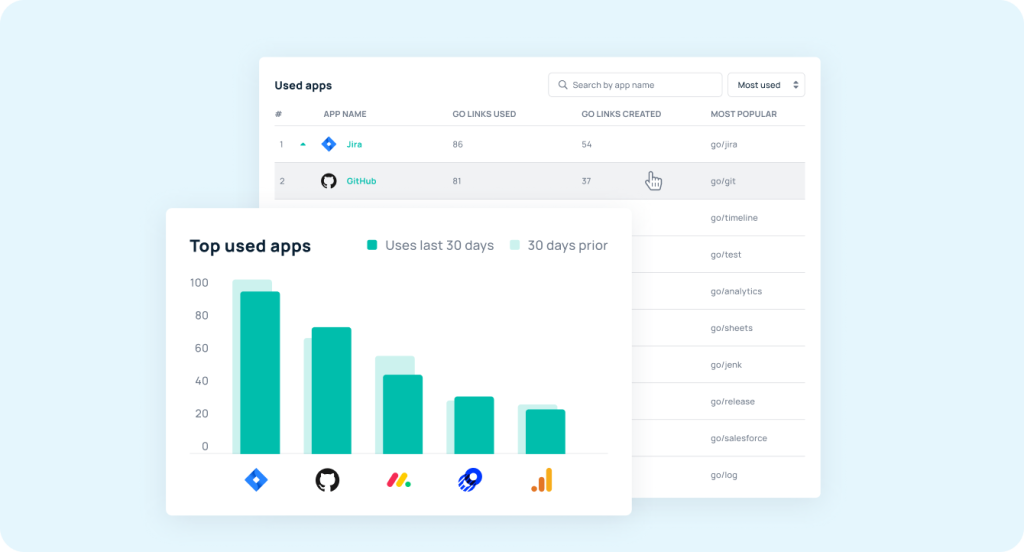 Get Started Optimizing Your Tech Stack
There's nothing inherently wrong with using a lot of technology. In fact, having the right tools and resources can empower your team to be more efficient, organized, and collaborative—all while being less stressed.

But, in today's constantly-connected workplace, it's easy to lose track of what apps and platforms your team is actually using (and how much you're spending on them).
That's where SaaS spend management comes into play. Use it to understand what you're investing in and how you can make the most of every single tool—and every single dollar.
Ready to see what tools your team is actually using? Get started with GoLinks for free today.