With employee burnout, stress, and turnover at a record high, companies are scrambling to give top talent what they want. And according to research, people want 4-day work weeks. They want flexibility. 9 of 10 respondents in one US study said that the 5-day work week is outdated. Nearly 80% said that the pandemic increased their desire for a 4-day work week and an outstanding 98% thought it would improve their mental health.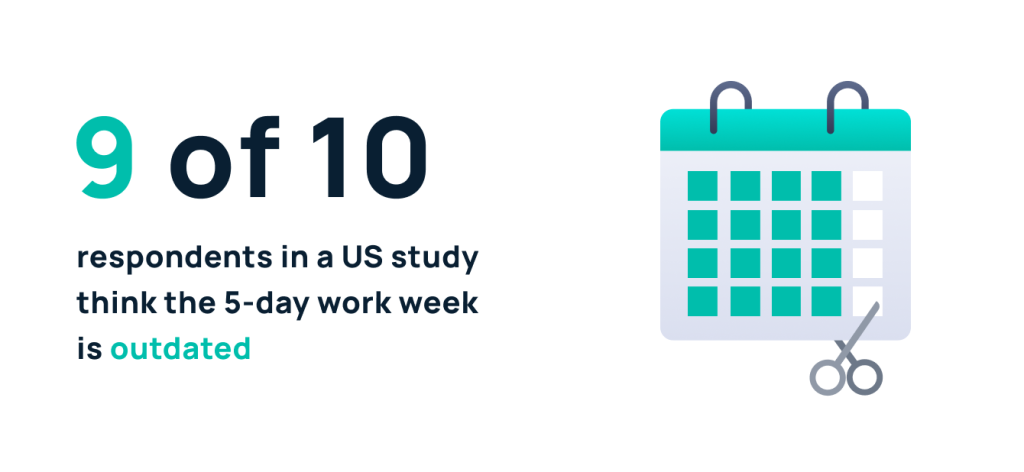 Not surprisingly, companies around the globe are now testing out 4-day work weeks with thousands of employees eager to see just how much they like having Fridays off. The founder of the not-for-profit 4 Day Week Global said that "it's inevitable we'll see bigger companies doing this."
Before you jump to conclusions and wonder, "Why didn't I think of that?!" or throw together a hasty strategy to follow suit, let's take a look at the benefits to both employees and companies and the potential challenges that need to be addressed in order for a rollout of this scale to actually work.
What Exactly Is A Four-Day Work Week?
According to HR studies on employee benefits, there are two types of 4-day work weeks:
4-day work weeks of 40 hours
In this scenario, employees are still required to clock a full 40-hour work week, but they're given more schedule flexibility of how and when they want to do it. For instance, employees could work four 10-hour days and have a three-day weekend, if they wanted to. Currently, about 32% of US employers follow this work schedule.
4-day work weeks of 32 hours or less
Rather than maintaining full-time hours, some companies are opting to reduce the number of operating hours to 32 or less over four days. Approximately 15% of US employers currently follow this model, although it is quickly gaining popularity among top employers. For instance, 4 Day Week Global uses a 100-80-100 model. That means that employees get 100% of their pay for 80% of the time spent at work while maintaining 100% productivity.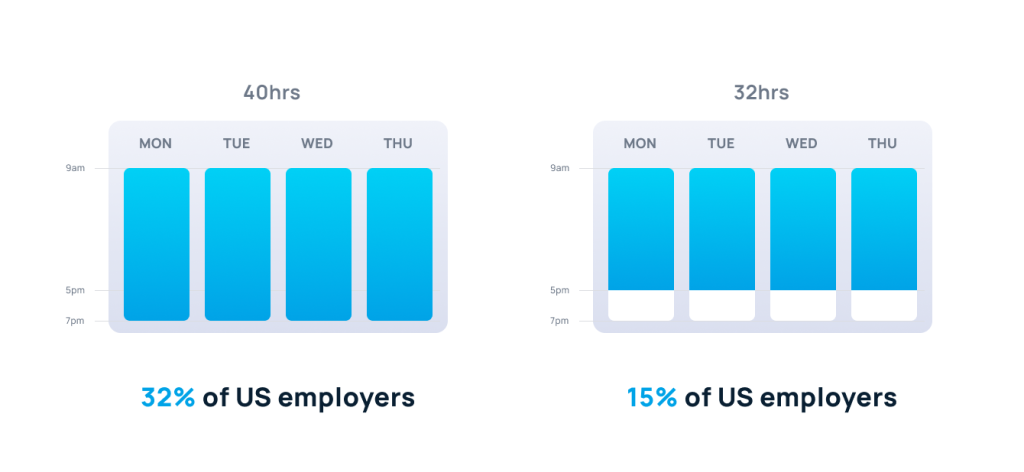 The Pros And Cons Of A 4-Day Work Week For Employees And Companies
You may be asking yourself, why all the fuss? Let's look at the pros and cons.
The Benefits Of A 4-Day Work Week
For employees, the benefits are more obvious. Since the pandemic and WFH phenomena, they want flexibility with their work schedule to have a more balanced and healthier work-life.
Employees can use this free time however they want. They can:
run errands
spend time with friends and family
unwind
workout
learn
go to appointments
go on vacation
If the purpose of a 4-day work week is to help employees improve their mental health and wellness and avoid burnout, quitting, disengaging, or taking leaves of absence, then this could be one solution. Depending, of course, on if and how employees use their time off.
According to a four-year study conducted in Iceland of 2,500 employees with 35-36 hour work weeks, "worker well-being dramatically increased across a range of indicators, from perceived stress and burnout to health and work-life balance." Productivity stayed the same or better.

For companies, the benefits run the gamut from helping to attract and retain top talent and having competitive (and trendy) work perks to reducing operational overhead and increasing employee productivity and well-being. Or so that's the idea. It's also why California considered passing a bill to reduce typical work weeks from 40 to 32 hours. And why countless trials at companies like Kickstarter, Unilever, Shake Shack, and Microsoft Japan around the world are kicking off.
As Kickstarter CEO Aziz Hasan explained to Forbes, "Kickstarter has a history of thoughtfully approaching the way we design our workplace. As we build a future that is flexible, we see testing a four-day work week as a continuation of that spirit and intention."
The Challenges Of A 4-Day Work Week
First, let's talk about this "day off." Is it, in fact, a day off for the employee? Or is it a "grey zone" kind of day where managers still expect you to be online and available? If so, how is this different from a remote workday? What about if your employees didn't get all of their work done because they were expected to perform at the same output and level of productivity, despite less time?
Pro tip: Set boundaries, specific rules, and clear guidelines about accessibility and availability on your employee's flux days so that there are no discrepancies.
Next, if burnout and stress are at an all-time high for employees, will having one less day to get the same amount of work done only add to the problem? How are employees expected to "work smarter, not harder" if they're already burnt out? Will this not lead to more disengaged employees?
In fact, Gallup's research found that "while the percentage of engaged workers was similar across the three work week conditions [that is, 4-day, 5-day, and 6-day work weeks], the percentage of actively disengaged workers was highest for those with four-day and six-day work weeks." They concluded that the relationship between time, work, well-being, and employee engagement was complex—and couldn't necessarily be solved by a one-size-fits-all approach.
Pro tip: Employers should focus on improving the overall work experience for their employees before they consider switching to a 4-day work week.
The last challenge is equally as complex and takes some careful planning to do it right. That is the rollout.
Maximize Efficiency And Streamline Operations In A 4-Day Work Week
In an open letter to Airbnb employees, co-founder and CEO Brian Chesky explained his new global policy for employees to live and work anywhere. In it, he wrote, "To pull off this level of flexibility, we need ample structure and coordination. Without it, things would become a free-for-all." The same applies to all companies testing or rolling out 4-day work weeks.
Consider:
Will your company follow the 40-hour or 32-hour work week model?
What level of autonomy do employees have for their flux days?
How will employees get their work done?
How will you maintain productivity?
How will you maximize efficiency and resources?
How will you streamline operations, task management, and communications?
How will you manage knowledge sharing?
In order for this to work properly and not add more burden to employers and employees than it's worth, efficiency is key.

Have clear goals, priorities, guidelines, and expectations written out. Make them clearly understood by all participating parties. Then, empower managers and teams with processes and tools that help them do their jobs, ie. to work smarter and not harder. That may mean that the number and length of meetings need to be reduced and some tasks automated, eliminated or postponed.
"A lot of it is better management and being focused on the priorities and expectations of work so teams don't spend as much time navigating ambiguity," explained the chief strategy officer at Kickstarter, Jon Leland. "When they do show up, they know exactly what they can do, they can do it, and then they can leave and go back to their families."
At GoLinks, we're able to help streamline and increase productivity which helps companies and employees make the most of their time at work. GoLinks is a knowledge management platform that allows teams to efficiently share knowledge via short memorable links called go links. GoLinks can help companies save time by reducing time spent searching for knowledge. Curious to see the savings you can get? Check out how Hopin saved 25 hours/week in their first 6 months of using GoLinks.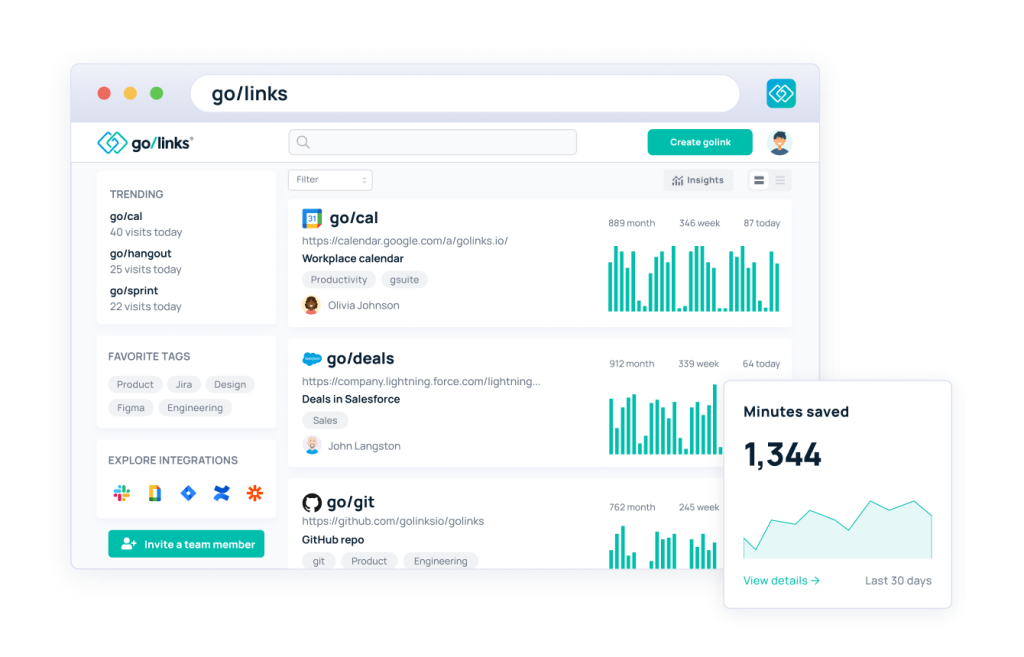 Want to see how GoLinks can support your 4-day work week? Try a free trial and learn more about efficiency tools and tricks that work. Also, GoLinks is a proud company that has a 4-day work week trial going—and we're hiring, check out our latest job postings on Linkedin.