If you've ever worked in a company where teams were very siloed, then you know just how detrimental it can be to the health of the company. It can lead to various issues, from lower productivity to decreased engagement. Without cross-departmental collaboration, teams may also find themselves working towards very different goals.
This is why it's crucial to create an environment that unites teams under a shared vision and encourages healthy cross-functional collaboration. It gives team members the opportunity to work on larger-scale projects and build relationships that foster professional growth—all while working towards the company's "bigger picture" goals.
Let's take a look at six key strategies you can use to optimize cross-departmental collaboration—and empower your team's best work in the process.
1. Find the best workflows for everyone
You can't expect different teams and departments to work together effectively if there's no clear structure for how they're supposed to work together.
So, if you want to foster a collaborative culture, the first step is creating clarity around shared workflows.
When you're gearing up for a cross-departmental project, outline all the tasks that need to get done and who will be responsible for each task. For example, if you're launching a new promotional initiative that's going to bring together your sales, marketing, design, and customer experience teams, you'll want to only clearly outline each element of the initiative (like writing marketing copy, developing sales scripts, creating design assets, and introducing the initiative to new customers).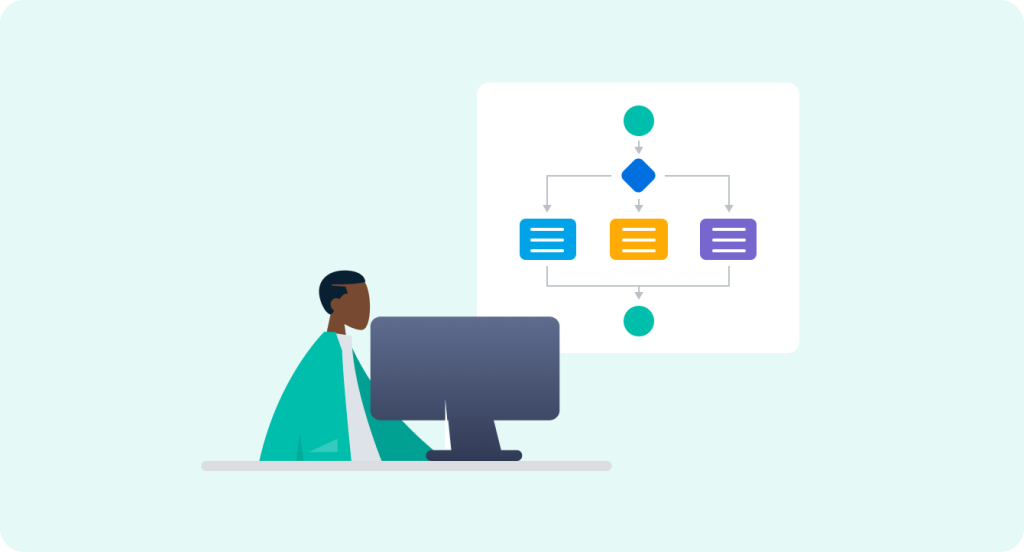 In addition to outlining the workflows, you'll also want to streamline those workflows to make it easier for teams to collaborate. For example, you can outline which tasks will require cross-collaboration and create defined channels for teams to communicate (like through project management software).
By taking the time to outline and streamline workflows that work for everyone, you're enabling your employees to work together more effectively, and you're setting your teams up for success.
2. Break down knowledge silos
Knowledge silos occur when different teams and departments within an organization use different tools and systems to organize, manage, and share information. As a result, the knowledge that one team has access to, may not be easily accessible to another team.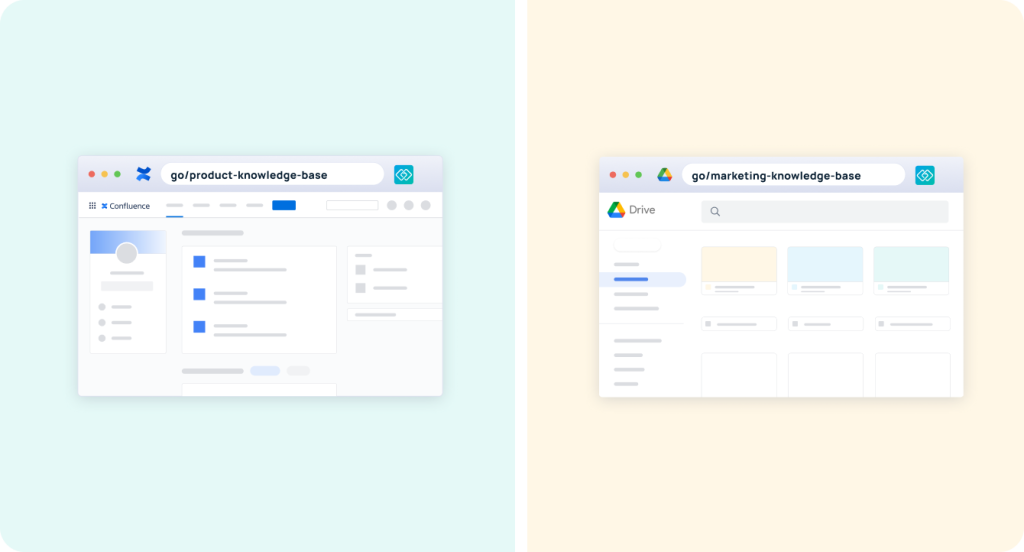 And if you want to empower better cross-departmental collaboration, breaking down these silos is an absolute must.
When you're having different teams work together on a cross-departmental initiative, schedule a kick-off meeting to get everyone on the same page about how to communicate and share knowledge. For example, what collaborative productivity software should each team use to collaborate on files in real time? What are the proper communication channels for project-related requests? What is the process for sharing documents or other knowledge with people on different teams?
The best tool for knowledge sharing
If your teams are using various systems and tools for knowledge management and sharing, there's an easy solution to get everyone on the same page—GoLinks.
GoLinks allows team members to transform long, cumbersome URLs into short, easy-to-remember links—making it easier, faster, and more efficient to share knowledge between teams.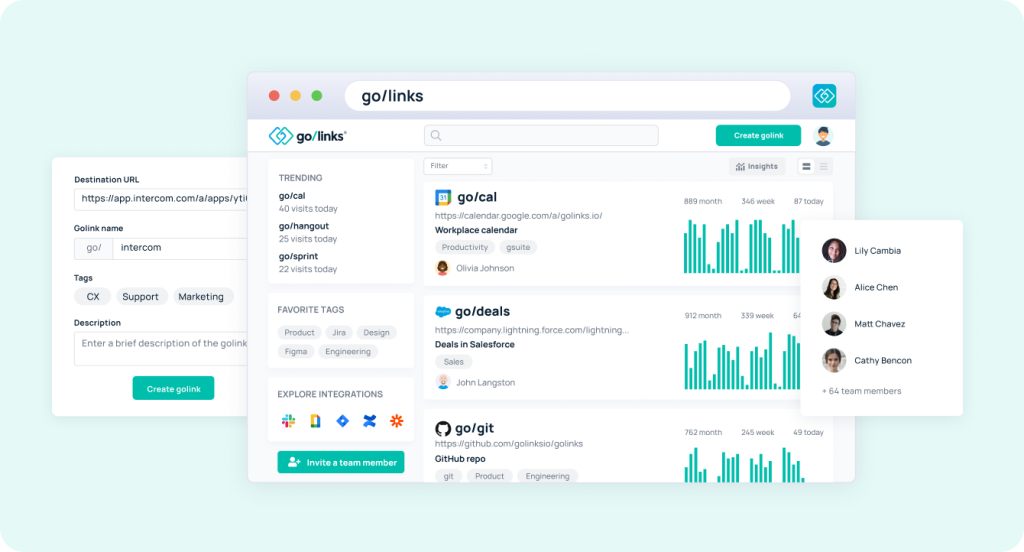 For example, let's say your software team needs to share a data set with your marketing team. Instead of walking your marketing team through the entire system of how to organize data and how to find the specific sets they're looking for (which can feel overwhelming), the software team can just create a go link (like go/marketingdataset) that leads marketing directly to the information they need. This makes the process easier, faster, and more effective for everyone involved.
Bottom line? Breaking down knowledge silos is a must for effective collaboration between teams and departments—and GoLinks can help all of your teams and departments break down those silos, get on the same page, and share information more effectively.
3. Align on company-wide goals
As mentioned, effective collaboration requires different teams working towards a common goal.
So, if you want to foster more effective collaboration between teams, you need to get everyone on the same page—and aligned with that common goal.
Bring everyone who will work on the cross-departmental project together (virtually or in a collaborative office space) to share the vision and purpose of the project—and the part that each team will play in bringing that vision and purpose to life. Use the meeting not only to answer logistical questions, but also to generate buy-in and get people excited about working towards a goal, collaborating with other teams, and contributing to the project.
The more aligned each team is under the common goal (and the better they understand their part in hitting that goal), the more committed they'll be to working with other departments to reach that goal—and the more likely the entire team will be to succeed.
4. Enable collaboration throughout onboarding
If you want to make cross-departmental collaboration part of your company's DNA, the best thing you can do is instill that sense of collaboration into your team from day one. Here are a few ideas on how to do that:
Idea 1: Share how your company values collaboration
Show new team members what an integral part cross-departmental collaboration is to your organization by making it a key part of your onboarding program. For example, when walking your new hire through your company values, highlight the importance of collaboration and working with other employees and teams to reach key goals.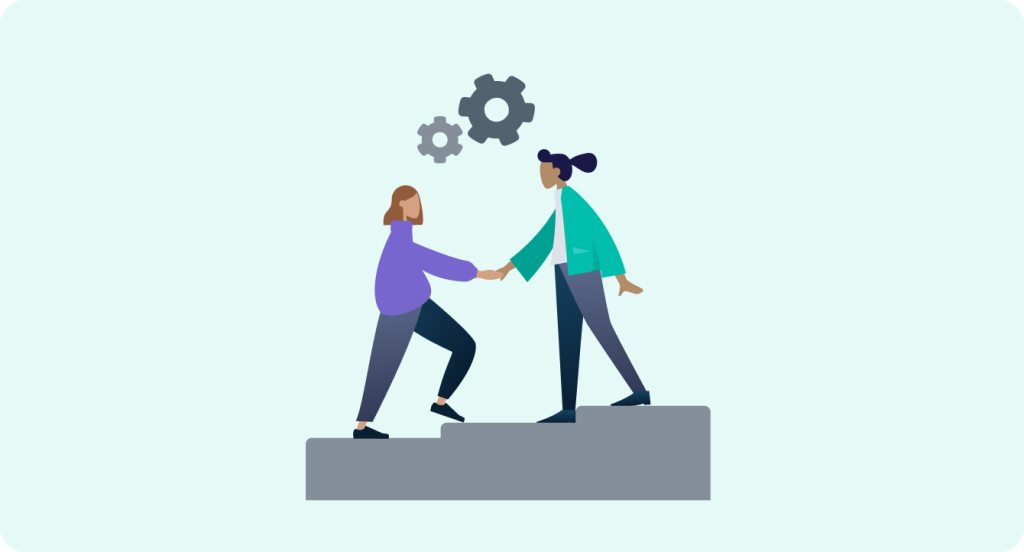 Idea 2: Have new hires shadow people on different teams
As a part of your onboarding program, have new employees shadow more tenured team members—both on their team, and in other the departments they'll be collaborating with—to get a better sense of workflows and how collaboration will factor into their employee experience.
The earlier you can encourage collaboration, the more collaborative your employees will ultimately be—so make sure to encourage it from the get-go by including it in your onboarding.
5. Make it easy for employees to find coworker information
Especially when working with a different department, it can be hard to remember who exactly does what.
By making employee information such as job title, work anniversary, and team structure readily available, you'll empower more streamlined cross-departmental collaboration.
A tool like GoProfiles makes it easy for employees to find this exact information.
GoProfiles automatically syncs with your HR platforms to pull employee information. So whenever an employee needs to communicate with someone they don't normally interact with, all they have to do is search through the org chart or pull up their employee profile. From there, they can discover things like role, location, time zone, contact info, and more.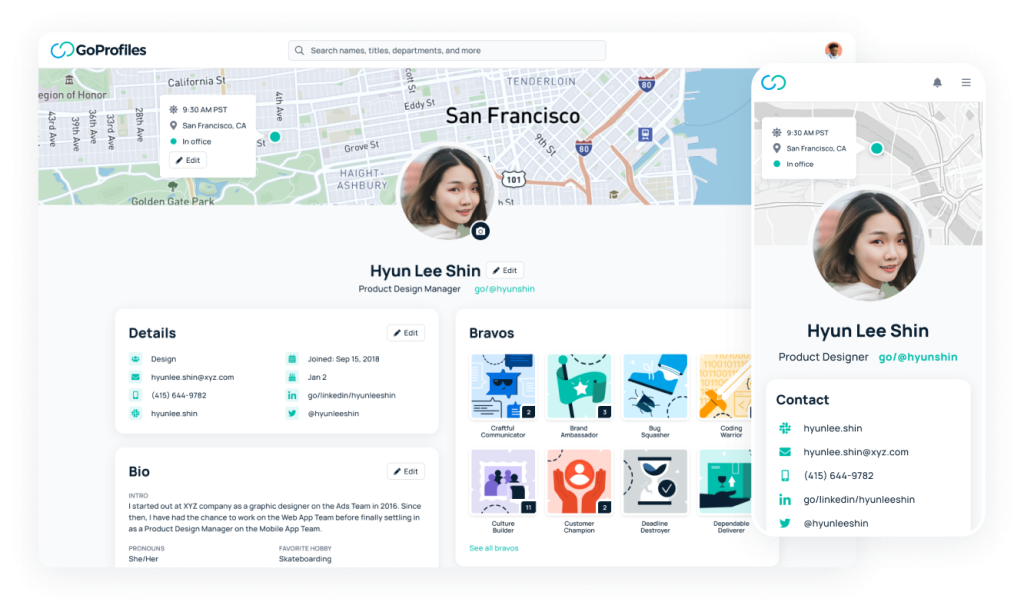 6. Encourage feedback and recognition
When you foster a collaborative work environment, by definition, you're going to be bringing a lot of different people together—people with different backgrounds, skill sets, strengths, and ways of doing things.
And in order for those people to effectively navigate those differences and work together? They need to have a voice. Here are a few ideas to encourage your employees to vocalize feedback and recognition:
Idea 1: Launch an "open door" feedback policy
When managing company-wide projects, encourage an "open door" feedback policy. Let employees know they can deliver feedback on what's working, what's not working, what they want to see changed, and what they need to be more successful when working with other departments. Then (and this is the important part!), when you get that feedback, implement it to make the collaboration process easier and more effective for your teams.
Idea 2: Use GoProfiles to create an easy recognition program
In the same vein, employees thrive when they're recognized for their efforts. As we mentioned above, GoProfiles helps employees find coworker information – but it also helps employees celebrate their coworkers through Bravos.
Bravos are awards you can give a coworker, along with a blurb about why you are recognizing them. For example, you could give someone a "Rockstar Manager" Bravo for being a supportive manager. Or you could give someone a "Knowledge Trove" Bravo for always having the answers you need.
You can also integrate GoProfiles with Slack so that these Bravos show up in a specific Slack channel. This lets the whole company see when Bravos are given.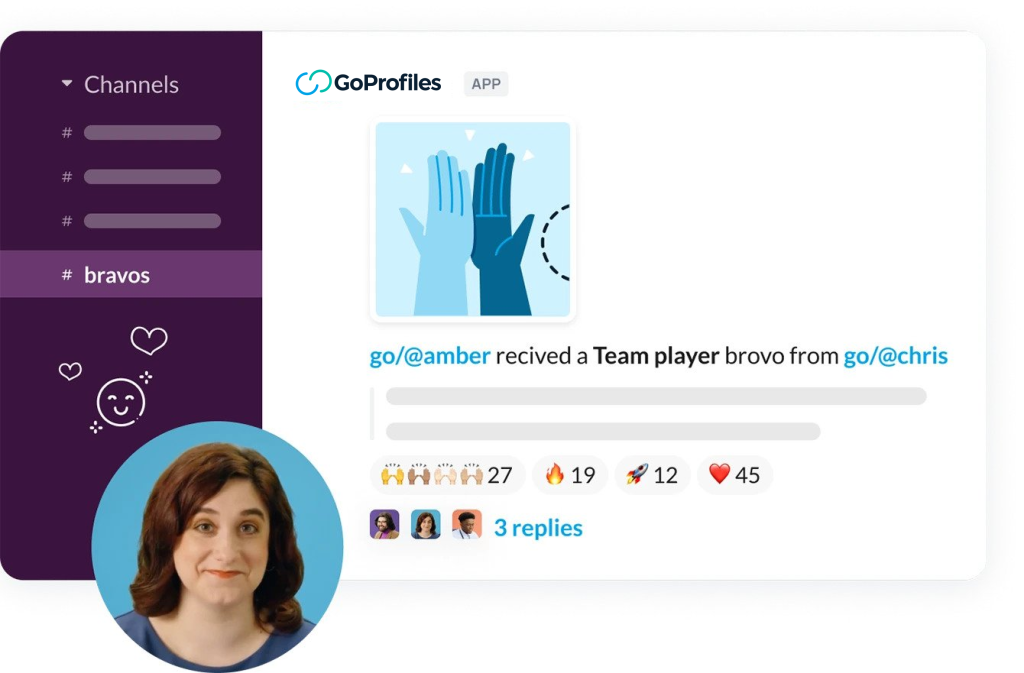 Optimize cross-departmental collaboration and empower your team's best work
For your teams and your individual employees to do their best work, they need to be able to work together. And as an organization, it's up to you to give them the strategy, framework, and tools they need to more effectively collaborate with each other—including GoLinks.
GoLinks empowers better cross-departmental collaboration by breaking down knowledge silos, making it faster and easier for teams to share information.

Want to experience how GoLinks can empower better cross-departmental collaboration? Try it for free today!