For tech companies, developers are the engine for building new products or features. Their time is one of your most valuable resources. Yet, half of a developer's week is wasted on code maintenance, unwanted distractions, searching for information, toggling between tools, and attending meetings.
Implementing the right developer productivity tools now will empower your team of developers to save time and improve productivity going into 2023. When choosing the best productivity tools for your developers, consider what slows them down the most.
The most common factors that impact developer productivity are:
Fixing bugs and regressions
Distractions, like messages, emails, and social media
Searching for information or toggling between tools
Attending meetings or providing progress updates
The tools we've highlighted below address the most common productivity killers for development teams to help you save time, improve focus, and ship better code in 2023.
Productivity tools for software development teams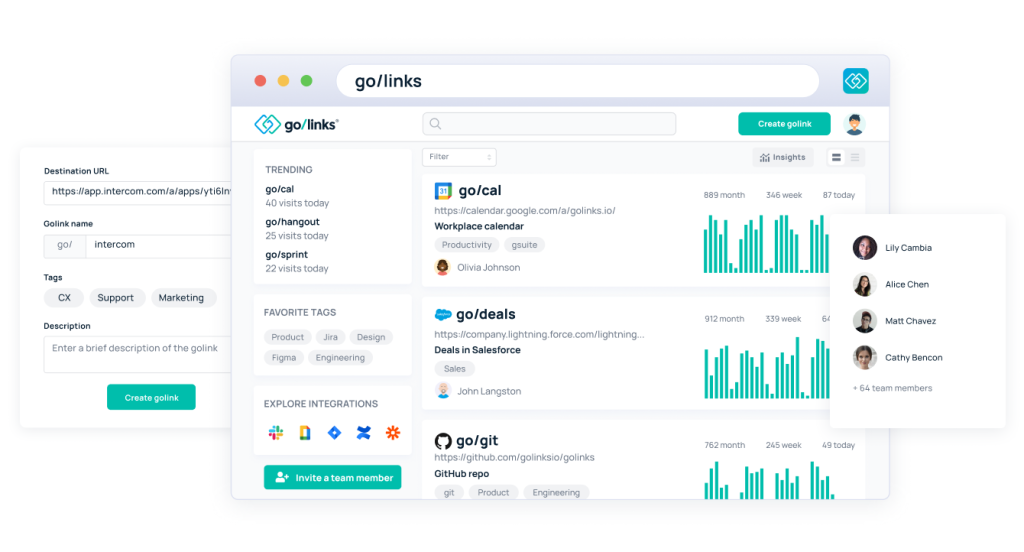 Tool 1: GoLinks
One of the biggest barriers to productivity for developers is context switching. Developers waste hours every day toggling between tools, searching for information, providing progress updates, and jumping from one task to another. Not only does context switching waste valuable time, but it also makes it difficult for you developers to focus on their most important work: writing code.
GoLinks makes it easier for developers to instantly access the tools and information they need with short, memorable links. Turn any long, cumbersome link into an intuitive, memorable go link that's easy to share both verbally and visually.
How to Use GoLinks for Productivity
Navigate directly to the dashboards you need with go/project or go/logs.
Jump into debugging and code reviews with go/code or go/review.
Create a single source of truth for documentation with go/specs or go/reference.
Streamline software deployment with go/pipeline or go/release.
Head to GoLinks for Developers to learn more about this productivity-boosting tool.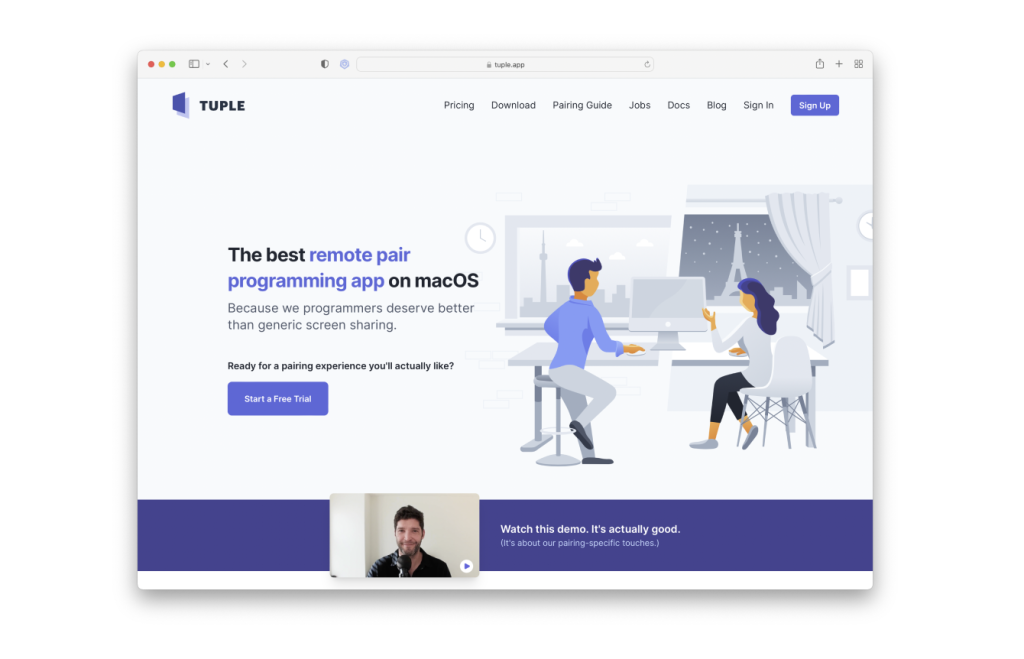 Tool 2: Tuple
Research shows that collaborative programming outperforms individual programmers by improving problem-solving, readability, and efficiency. However, remote pairing via Zoom or Slack calls can limit functionality for developer pairs. Tuple is a remote pair programming app designed specifically for software development.
When choosing developer productivity tools, it's important that they not only improve efficiency but also improve code. Pair programming is a proven method for catching bugs earlier, developing more creative solutions, and producing better code. Plus, developers are less likely to engage in distractions while pairing.
Key Productivity Features for Developers:
Mouse and keyboard control for two
Low CPU usage
Crisp audio and 5k video streaming
Automatic "Do Not Disturb" mode while pairing
Real-time insights
How to Use GoLinks & Tuple:
Tuple offers a native notes function between developer pairs, where you can share code snippets or URLs. Create go links for specific projects, tasks, or reference material, and share them with your pair directly in the Tuple app.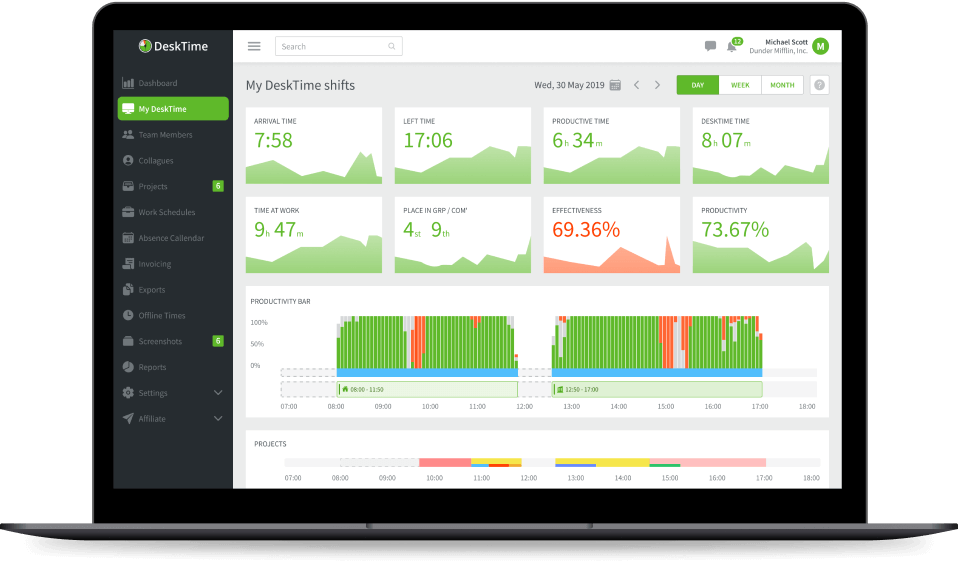 Tool 3: DeskTime
The majority of developers operate in a hybrid, asynchronous, or remote environment with a mix of full-time and freelance team members. DeskTime is an automatic time-tracking app that can help developers avoid unwanted distractions, seamlessly track productivity, and see how the entire team is using their time.
Managers can easily estimate project resources and receive progress updates without disturbing their team's workflow. With DeskTime's built-in analytics, you can keep developers accountable, help them optimize time management, and suggest the best times for breaks or uninterrupted work.
Key Productivity Features for Developers:
Automatic time tracker
URL and document tracking
Built in Pomodoro timer
Private time option and break reminders
How to Use GoLinks & DeskTime:
Developers already spend a lot of time context-switching, so it's important that time tracking doesn't add more unwanted toggling between tools. Create go links for DeskTime features that your team members use every day, like go/pomodoro-timer, go/absence-calendar, or go/booking.
Tool 4: Notion
Notion is a project management tool and collaborative workspace with custom dashboards that make it easier to manage tasks, projects, and team members all in one platform. Plus, they offer features designed specifically to streamline development processes.
Notion's API allows you to aggregate data from many sources into one shared workspace. That way, your developers can cut down on time spent context-switching and increase collaboration across the tools you already use.
Key Productivity Features for Developers:
Free dashboard templates
Custom workflows and task manager
Connect pages and databases with Notion API
How to Use GoLinks & Notion:
Developers waste a lot of time each week searching for information and toggling between tools. Add GoLinks to your Notion dashboards so your developers can quickly connect to tools, find information, and share resources.
Tool 5: Dewo
Deep work is a state of peak concentration, sometimes called a flow state, where you can produce higher-quality work more efficiently. In order to achieve a deep work state, you should cut out distractions for at least 60-90 minutes. While it sounds great in theory, allowing for deep work states across your entire development team can be challenging to coordinate.
Dewo is a new app from Timely designed to protect deep work periods across your team. The Dewo app allows you to schedule meetings during optimized windows that piggyback on other meetings and don't interrupt workflow or breaks. Plus, Dewo automatically silences notifications and updates your Slack status to prevent distractions.
Key Productivity Features for Developers:
AI analysis of productivity patterns
Automatically silences app notifications
Updates Slack status when you are in a flow state
Intelligent meeting scheduling
How to Use GoLinks & Dewo:
Create go links for Dewo's most powerful tools, including meeting scheduling and intelligent analytics. Share intuitive go links with your team via chat or verbally in meetings and presentations to make scheduling your next meeting seamless.
Use GoLinks with developer productivity tools
Choosing the right productivity tools for your developer team can help reduce time spent on fixing code, context switching, or constant interruptions. If you start implementing new productivity tools now, you can level up your developers' productivity in 2023.
As you implement new tools, remember that GoLinks integrates seamlessly with any tool you use to maximize productivity and make collaboration seamless.