Confluence is a widely used collaboration and knowledge-sharing workspace — yet users often grapple with knowledge gaps.
Enter the GoLinks integration, helping organizations enjoy all the benefits of Confluence while improving knowledge access and sharing.
For our users, it's a no-brainer. That's why they use over 1,000,000 go links in Confluence!
Read below to learn how our add-on can maximize your team's workflow in Confluence.
GoLinks: Enhancing Confluence's functionality
Confluence helps teams of all sizes create, capture, and collaborate on projects and ideas. But to efficiently collaborate, teams require access to more powerful knowledge management and sharing features that the platform lacks.
This gap can result in decreased productivity for the entire team, leading to delayed projects and extended deadlines.
Yet, for teams equipped with the Golinks add-on for Confluence, knowledge management and collaboration are elevated.
Explore the benefits of GoLinks for Confluence
Create new go links automatically
In a fast-paced work environment, you can add dozens of new pages to your Confluence workspace each week. These new resources can become challenging to manage, access, and share with your peers — but they don't have to be.
With the GoLinks integration, go links are automatically created for every new page in your workspace, with no manual effort needed.
This ensures your team stays organized and your projects run smoothly.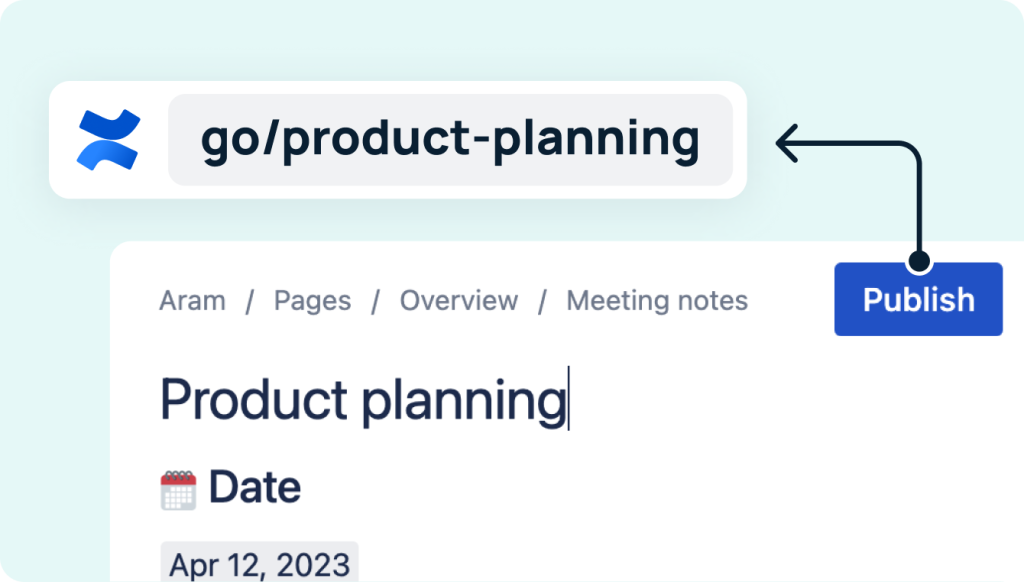 Share resources with ease
Imagine your coworker just reached out, requesting a specific resource for a project. You could spend time on a search and copy-paste mission to share it with them, but there's an easier way.
With our add-on, you can type any go link directly into your Confluence pages or comments, and the integration transforms them into clickable links instantly.
By using the GoLinks integration, you'll save valuable time and make resources readily accessible to your peers.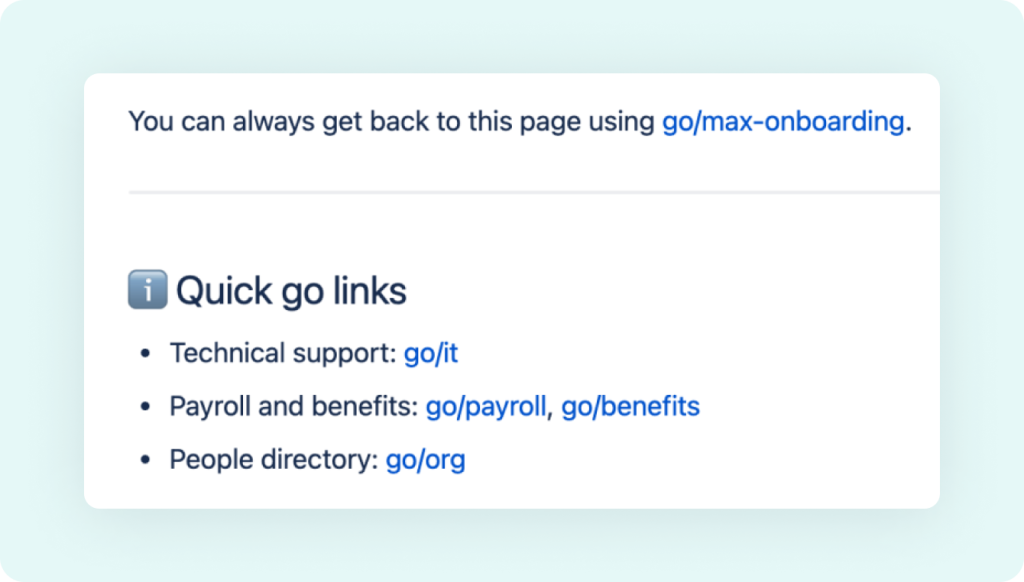 Locate resources quickly
Finding links in messages shouldn't be a hassle — so we made it easy!
Simply type a go link into your comments and the GoLinks bot will instantly convert it into a clickable link, keeping resources visually organized and easy to navigate. Access go/wiki or go/hr at the click of a button!
Additionally, since go links are short, they are easily scannable and won't disrupt the layout, formatting, or functionality of pages.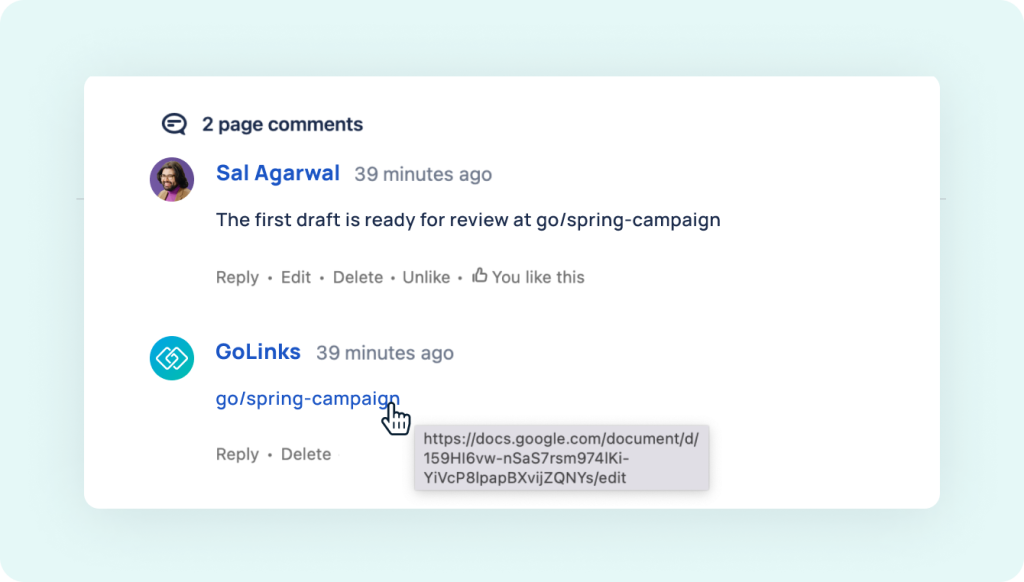 Keep resources secure
Link security? No need to worry – go links are secure redirects.
Destination URLs are masked, so even if someone outside your company obtains one of your go links, they cannot access your information in Confluence.
Get Started with GoLinks for Confluence
With GoLinks, you can unlock the full potential of Confluence. Add the free extension today and maximize your workflow.
Use more apps than Confluence? Check out the GoLinks App Marketplace for more helpful integrations.
Not using GoLinks yet? Start for free at www.golinks.com.