The right knowledge management tools are a must for increasing productivity and efficiency across your organization.
But with such a huge variety of tools on the market, how do you know which of those tools would be the best internal knowledge management software for your business?
Today, we're going to take a deep dive into a knowledge management software that's quickly gaining both popularity and notoriety—Guru.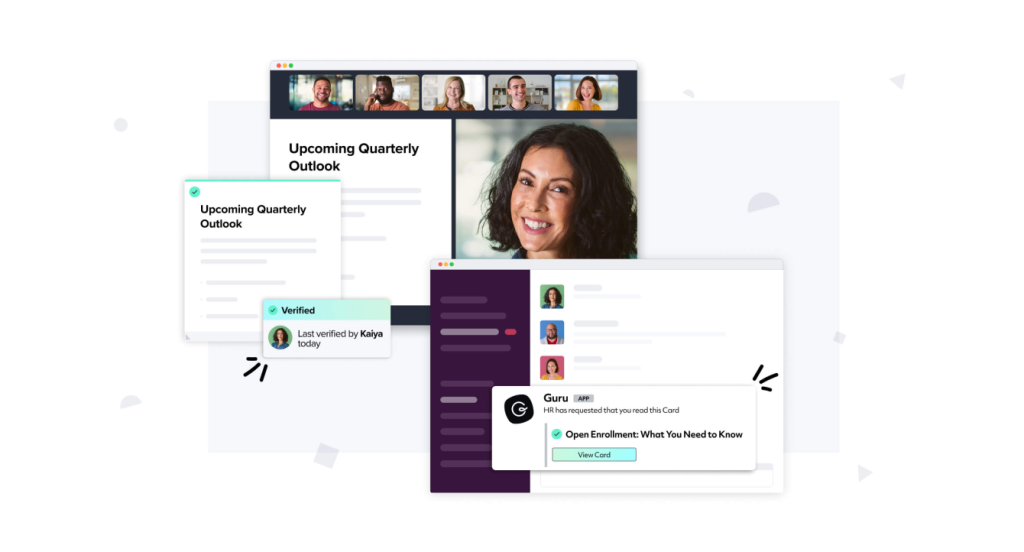 Let's jump into everything you need to know about Guru: what it is, the pros and cons it offers from a knowledge management perspective, and how to make the most out of Guru to enable more effective knowledge management and sharing within your business.
What is knowledge management?
Before we get to the pros and cons of Guru as a knowledge management software, let's take a moment to define what, exactly, knowledge management is.
Knowledge management is an umbrella term that covers any methods, systems, processes, or that help companies (and individual contributors within those companies) better and more efficiently organize, manage, and share information.
Therefore, knowledge management tools (which are also sometimes referred to as knowledge sharing tools, depending on their features and capabilities) are any tools or software that help to facilitate knowledge management within an organization—for example, by providing a framework to better organize information or share knowledge between employees.
Knowledge management methods
When it comes to knowledge management, there are two primary methods you'll want to understand—the push method and the pull method.
With the push method, the organization takes responsibility for sharing information. When companies utilize the push method, employees don't need to request the information they need; instead, the organization and/or leadership proactively send employees relevant information when necessary.
With the pull method, the employee takes responsibility for knowledge sharing. If and when an employee needs access to a piece of information or knowledge (for example, a project deck or customer file), they proactively search for and request access to that information themselves.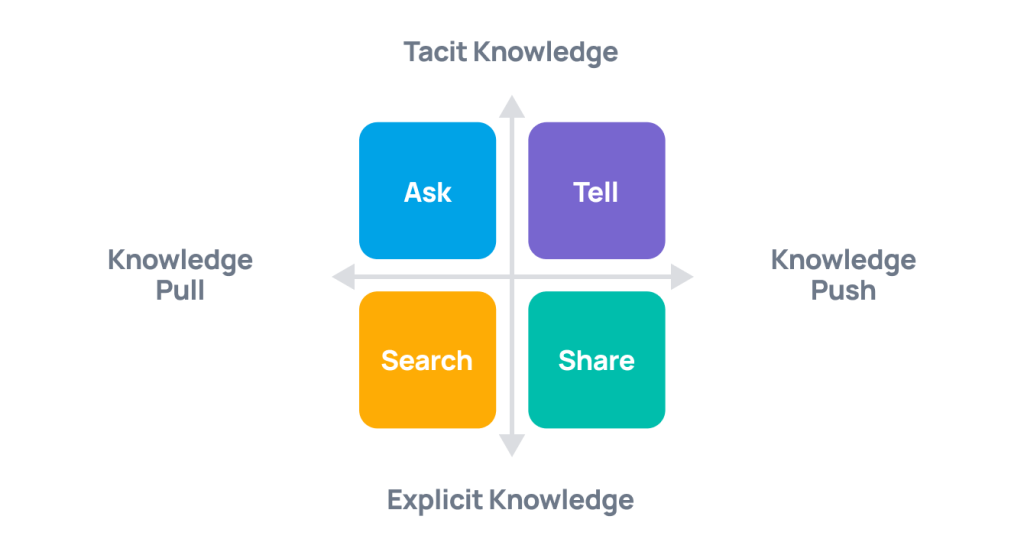 The push and pull methods of knowledge management aren't mutually exclusive. In most organizations, each method is used in different situations. For example, a business might use the push method for sharing pertinent company information that impacts the entire organization (for example, news about a new location opening)—but rely on the pull method for more individual or department-specific types of knowledge sharing (for example, sales training modules or marketing materials).
What is Guru?
Now that you have a better understanding of knowledge management (and the different methods of knowledge management), let's jump into the tool we're here to unpack: Guru.
Guru describes itself as "a company wiki that works with your workflow, so the information you need to do your job is always at your fingertips."
From a knowledge management perspective, Guru offers a host of benefits to organizations, including:
Better organization. Guru's features, like Collections and Boards, allow for optimal organization and more streamlined internal communications—which is particularly important as teams grow and scale.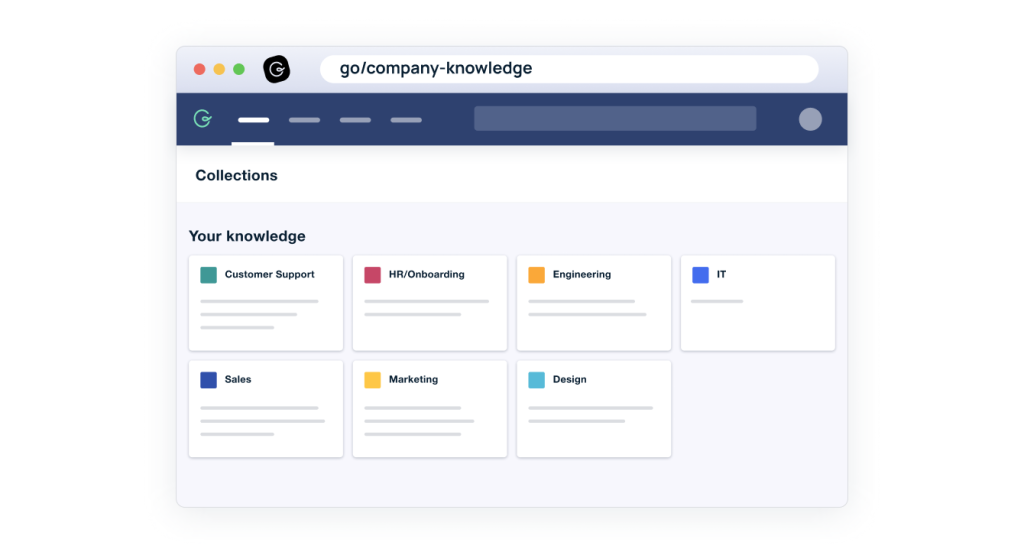 Easy-to-use platform. Guru is, at the core, a great platform and knowledge base. Users praise its functionality, features, and ease of use.
Integrations. Guru integrates with a variety of work management and communication platforms, including Slack and Microsoft Teams—which makes it a go-to solution for companies already using these tools.
But while there's no denying Guru's knowledge management benefits, the "wiki that works with your workflow" also has some clear drawbacks, including:
Missing knowledge sharing and knowledge management features. While Guru is a great knowledge base, its missing key functionality that enables the kind of knowledge management and knowledge sharing that organizations need to function at their highest level—for example, being able to instantly search for and find the information you need, when you need it.
Guru has serious potential as a knowledge management and sharing tool; it just needs an additional tool to help bridge the gap and provide the functionality teams need to perform their best.
Enter GoLinks.
What is GoLinks—and how can GoLinks help organizations improve their Guru experience?
GoLinks is a knowledge management tool that creates short, intuitive, easy-to-remember links designed to empower easier, better, and more efficient internal knowledge sharing between employees. Essentially, GoLinks takes long, hard-to-remember URLs—and transform them into simple words and phrases that employees can use to access the information they need, when they need it.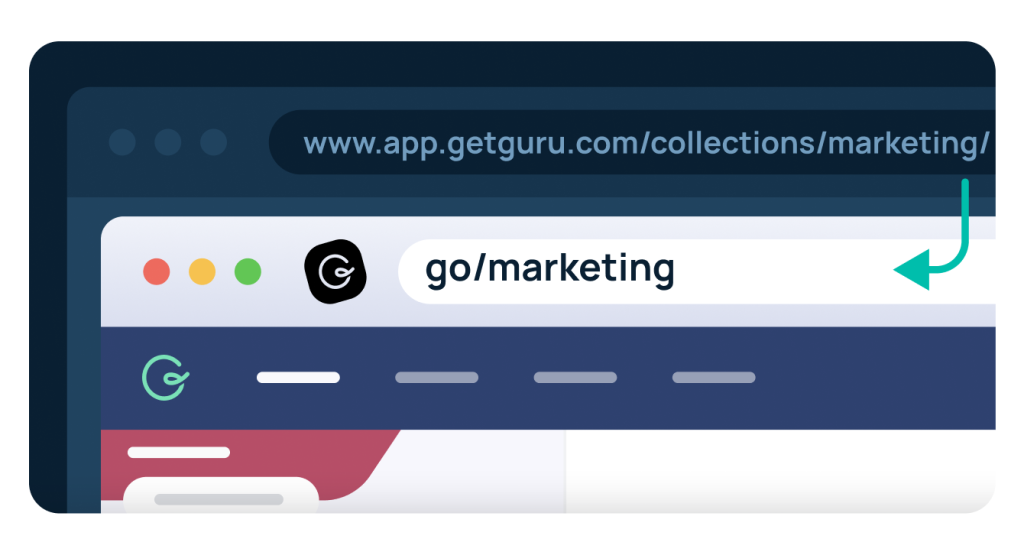 With a GoLinks/Guru integration, organizations can take advantage of all the benefits Guru has to offer—while eliminating some of the knowledge management and sharing gaps that teams may experience while using the software.
Some of the main ways GoLinks maximizes Guru's functionality include:
Say goodbye to cumbersome URLs. GoLinks creates human-readable links that are short and easy to remember. These links allow employees to instantly and easily access the Guru cards, Collections, or Boards they need to more effectively do their jobs.
Easier for employees to access information when they need it. Because go links are so short and easy to remember, employees don't need to spend minutes (or hours!) of wasted time trying to track down the link they need. Instead, they can just type in the GoLink they need from memory—and get instant access to the information they need.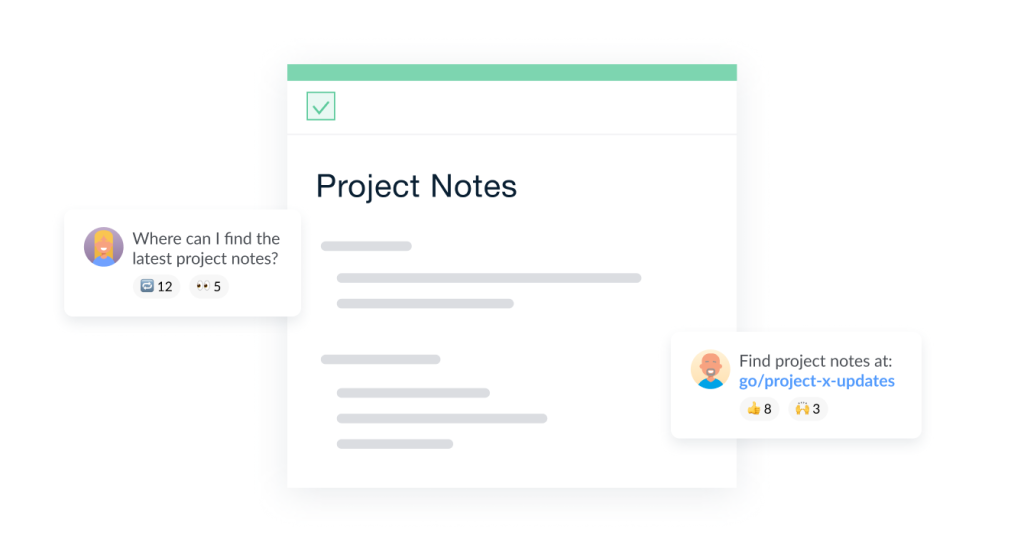 Easier for employees to share information and knowledge with their teams. Again, because go links are so short and memorable, knowledge sharing between employees is fast, simple, and efficient. (For example, if one employee asks, "Where can I find the latest project notes?," another employee can respond, "Oh, that's easy! You can find those at go/projectXupdates"—instead of spending time digging through their email looking for a link to the project notes to send to their coworker.)
Instant, secure access. With GoLinks, employees get instant access to the information they need—whether that's a document, a file, or a Guru card. Go links are also secure redirects—so even if someone outside of the organization gets a hold of one of your go links, they won't be able to access your information on Guru (or anywhere else).
Want to learn more about how GoLinks and Guru can help improve knowledge management in your company? Make sure to check out all-in-one event management platform Hopin's customer story.
Use GoLinks to get the most out of Guru
Guru is a high-quality knowledge base that can help teams get and stay organized. But it also lacks some of the functionality and features organizations need for high-level knowledge management and sharing. The GoLinks integration can bridge that gap.
Ready to maximize your experience with Guru—and take your knowledge management and sharing to the next level in the process? Try GoLinks for free today!