Looking for a way to help your employees quickly and easily access the data they need? Short links might be the answer.
By creating short URLs, you make it easier for employees to find what they're looking for (especially helpful in an extensive internal Google Doc like a style guide or onboarding information).
The Google URL shortener (goo.gl) used to be a great solution to shorten links. First launched back in 2009 for FeedBurner and the Google Toolbar (both now discontinued), this tool let Google users shorten links, access a list of URLs they'd shortened in the past, and view analytics data for those links. Unfortunately, however, Google discontinued this service in 2018.
Other comparable options, like Bitly or Owl.y, can be unsafe or don't let you save and organize your links once created.
The best answer is GoLinks — a platform that uses AI to shorten URLs for you to share across your team. Keep reading to learn how to shorten a link in Google Docs.
Introducing GoLinks: The best option for shortening links in Google Docs
The GoLinks platform is intuitive and simple to use. Sign up for free and create your first go link by copying and pasting the link you'd like to shorten, then customizing with details like a name or description for your new go link. Unlike other link shortener options, with GoLinks, you can save, organize, edit, and share links long-term.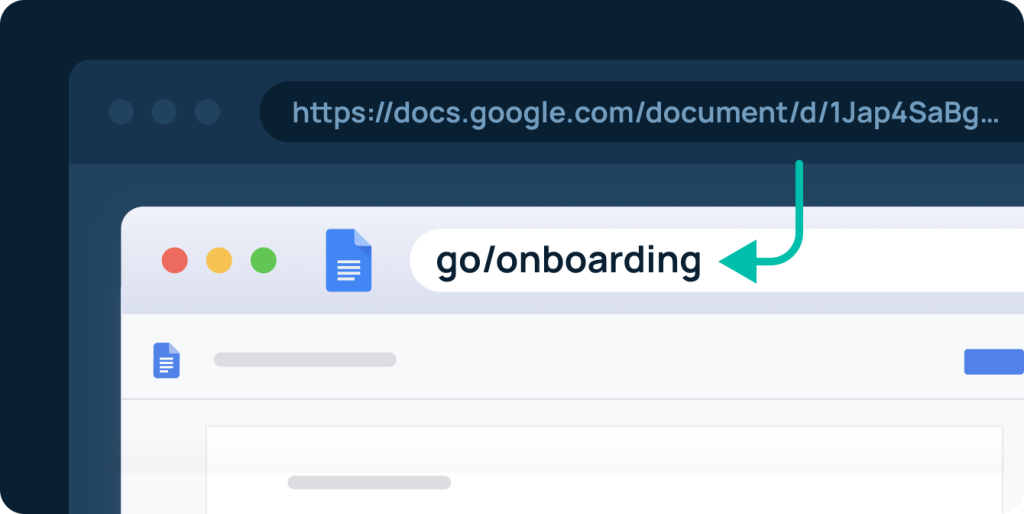 For SaaS tools like Google Docs, you can also install a GoLinks Chrome extension that lets you create shortened links directly within your document.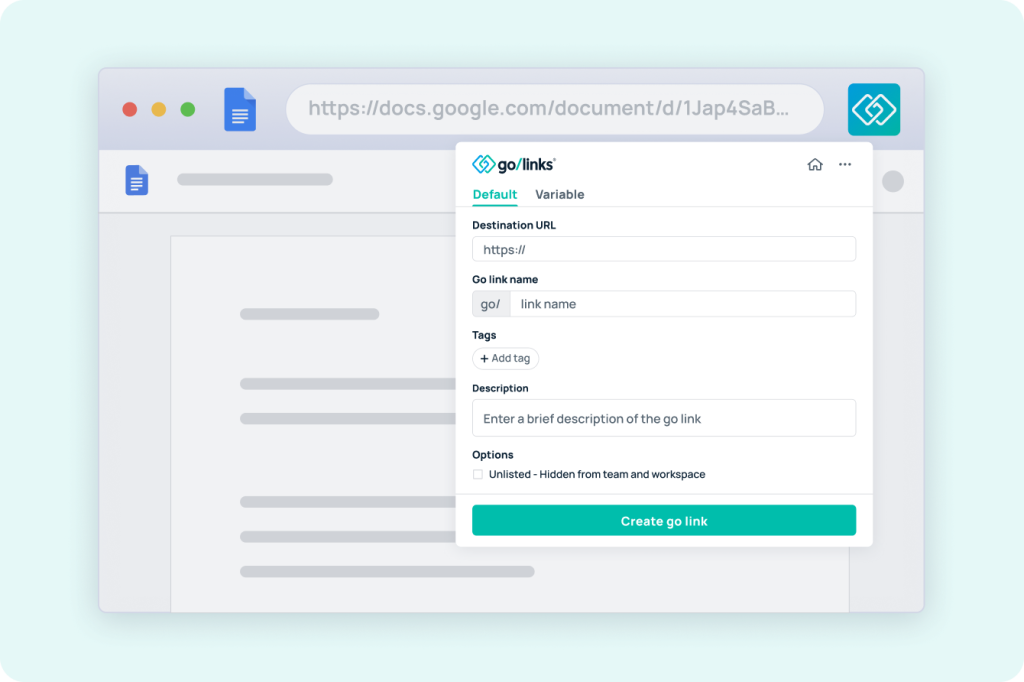 Plus, with a single sign-on, encrypted customer data, and SOC 2 compliance, you can feel confident that GoLinks keeps your organization safe. 
Step-by-step instructions: How to shorten a link in Google Docs with the GoLinks Chrome Extension
Follow these steps to create a short Google Drive link within a Google Doc:
Install the GoLinks Chrome browser extension
Open a document using Google Docs
Select and copy the long link you want to shorten
Click on the GoLinks extension icon
Paste your long link
Customize the go link as desired (with a name, tags, or description)
Copy and paste the GoLink back into your Google Doc (or simply type it!)
Share the shortened link visually or verbally
Then rinse and repeat for the next shorter URL you need to create.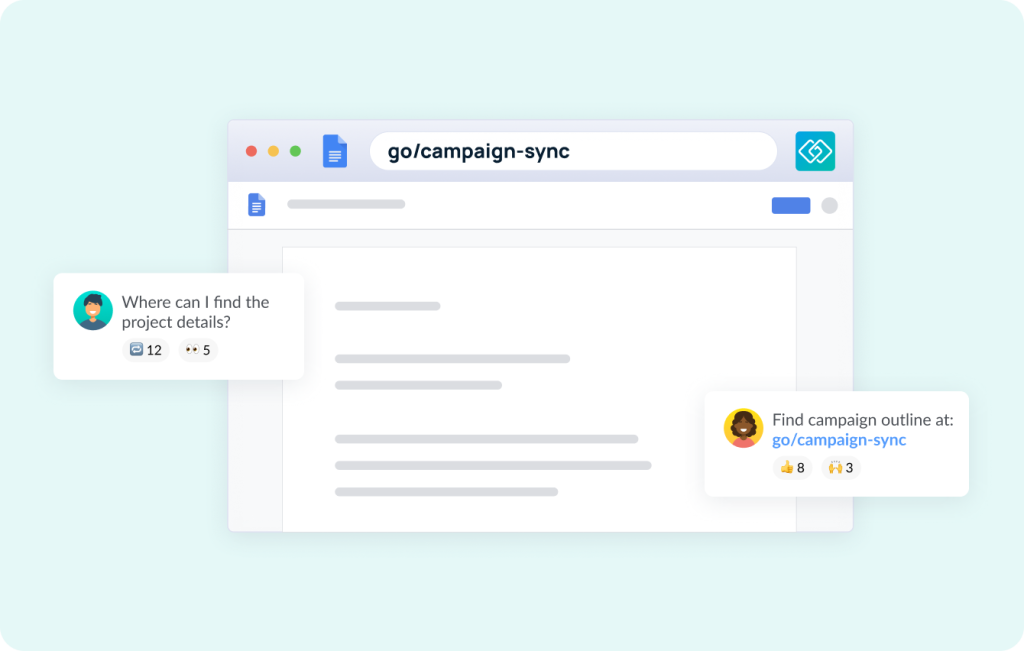 Benefits of using GoLinks in Google Docs
GoLinks is a great way to shorten Google Drive links, making them easier to share across your organization. By using GoLinks in Google Docs, you can enjoy benefits such as:
Memorable and customizable links. Scrolling through long Google Docs in search of that one link that you know is somewhere can quickly eat up a workday. Save time with short, easy-to-remember go links.
Enhanced collaboration and productivity. Unlike long links, GoLinks can be shared verbally and visually, making it easier to collaborate on Google Docs in real-time with coworkers.
Seamless integration with other SaaS tools. There's no need to reinvent the wheel. Integrate GoLinks with the tools you already use for work on a daily basis — like Slack, Zoom, Microsoft Teams, and more.
Analytics and tracking capabilities. Keep an eye on what resources your team is using, and which ones they aren't. This will help you further increase employee efficiency and engagement.
Additional tips for using GoLinks in Google Docs
The GoLinks browser extension isn't your only option for shortening links in a Google Drive file. You can also use the Google Docs integration. Once you've installed the add-on, you'll be able to easily change all of the go links you inserted in the Google Doc to clickable links, saving time for both you and whoever will receive the final document.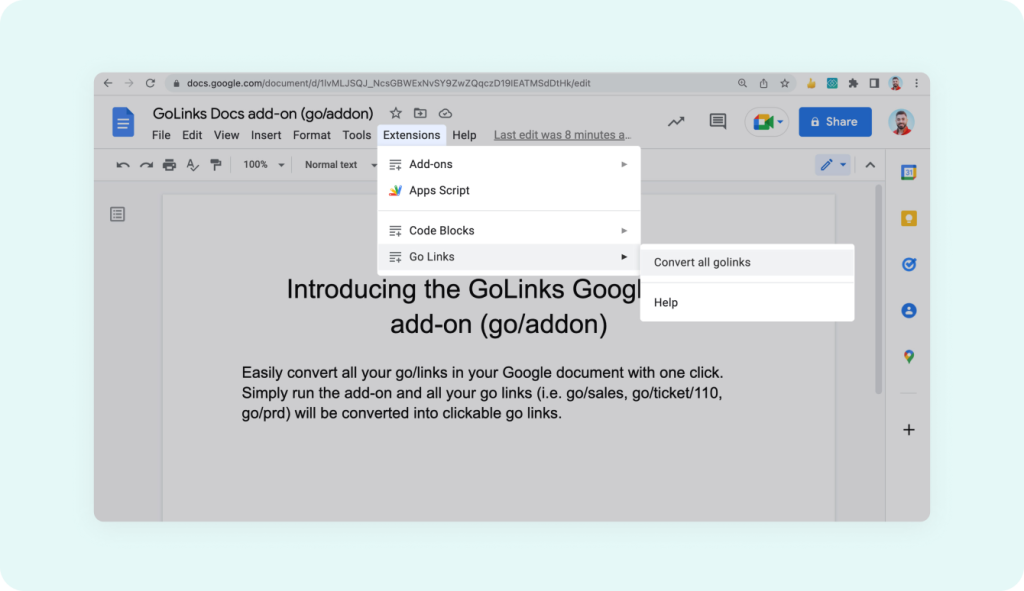 Use GoLinks to shorten Google Drive links
If you're trying to learn how to shorten a link in Google Docs, GoLinks is a great solution. With integrations and add-ons available across Google platforms, GoLinks makes it easy to create and insert short links into a document.
To get started, sign up for a free GoLinks account. Then install the GoLinks browser extension and the Google Docs add-on so you can create and share short links directly in each Google Doc.