If you work in Human Resources (HR), chances are that you're used to juggling tasks. From onboarding new hires to managing employee payroll and beyond, there's a lot to handle.
Without the right systems in place, it's easy to slip into firefighting mode — where you forget to follow up with candidates, constantly have to dig up information for employees, and put longer-term goals on the back burner.
Fortunately, the right HR workflow software can help you create custom workflows so that you can manage everyday tasks seamlessly (and still have plenty of time for bigger projects!). Here are the six tools HR departments shouldn't be working without.
1. GoLinks
A large part of HR teams' responsibilities revolve around connecting employees to information and tools they need, such as:
Employee onboarding material
Training guides
Information on benefits, reimbursements, and more
Paperwork
Company knowledge
Payroll software
When company information is hard to find, it's easy for HR teams to get sidetracked by continuous employee requests to share information.
GoLinks helps cut down on this back-and-forth by making links to resources memorable and easy to find. With GoLinks, you can create short, intuitive links for any of your resources, helping employees share and access exactly what they need, when they need it. Rather than remembering a specific URL for payroll software and another for the company wiki, employees can simply type "go/payroll" or "go/wiki" into their browsers and find the resources they need.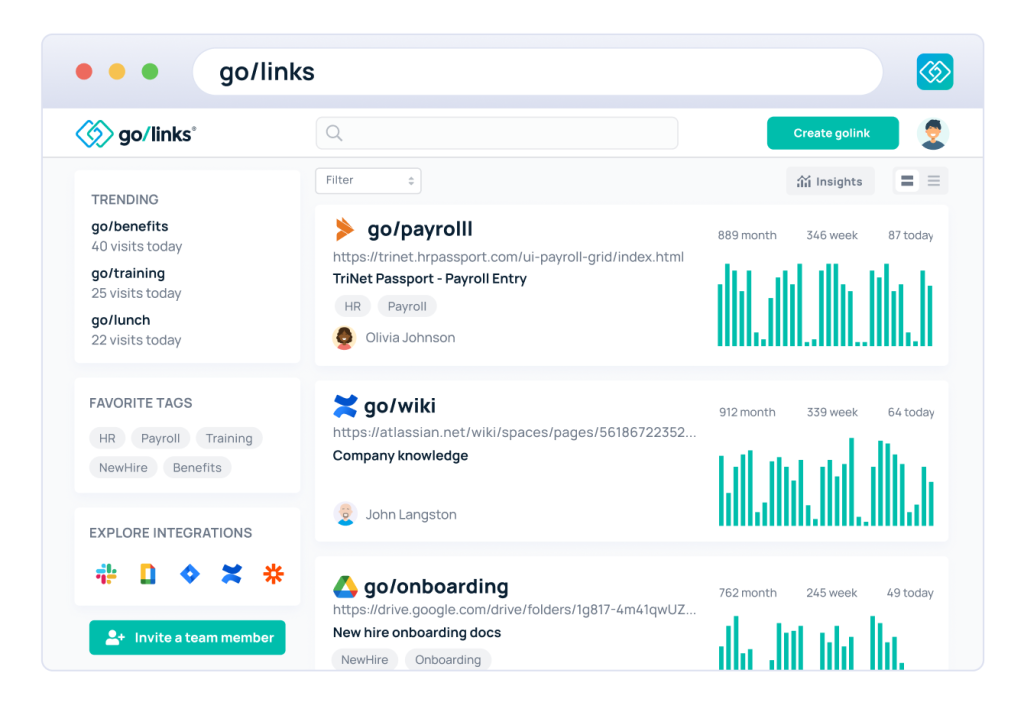 At DoiT International, Chief People Officer Kristen Tronsky uses GoLinks to onboard new employees and keep their global, remote staff collaborating seamlessly. Kristen describes GoLinks as "the spider-web that connects information to every organization."
"GoLinks is one of those things that people rely on," Kristen says. "It helps them massively, and they don't think twice about it because it becomes their operation."
2. BambooHR
BambooHR is an all-in-one HR tool that makes it easy to manage your existing and incoming employees. Using BambooHR, you can:
Collect and organize people data
Track applicants through the hiring process
Handle time tracking, paid time off (PTO), and payroll
Measure employee performance and satisfaction
Employees can use BambooHR to check in on their remaining PTO, review payroll, gain useful feedback from peers, and share their views with leadership. It also streamlines tedious tasks on the HR team's end, allowing them to easily capture employee information, manage payroll, and improve the recruiting experience.
3. Notion
Did you know that the average employee spends over three hours a day searching for company information that already exists?
A knowledge management tool like Notion can make it easier to keep information organized company-wide. One of the main ways that HR teams will use Notion is to build out a company wiki that includes essential company documents employees can refer to, such as your:
Mission and values
Vacation policy
Expense and benefits policies
Referral program
Org chart and company directory
Frequently asked questions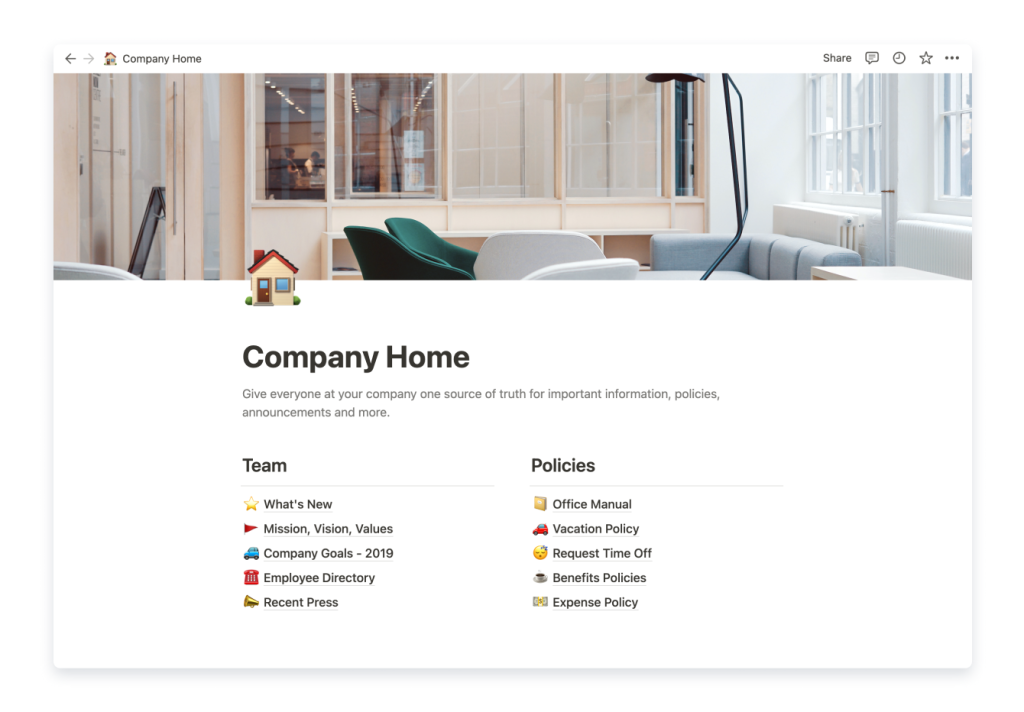 Since Notion allows you to organize information in tables, documents, and graphs, it's easy to build out information exactly as you need it — and link between documents to keep information accessible.
4. Absorb
Managing employees' learning and development (L&D) is a huge part of your HR teams' job — whether that means training new employees or upskilling existing teams. And investing in L&D pays off: not only does it increase productivity and engagement, but 93% of employees say they'll stay at a company longer if it invests in their career development.
Absorb is a learning management solution that lets you build personalized learning experiences for teams across your company. If you want to build your own courses, you're able to do that — but Absorb also lets you access thousands of pre-built online courses for employees, keeping employee development flowing even as you tackle other tasks. Use it to streamline your onboarding process, help employees train for promotions, and improve managers' skills.
5. GoodHire
One of the best ways that you can improve your existing workflow? Take a time-intensive, manual HR process and automate it.
You can save time and take employment background checks off of your team's to-do list by using GoodHire. GoodHire is HR workflow software that lets you automate and manage background checks — including background checks, healthcare sanction checks, and driving record checks.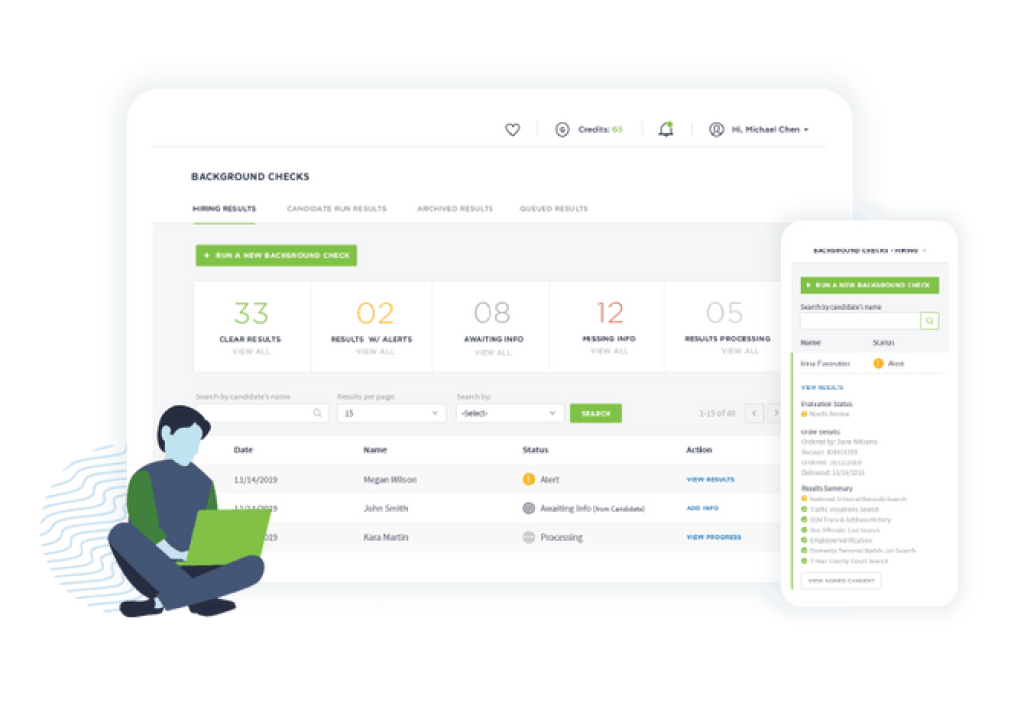 GoodHire allows employees to see their results, so that everyone is in the loop. It also integrates with commonly used HR tools so you can automate employee screening.
6. Trello
Every day, there are a million and one administrative tasks that your HR team is responsible for — from writing up a new employee resource to researching new benefits providers to planning a holiday party.
A project management tool like Trello can ensure that your team stays organized and meets deadlines. It can also make it easier for team members to understand what's on everyone's plate, and analytics can give managers extra visibility into their teams' workload and productivity.
Getting started with HR workflow software
Using the right HR workflow software can give your HR team extra time back in their day to do what they do best: look after your organization's culture and staff.
Start streamlining your workflows today by trying out GoLinks for free.