In today's world, there's a tech solution for every problem.
And for sales reps, these solutions are key to helping them claw back their precious time, so that they can focus less on administrative tasks and more on selling. Yet, unfortunately, running a well-oiled sales process requires more than just throwing tools at it.
This is especially true when two-thirds of sales reps say they're already "drowning" in tools. The average sales team reports having to use 10 different tools to close their deals, and that's on top of the other 100 SaaS apps used across their wider organizations.

The solution, of course, isn't to cut down indiscriminately on the tech solutions you use. Instead, it's about carefully auditing your tech stack, reducing the number of tools used based on data, investing strategically in software, and ensuring your tools work seamlessly with one another.
Below, we'll walk you through how to do exactly that, step by step.
Step 1: Audit your sales tech stack
The first step to auditing your tech stack is to gather data, so you can get a solid idea of where you're currently at.
Identify which of your existing tools are most useful
According to Productiv, only 45% of the app licenses in a company's SaaS portfolio are actually used on a regular basis. Sales tools aren't exempt from this problem.
To identify just how frequently sales reps are using the apps in their tech stack, you can use a SaaS spend management tool. GoLinks, for instance, provides you with usage analytics on every app in your organization.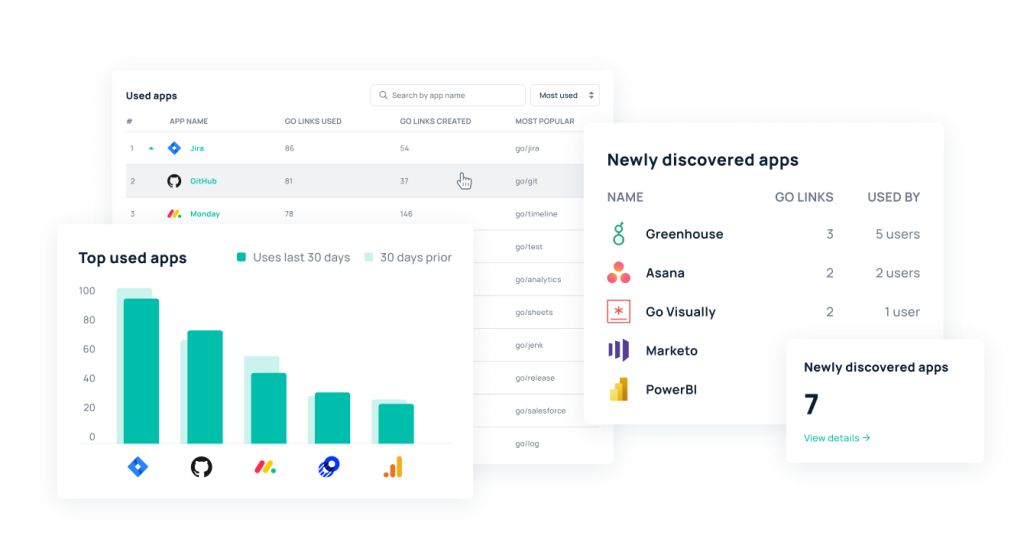 To zoom in specifically on the sales team's usage of specific apps, you simply need to view product usage by team.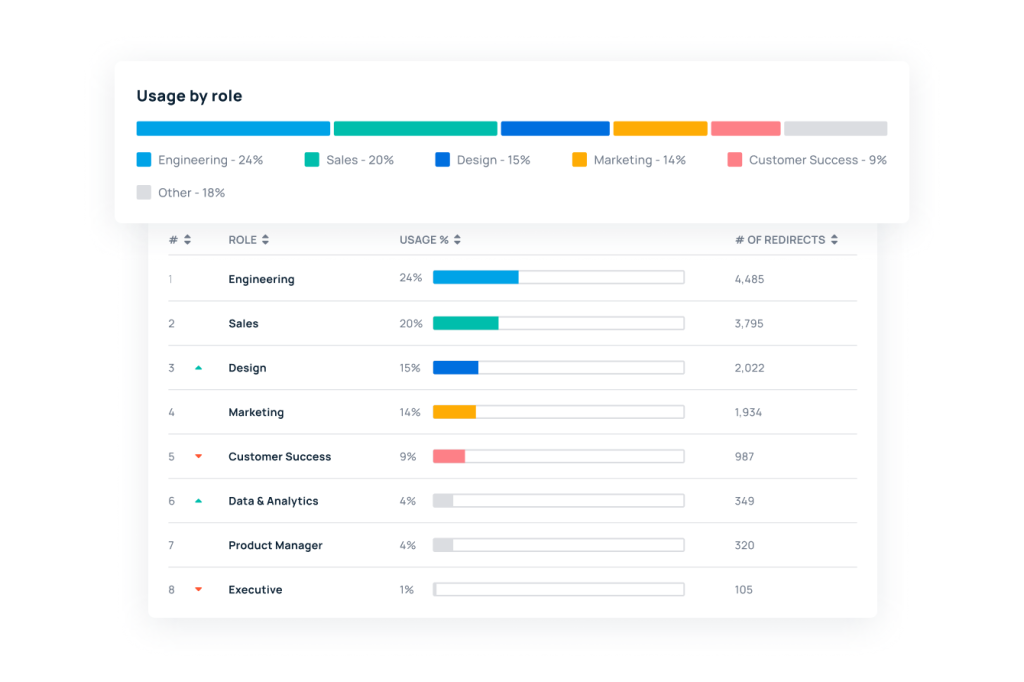 Using this view, you can look into every app in your sales tech stack and see what percentage of your sales team has used it in the last 30 days. Based on what you learn, you can make a shortlist of apps that seem useful to the team — and another list of those that don't.
Talk to your team members
Armed with data about different tools' usage, you can now talk with your team members about their own experiences with their current tech stack. Sales leaders will sometimes think they have a good understanding of employees' usage of different apps, but speaking with your team may surprise you. After all, the sales development representatives (SDRs), sales reps, and managers that are closing deals daily will have a better understanding of what tools are working for them and which aren't — and why.
If you identified a few apps with low usage during your audit, make sure you ask both frequent users and non-users about their experience with the tools. If, for instance, only 20% of your sales team are using an app regularly, that might not mean that you need to cut the app from your tech stack altogether. The 20% of your team who do use the tool might find it incredibly useful. However, perhaps this is an opportunity to reduce the number of licenses you pay for or provide your team with further training on the tool.
Other questions you might want to ask team members include:
What tools do you find yourself using most on a day-to-day basis?
Which tools do you find the least helpful?
Which tools do you find burdensome or non-intuitive to use?
Where — if anywhere — do you feel like you're repeating work within our sales process?
What type of sales automations or integrations would be useful to see across our tools?
Where are you spending the most time doing manual or repetitive tasks?
Your team members' answers to the questions above should give you plenty of data to help inform your software purchasing decisions.
Identify any gaps in your tech stack
Finally, you'll want to gain an understanding of where additional tools might improve your sales process.
The average salesperson only spends 28% of their week actually selling. The rest of their time goes towards planning, preparing, researching prospects, generating proposals, completing administrative tasks, and manually entering data across platforms. And while these activities are important, they don't actually drive sales.

This is where it's helpful to understand where your team is feeling slowed down. Ensure your conversations with your team members include questions that assess where they're feeling bogged down and which tasks are taking them too long. You can also scan through your tech stack to see if your apps' features help automate these tedious tasks. Where could technology help solve your team's existing problems?
Step 2: Eliminate unnecessary or redundant sales tools
Based on your audit, you've likely emerged with a list of tools that are being underutilized by your team. These may include tools that are outdated, difficult to use, or whose features aren't being fully taken advantage of by team members. You may also find that you're paying for two or more tools that serve the same function.
Based on data gathered from your team, you'll want to go through this list and separate tools into three categories:
Tools that should be eliminated from your tech stack altogether.
Tools that should have their subscription levels changed. If your team is only using the features available on a Basic plan, stop paying Pro prices for all of your team members.
Tools where you can reduce the number of licenses you pay for. If one tool is extremely helpful for SDRs but never used by account managers, cut down on the number of licenses you pay for.
Once you've made these cuts, you can look at addressing any gaps that remain in your tech stack.
Step 3: Invest in new software
Not sure exactly where technology could improve your sales process? Below, we'll walk you through a few types of software commonly used in the best sales tech stacks.
Customer relationship management
Customer relationship management (CRM) software lets your team manage their relationships with customers, prospects, and leads. It's used to store contact information, track interactions, and identify opportunities as prospects move through the sales funnel.
Sales intelligence
Sales intelligence actually covers a wide range of powerful tools. What they all have in common is that they allow sales teams to access data on their potential and existing clients' businesses. These tools can help teams generate sales leads, gain real-time data on prospects, enrich their existing customer data, and conduct market research.
Sales enablement
Sales enablement software centralizes all of your company's marketing and sales assets. It makes it easy for sales reps to find the content they need — like playbooks, case studies, and e-books — to land clients. Often, reps can search for assets by industry, client type (for instance, unqualified or qualified leads), or product needs.
Sales productivity
Sales productivity software streamlines aspects of your sales processes and communications, so that reps have to do less context-switching and task management. Sales productivity tools can help facilitate internal and external communications, systematize processes, and automate repetitive tasks.
Sales collaboration
Sales collaboration tools are used internally at companies to help sales teams better collaborate. Some focus on improving teams' communication, prospecting, or processes, while others are used to uncover coaching opportunities or unify pipelines.
Data connection and integration
Data connection and integration tools help data flow more easily between the myriad apps sales teams use. Data connection tools work to connect different systems, so that data can be accessed through either system. Data integration tools, on the other hand, work to pull data from several different sources into one system.
Sales analytics
Sales analytics tools let sales managers measure the performance of their sales activities. Using analytics, sales leaders can track the performance of sales reps, analyze the number of calls and sales emails being sent, and understand the products, campaigns, and tactics that are working best for their teams.
Email management
Email management software makes it easy for sales reps to manage their inboxes and communication. It can allow reps to track email opens and click-throughs, automate campaigns, and send emails en masse.
Tools that encourage software adoption
While all of the tools above undoubtedly help sales teams improve their performance, keeping track of multiple apps can be challenging for individuals — which then limits the tools' impact. However, software that facilitates software adoption can make it easier for sales reps to remember, track, and use the variety of tools in their toolbox.
GoLinks, for instance, is an intuitive link management platform that makes it easy for teams to find and share information. As an internal link shortener, GoLinks lets individuals rename long URLs into intuitive shortlinks, such as "go/leads," "go/pipeline," or "go/demo." Rather than having to remember where specific data is stored across 10+ apps, sales reps can simply use GoLinks to access exactly what they need, when they need it.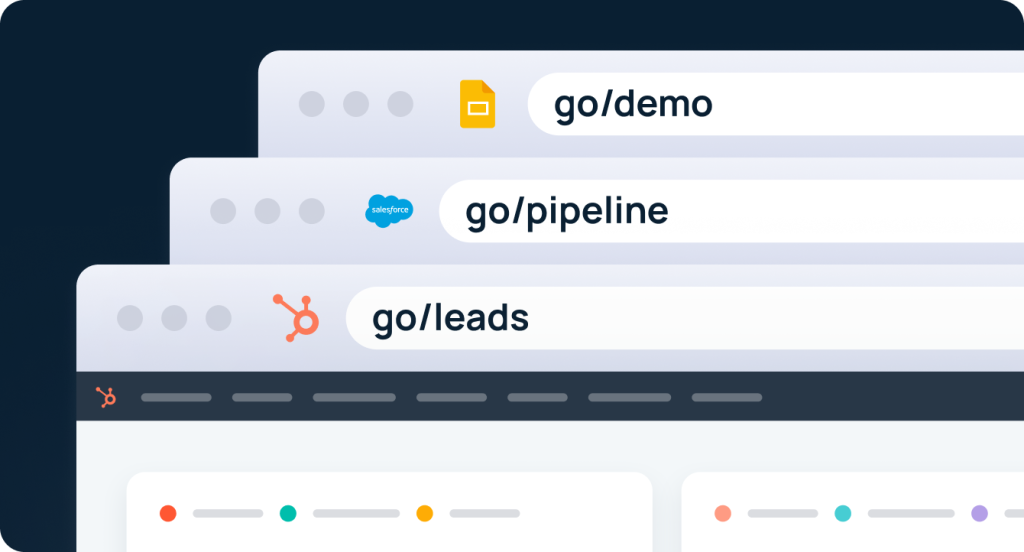 Step 4: Identify useful integrations
Last but not least, look for opportunities to connect the different tools in your tech stack. When tools work with one another seamlessly, it makes it easier, quicker, and more efficient for your sales reps to leverage tech in their workday.
Integrations can be used to import data automatically, update information across platforms, and trigger actions in different apps. They also make it easier for your teams to use your tech stack to its full capacity — meaning reps will be less tied up with busywork and more focused on selling.
Optimize Your Sales Tech Stack
Ready to get started? To learn more about how GoLinks can help you audit your tech stack and improve software usage, schedule a demo with our team today.