Are you tired of constantly digging through bookmarks?
Or bugging your coworkers to help you find a resource?
We have a new tool that can help! GoLinksGPT, our generative AI powered by GPT-4, answers any query and delivers intelligent resource recommendations. It has a simple and intuitive interface and lightning-fast functionality — so you can get what you need instantly.
In our recent webinar with Sr. Product Marketing Manager Charlotte O'Donnelly and Sr. SDR Manager Roberto Carrero, we covered the ins and outs of this powerful new tool.
Click here to watch the webinar recording.
Key Takeaways
We didn't just host this webinar because GPT-4 is the latest and greatest new thing. We've seen that GoLinks can solve real problems for teams today — so we're excited to share this new functionality! Here are some of the key takeaways from the webinar.
A little background on GoLinks GPT-4
To kick off the webinar, Charlotte gave a quick overview of this new GoLinks feature. Although ChatGPT was released in 2022, its public API wasn't released until March 1st this year. GoLinks was able to get access and, in just a week, launched search powered by ChatGPT.
When OpenAI released its latest version, GPT-4, GoLinks was one of the first few companies to get early access. Today we're delivering this powerful AI to our users.

With GoLinks powered by GPT-4, finding information just got even faster. This functionality exists both in our GoLinks dashboard as well as in Slack.
How to use GoLinksGPT in the dashboard
During the webinar, Roberto dove into the dashboard functionality and gave multiple great examples of how it works. Here's one example:
As an SDR manager, sales reps often come to Roberto wanting customer use cases. Instead of asking him every time and waiting for an answer, reps can now ask GoLinksGPT.
All they have to do is type a question like "Where can I find customer quotes?" and GoLinks AI Recommendations will show up with top-used go links that they can access.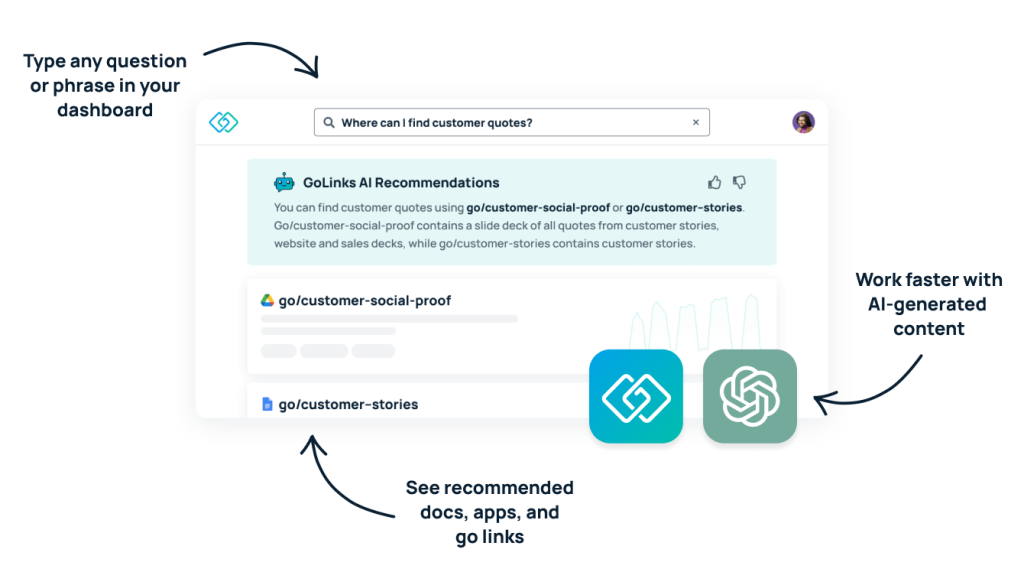 These recommendations allow our sales reps to quickly find what they need — and let Roberto continue working on other important tasks.
How to use GoLinksGPT in Slack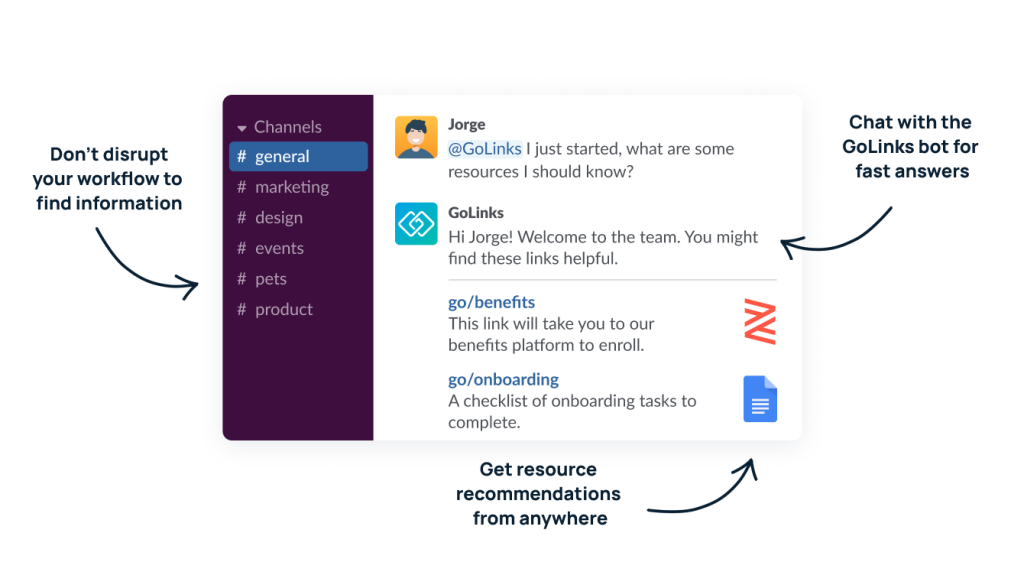 Roberto also gave some great examples of using this tool within Slack. Here's one of them:
Let's say you're a sales rep trying to better understand your target personas. You want to know what types of tools sales enablement leaders use. You could ask GoLinksGPT, "What productivity apps do sales enablement leaders use?"
From there, the GoLinks bot gives a whole list of top tools, as well as a suggested go link.
Webinar Q&A
During our time on the webinar, we opened the floor to some Q&A. Here are some of the questions we got and the answers from Mark Rutherford, our Software Engineer.
Is there an additional cost for GoLinksGPT?
There is no additional cost — it's available to every GoLinks user! Enterprise customers just have to opt in under workplace settings. If you're a non-enterprise customer, you already have access.
Does GoLinks integrate with other platforms I use?
GoLinks offers 11 native integrations with apps like GitHub, G-Suite, Zoom, and more! Though GoLinks integrates with many tools, the GPT functionality is currently only available in the dashboard and Slack.
What data does OpenAI have access to?
OpenAI will not have access to your documents or the URLs that the go links redirect to. The only information that is shared is the go link name and description. OpenAI will not use this information to train future models.
Getting Started with GoLinksGPT
With GoLinksGPT, you're always just one quick question away from getting the exact resources and information you need.
To learn more about GoLinks GPT, head to our blog: GoLinks Powered By ChatGPT: Search Just Got Way Smarter. 

For even more use cases and examples of the GoLinksGPT functionality, make sure to watch the webinar recording.