Whether your company was already trending towards a more remote-work culture or you've suddenly been impacted by COVID-19, the right set of tools will help you master the remote work environment. Get ready for some remote work tools to power your distributed team.
So let's first signal left, step on the gas, and accelerate past the usual suspects you'll read in other articles. Slack, G Suite, Atlassian Suite, Zoom, Dropbox, InVision, — and many other similar products — are already well suited for distributed teams.
So what else?
There are few things to look for when considering a tool for remote work. Collaboration, productivity, and access to teammates are three focus points for us. Let's dive in.
Tandem
Tandem is the hot new communication tool that's been gaining some serious traction, and for good reason. While other chat platforms like Slack offer an array of features and integrations, it doesn't really focus on the specific needs of a distributed team. Tandem is designed specifically for remote work and pitches itself as a virtual office.
What we ❤️ about it
• See if a team member is actively at their computer
• See what app a coworker is working in
• Create rooms for various needs (daily standup, watercooler, sales floor, engineering den, help needed)
• Jump in and out of voice and video calls with screen sharing and shared cursor
• Sleek and minimal UI that isn't distracting
Standups
Think of Standups as Instagram stories for work. Record short voice or video updates at your team's desired schedule to fill everyone in on company or task happenings.
What we ❤️ about it
• Provide async updates without being tied down to a meeting
• Works well with teams in different time zones
• Comment and react to your team's videos
• See your coworker's beautiful faces 💁‍♀️#nofilter
GoProfiles
Especially when you work at a remote company, it can be hard to remember who exactly does what. It's also hard to remember what time zone everyone is in when you need to schedule meetings. GoProfiles makes it easy for employees to find this exact information (and more)!
This tool provides remote companies with employee profiles, an org chart, an interactive employee map, and peer recognition.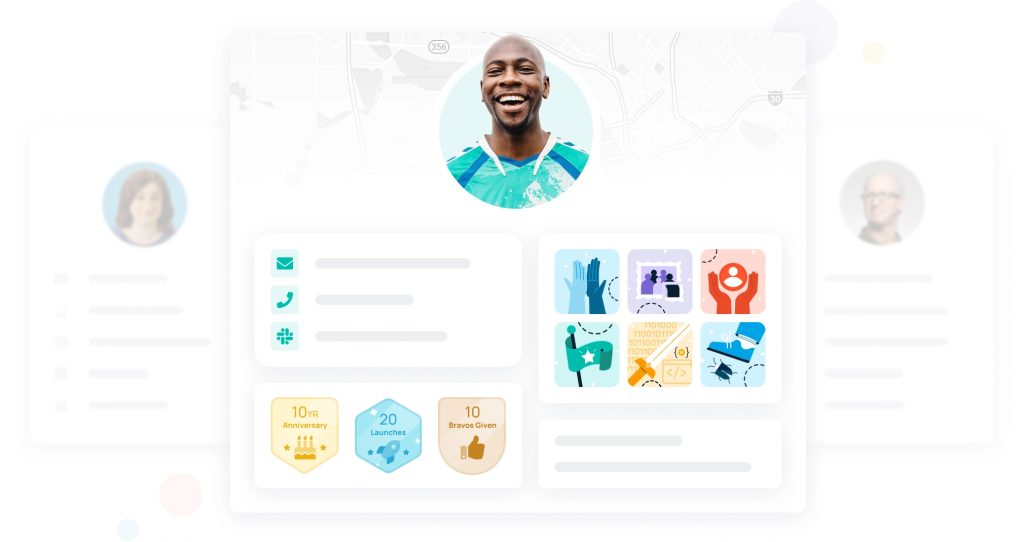 What we ❤️ about it
Make people data personal – beyond names and titles
Get clarity into teams and reporting hierarchy
100+ integrations like Workday, Trinet, and ADP
Automatic data syncing to eliminate manual effort
Kap
Sometimes words just don't do it. Without the ability to drag a teammate over, sometimes a short GIF is exactly what's needed to show to your engineering team what's broken. Kap is an ultra-lightweight screen recorder tool that allows you to export as GIF, MP4, WebM or APNG.
What we ❤️ about it
• Super simple tool without the wiz-bang features you don't need. Minimal audio and trimming features that get you a final product fast.
• Quick exporting to file types that matter
• Edit existing recordings or videos
• Optional ability to highlight clicks
• Free!
Serene
You're nestled into your favorite chair wearing the universal work-from-home uniform of business-on-top and slumber-party-on-bottom. You begin working and all a sudden your brain thinks, "Ah, I should throw in a load of laundry," or "Those plants can really use a good watering." It's easy to become distracted by household tasks if you're used to working in an office environment. I mean, taking out the trash will only take a few minutes, right? Context switching is a huge killer of productivity and one of the biggest problems with remote work is staying focused on a single task.
Serene offers various features that help battle the often ping-pong mindedness of remote work when left to your own devices.
What we ❤️ about it
• Set timed work sessions to dedicate to a specific task
• Block distracting websites and apps to reduce temptation
• Plan out your day with overarching goals and to-do lists
• Set regular breaks to prevent fatigue (and to pet your cat😺)
Clientvenue
Project management tools are essential for marketing agencies to keep track of tasks, deadlines, and deliverables for their clients. Without a good project management tool, it can be easy for things to fall through the cracks, leading to missed deadlines and unhappy clients.
One such efficient tool is Clientvenues' marketing agency project management tool which is specifically designed for marketing agencies and has all the features you need to manage your projects effectively. It includes a calendar view, task lists, file sharing, and collaboration features.
What we ❤️ about it
• Customization to fit your branding
• Timesheets to keep track of employee work
• Reports for projects in an easy-to-read dashboard
• One centralized space to store media and assets
Donut
Remote work means that team members will need to put more effort into connecting with each other. Without that 9 AM huddle around the coffee machine, what else can you do to encourage culture building?
Enter Donut. This app pairs up team members for casual chats or 1:1s to build bonds that may be often missed when you're not in proximity to each other. Whether it's catching up with a close colleague or meeting someone completely new from another department, Donuts help handle it all with their Slack app.
What we ❤️ about it
• Quick Slack integration and minimal setup
• Connect with team members you would not normally interact with
• Automatic reminders that take the stress of scheduling off the user
• Optional features like mentorship programs, job shadowing, and knowledge sharing
Krisp
You're about to jump onto a call. Someone is mowing the lawn outside, your dog is barking, and your kids are singing along to Frozen for the millionth time. There's no quiet place to hide. Krisp solves this by muting background noise during calls.
What we ❤️ about it
• Options to mute background noise while speaking and mute background noise coming from call participants
• Use with any device like speakers, headsets, microphones, Airpods
• Works on mobile via iOS app
• Audio processing is performed locally to maintain your privacy
GoLinks
Ok, yes, we're stroking our own ego here a bit, but please bear with us and let us state our case.
Searching and accessing resources is largely inefficient. It's hard in the office and it's even harder when you're out of the office. Your company is an app-powered workplace with major dependencies on its tools to get work done. The ability to effectively use your work tools while confined in your home is paramount.
GoLinks is the smart link shortener that helps high-performance teams access and share resources instantly. Simply use go links like, go/wiki, go/doc, and go/standup, directly in your address bar to target down specific resources. Once a go link is created, anyone in your company will be able to use it.
What we ❤️ about it
• Access GoLinks from any device from anywhere without VPN (totally secure too!)
• Visualize entire company's go links on one dashboard
• Get to any resource with a couple of keystrokes
• Instant resource sharing in chats or voice calls
• Slack integration
• Available on Chrome, Safari, Firefox, Edge, Brave, Opera

Any remote work tools we missed?
Let us know what remote work tools you use👇
Twitter • Linkedin • Instagram • Facebook • Youtube • G2 • GitHub