About Signal Advisors
Signal Advisors was founded to help top financial advisors become more successful and scale their business in ways that were not previously possible through their end-to-end IMO Platform (Independent Marketing Organization.) Through Signal Advisors, clients can streamline their IMO process and focus on what they do best-advising their clients for a variety of solutions.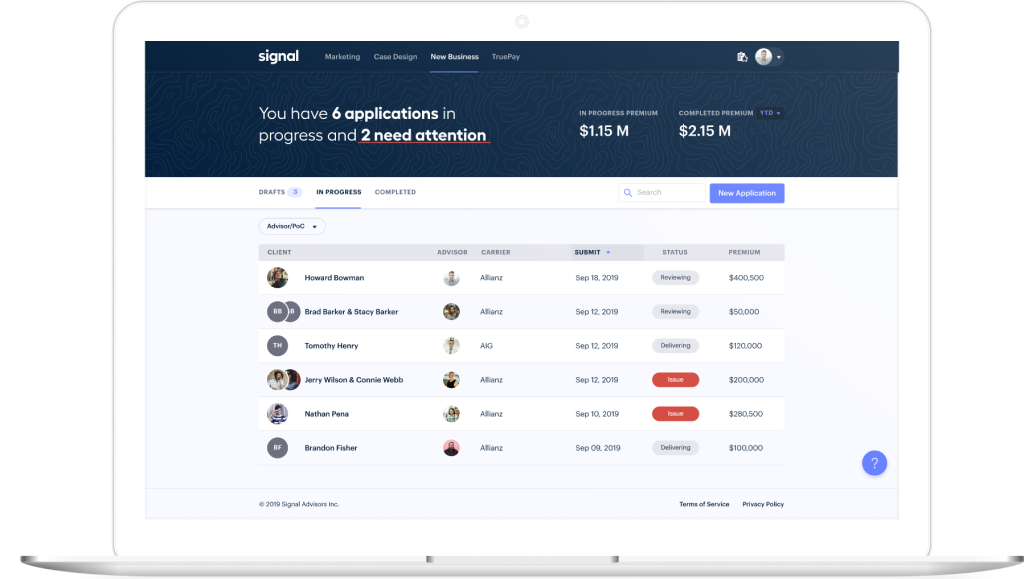 Goal of Integrating GoLinks
The Signal Advisors team was looking to scale their headcount by 2x in 2021 and were looking for a solution to help keep their team connected. As a fully-remote workforce, the company was already utilizing SaaS tools like Google Workspace, Notion, as well as knowledge bases and an intranet to keep knowledge accessible for teams, however, it was becoming unwieldy. They had tried several solutions, like making Google Docs with a lot of links. As the company grew, they found that knowledge management was a problem, especially when it came to making sure that teams get access to knowledge that they need; a few examples are company Objective and Key Results (OKRs) tracking, standard operating procedures, (SOPs), user guides, documentation and their knowledge base.
Signal Advisors sought a solution to better manage their knowledge. This effort was led largely by Co-Founder and CTO, Kevin O'Hara. The Operations team, led by Sr. Growth and Business Operations Manager, Abby DeVito, provided key support to the implementation and rollout of GoLinks.
Solution
When searching for a knowledge management solution, Kevin instantly recognized "[GoLinks as] the thing we didn't know we needed, we thought [our problem] was something we had to live with."
When it came to a solution, Kevin wanted something that would scale with the company as they continue to grow "We recognize the problem of accumulating a lot of content [and] not having a great way of organizing or getting people to access it." Kevin felt that GoLinks was a perfect compliment for their needs and felt that the pricing was justifiable. "Cost was probably [our biggest] factor, GoLinks is a company wide-solution and with growth, cost was going to accumulate, we felt that [GoLinks] was priced fairly and really well."
Knowledge Sharing in a Fully-Remote Company
"Transparency and collaboration in a remote culture are extremely important for us, so GoLinks definitely plays into that." says Abby. For hiring, every new hire receives an onboarding guide with information on how to use GoLinks. GoLinks are also used during company meetings and cites the go link, go/okr, as one of their most top used GoLinks to help the company stay focused on their OKRs, they also use the tagging feature so that staff can easily find them. Signal Advisors is building out their intranet and knowledge base and are continuing to use GoLinks to help their staff by embedding them within key pages, this ensures that new and current employees will access key knowledge.
As a remote-first company Abby cites Golinks as key to success in onboarding "I think everyone loves it – it's super simple and doesn't require training. Most of the team is brand new and we've 2xed our hiring and [new hires] having access to an easy-to-use tool like GoLinks that doesn't require training is nice." The Ops team generates most of the documentation for Signal Advisors on how to best use GoLinks. They've focused on best practices for making sure that go links usage stays streamlined and even use the tagging feature so that key resources are easy to find, they also use the locking feature to make sure that company-wide information is maintained, and have focused on building out go links that are synonymous so that go links stay memorable for staff.
Top Ways Signal Advisors uses GoLinks
Whether it's on the company intranet, or living in a Google Drive, the Ops team has worked on really building GoLinks into the process for improving knowledge sharing and it's paid off.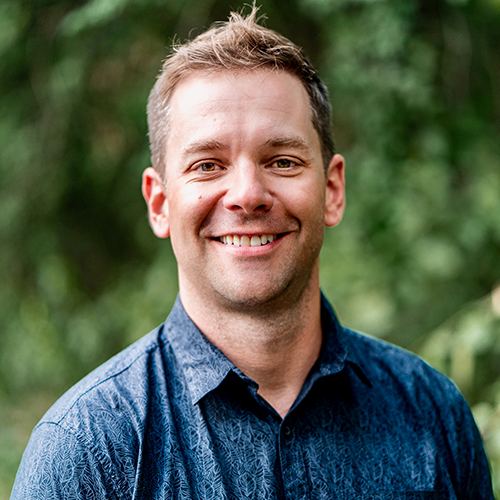 "GoLinks becomes second nature in how to access documents to Signal Advisors staff and they definitely think that the loss of it would be detrimental."

— Kevin O'Hara, Co-Founder and CTO at Signal Advisors
Kevin also cites the ease of use for having the search function as being key to increasing staff productivity "We've embedded [GoLinks] into our business and people are accustomed to using the search function." The new business team uses go links to quickly find information to answer customer questions. Another feature that the Ops team at Signal Advisors really like is the weekly email that users receive to let them know how much time they've saved due to using GoLinks–they've treated it as a fun competition, which helps maintain adoption, and ensures that the team stays productive.
With a focus on improving efficiency and fostering a culture of knowledge sharing it's clear why GoLinks is a success at SignalAdvisors. With the adoption of GoLinks, Signal Advisor's staff are empowered with the knowledge to do their jobs more efficiently. If you're looking to drive productivity and meet your business objectives this year; check out golinks.io and try it for free today.
Curious to see how GoLinks can work for you?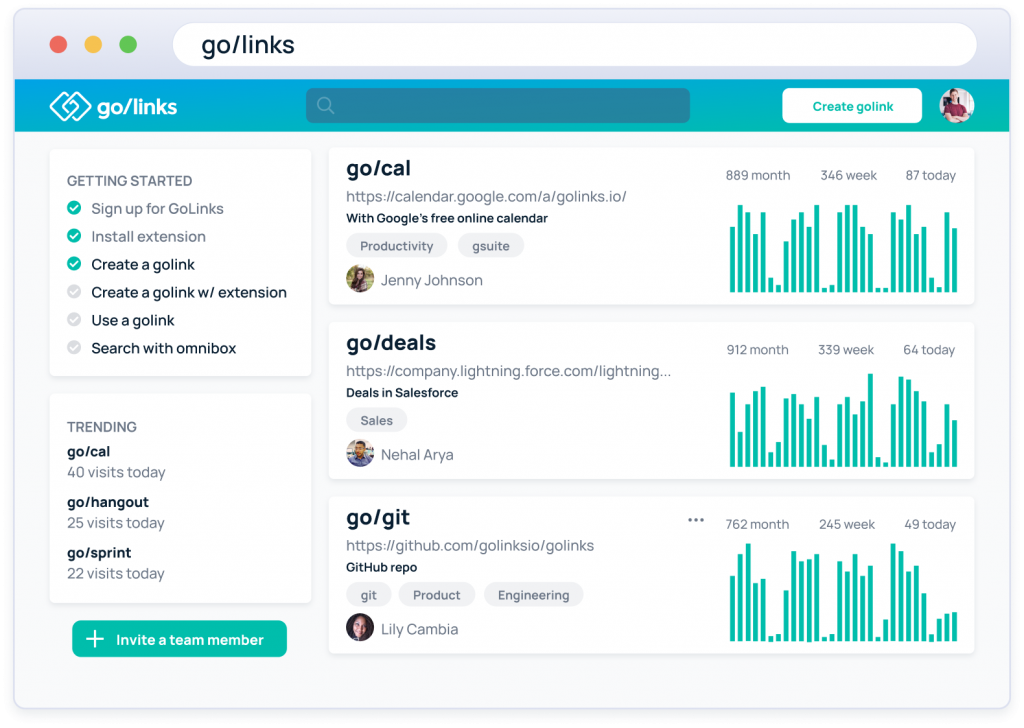 GoLinks is the choice for companies looking to drive productivity and meet their business goals in 2022. If GoLinks sounds like the knowledge-sharing tool for you, fill out this form to request a demo.