Google Sheets is the top choice for online spreadsheets you can easily share. And if you're a regular user, then you know it's an efficient way to not only craft spreadsheets but collaborate with team members in real time.
We also know it's important to have quick access to these spreadsheets and the links within them so you can work efficiently. That's why GoLinks is the go-to tool for Google Sheets.
33% of GoLinkers use Google Sheets (and 906,000 go links are used for the app). To help users get the most out of the app, we created a GoLinks Google Sheets Integration.
Read below to learn more about the tool, and check out the youtube video to see it in action.
Automatically convert links
Tired of copying and pasting links?
With the Google Sheets add-on, you no longer need to. Automatically convert all or specific go links within your spreadsheet into clickable links.
Save minutes of time for you (and your team) with the click of a mouse!
Keep your links secure
Does your spreadsheet have company links that are private?
Keep your information secure with this add-on. Your go link destination URL will be hidden, and GoLinks authentication is required for access.
Enjoy full control over who has access to company resources and information.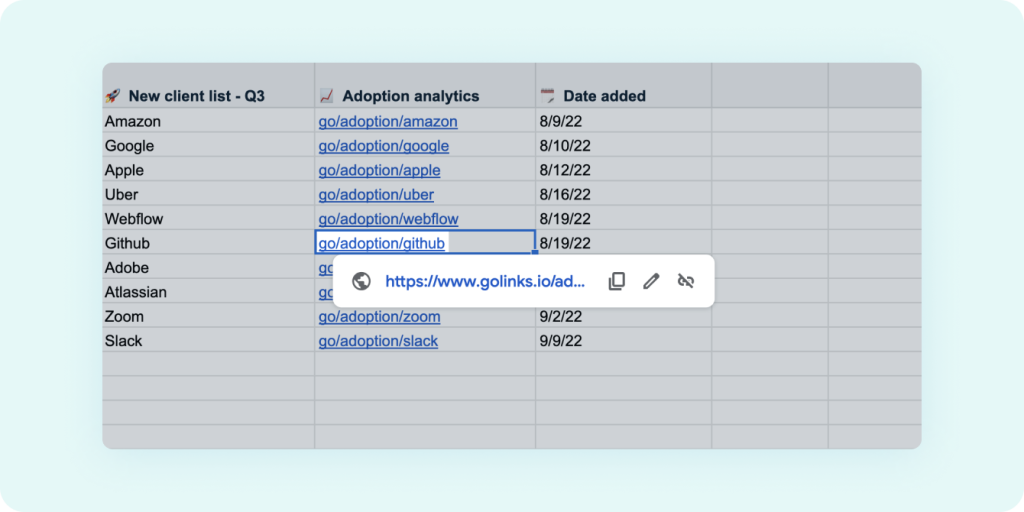 Maximize your Google Sheets workflow
Looking for helpful shortcuts to improve your workflow like go/newsheet or go/roadmap?
Check out the GoLinks App Marketplace. Here you can browse and discover popular go links for all your favorite apps that can quickly and easily be saved to your team's library.
Visit the insights section and see how other teams are using GoLinks to boost workflow productivity in Google Sheets.
How to get started:
Try GoLinks + Google Sheets today
Ready to elevate your workflow in Google Sheets? Add our free extension today and discover how GoLinks can maximize your favorite Google Workplace app.
Not using GoLinks yet? Start for free at www.golinks.com.