HR is a huge job. HR departments are responsible for all things people-related, from streamlining HR processes to running payroll to managing job postings and interviews. (And just about every other employee-centric task in between!)
It's a lot to manage. And in order to manage it all effectively, you need the right tools.
The right HR tools allow HR managers to more effectively navigate their tasks in different ways. For example, they streamline or automate HR processes and collect employee data that HR can use to make better decisions for their team.
But with so many HR solutions on the market, choosing the right HR tools can feel overwhelming. Out of all the available options, which tools are actually going to have a positive impact on your team and improve your HR operations?
In this article, we highlight 8 of the best HR software options for startups and small businesses, including:
GoLinks
ADP
Zenefits
BambooHR
GoProfiles
Gusto
Greenhouse
Lever
With the HR software solutions on this list, you'll have everything you need to more effectively manage all-things people related—and empower your team's best work in the process.
Ready to get started? Let's jump into the HR platforms you'll want to try in 2023.
The Best HR Software for Startups
1. GoLinks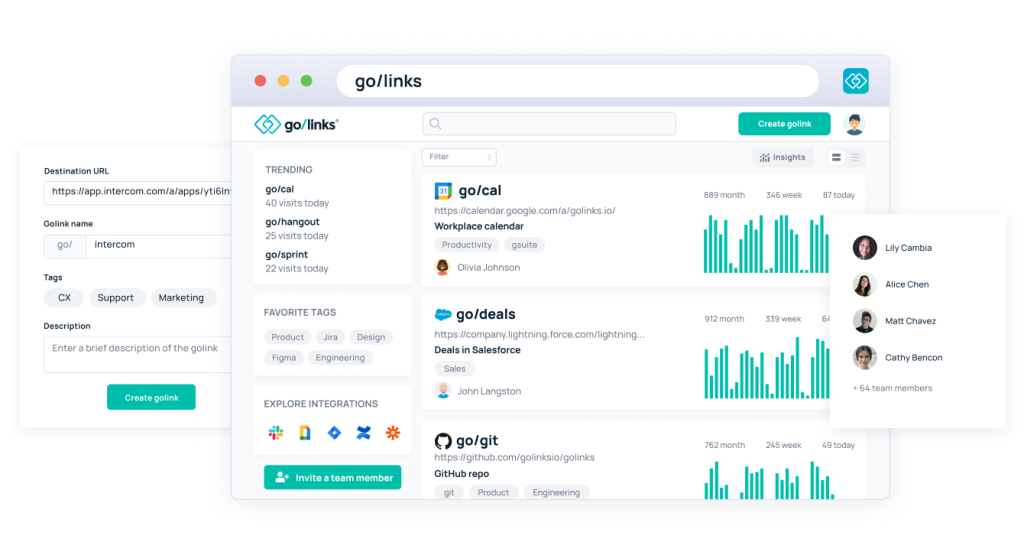 The most effective HR tools are the ones that help you streamline your processes—and empower you to work faster, better, and more efficiently.
And in terms of empowering your HR team to work faster, better, and more efficiently? You won't find a tool more effective than GoLinks.
How GoLinks works
GoLinks is a tool that transforms long, cumbersome, impossible-to-remember URLs into short, memorable links. For example, the long link to your HR policies document can simply become go/HRpolicies. As you can imagine, this is way easier to remember, type, and share (both verbally and visually).
GoLinks integrates with various apps and software—including the HR software on this list—making it easier for your team to find, manage, and share the information they need, when needed. As we dive into the rest of the tools, we'll share how you can use those tools with GoLinks for optimal productivity.
2. ADP
ADP is one of the world's largest human resources management software providers. And while the company offers a variety of HR solutions to their customers, one of their most well-known is ADP Workforce Now. This cloud-based HR system allows you to manage various processes through a single dashboard—most notably payroll, taxes, and benefits.
If you're looking for a one-stop shop for payroll, taxes, and employee benefits, ADP Workforce Now is one you'll want to check out.
How to use GoLinks and ADP:
GoLinks makes ADP even more user-friendly by allowing your team to create short, memorable links that help them to easily navigate the platform and find what they're looking for—like go/adpadmin or go/pay.
3. Zenefits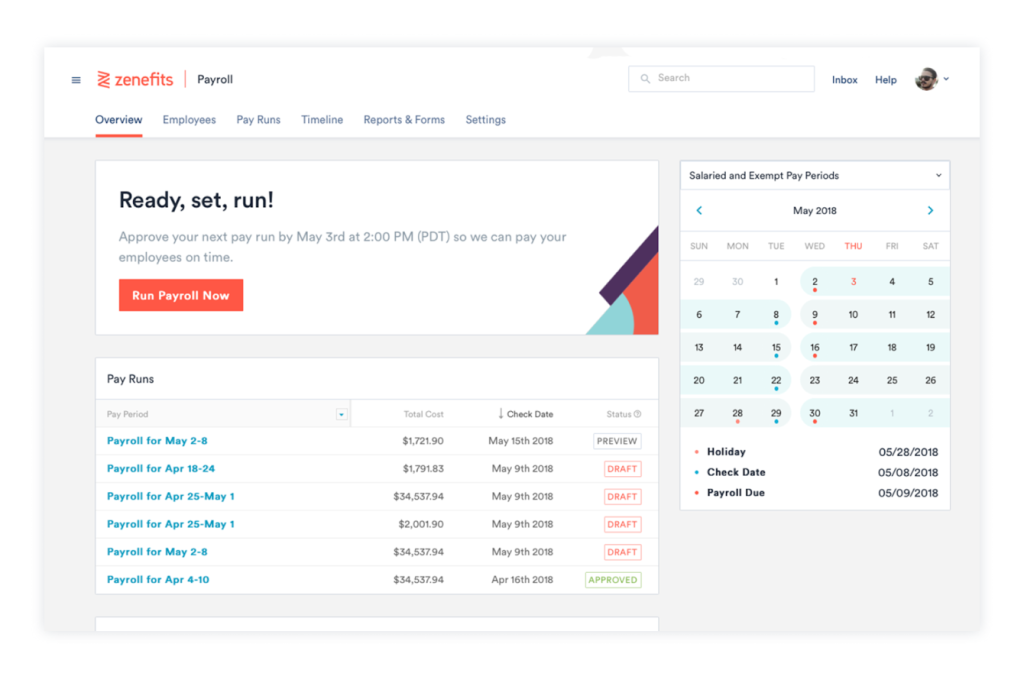 If you need HR software that provides solutions for virtually all of your HR-related needs, you'll definitely want to check out Zenefits. In addition to payroll and benefits administration, Zenefits offers a comprehensive suite of HR tools to help you more effectively manage your people—including recruiting, onboarding, time and scheduling, performance management, and people enablement.
Plus, employees are able to log into the platform to manage their own employee documentation—which can significantly lessen the amount of time HR spends managing paperwork.
How to use GoLinks and Zenefits:
HR managers and employees alike can easily access the Zenefits platform using GoLinks. With go links like go/zenefits and go/payroll, everyone can easily navigate to the information they need, when they need it.
4. Bamboo HR
For BambooHR, human resources is about the people—not the processes. As such, their all-in-one HR software is focused on elevating the employee experience throughout the employee lifecycle, offering a host of people-centric features and functionality—including people data and analytics, hiring, onboarding, compensation, and culture features.
In addition to the extensive offerings within their platform, BambooHR also offers a host of integrations with other HR software, like applicant tracking systems. So, if you're already using tools to manage your hiring processes—and want to continue using those tools—there's a high likelihood that you'll be able to integrate those tools with BambooHR.
How to use GoLinks and BambooHR:
HR teams can easily navigate BambooHR and find the information they need, right at the moment when they need it—using go links like go/bamboohr, go/people-analytics, and go/applicant-tracking.
5. GoProfiles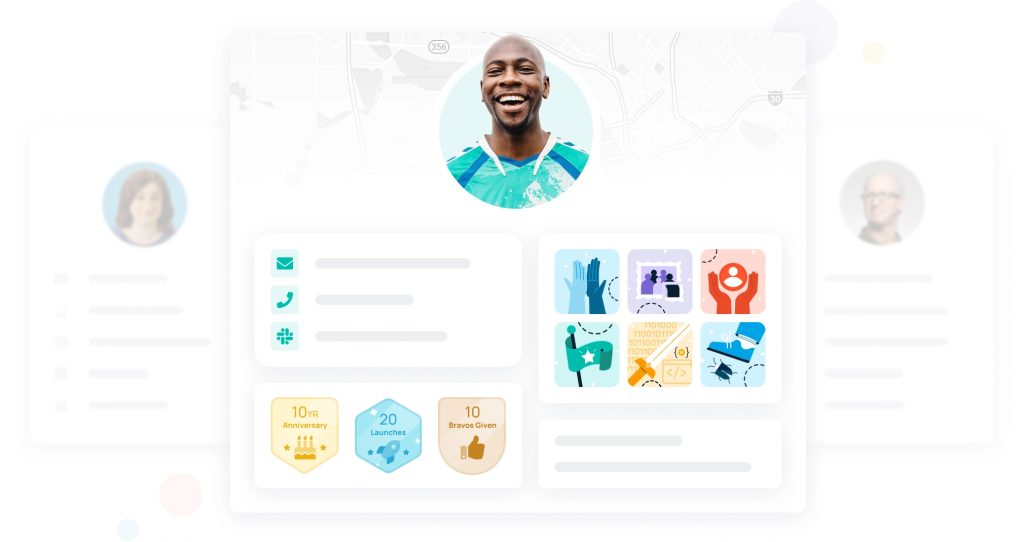 GoProfiles is a people platform that combines the best parts of employee directories and peer recognition. It integrates with your other HR software to pull in employee data like job title, location, birthday, team structure, etc. 
You'll no longer have to deal with questions like "What's the job title of that new hire?" or "Where's the company org chart?" With this tool, anyone in the company can easily find the coworker information they need.
For remote companies, GoProfiles also has an interactive employee map that lets you visualize your distributed team. Employees will be able to see who's located near them for a meetup or find a coworker's time zone when they need to schedule a meeting. 
How to use GoLinks and GoProfiles: 
Create go links with employee names that direct to the employee's profile, like go/john or go/alicia. You could also create easy-to-remember go links like go/org-chart or go/map
6. Gusto 
Another popular all-in-one software solution, particularly with small businesses, is Gusto. Gusto "puts the tools you need to hire, pay, insure, and support your team in one platform." This includes hiring and onboarding resources (like offer letter templates and onboarding checklists), payroll (including W-2s, 1099s, and direct deposit features), and benefits (including health and retirement).
Gusto also offers some of the best customer support in the industry; as a Gusto customer, you get access to a wide library of HR resources—including (for an added cost) live, unlimited advice from HR pros.
How to use GoLinks and Gusto:
Because Gusto is such a robust platform, it's important to make it easy for your team to find the features and information they need—a task made easier with GoLinks. Some popular Gusto go links you can create for your team include go/paycheck, go/onboarding-checklist, and go/retirement.
7. Greenhouse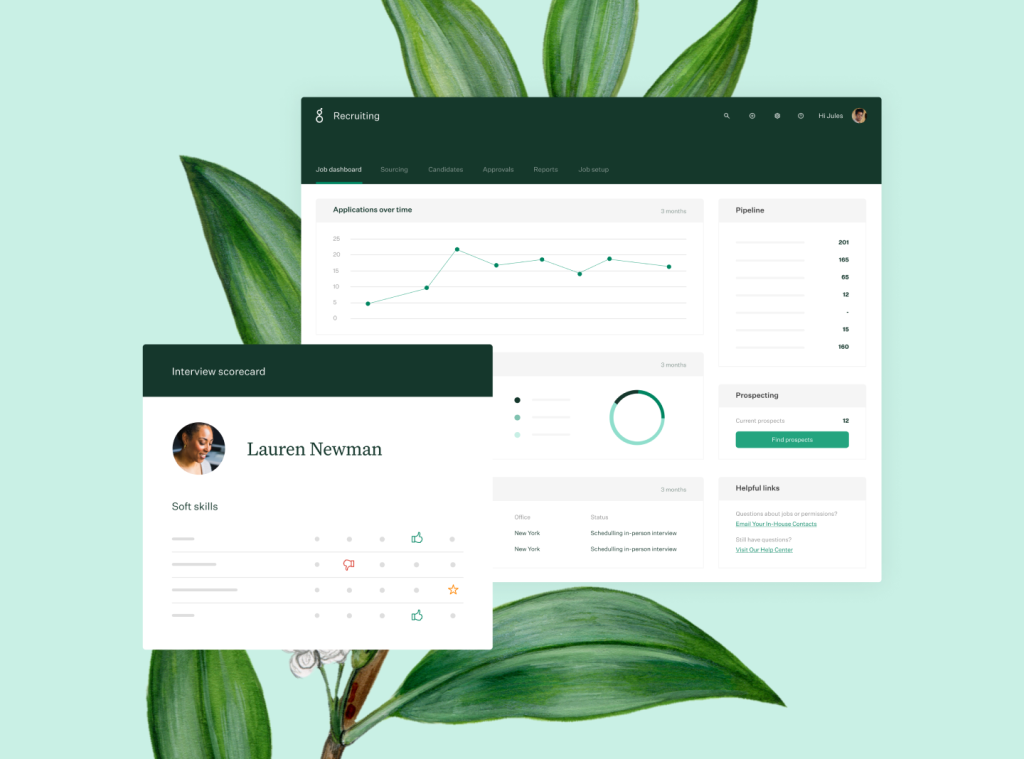 Greenhouse is one of the industry's most sought-after recruiting platforms. And for good reason! Greenhouse offers a host of solutions that streamline the hiring process and make it easier to manage employees throughout the entire recruitment lifecycle—from talent sourcing to candidate experience to DEI solutions.
Greenhouse also offers 400+ built-in integrations, making it easy to incorporate Greenhouse into your existing HR tech stack.
How to use GoLinks and Greenhouse:
HR teams can use GoLinks to easily navigate the Greenhouse platform—and can even create variable go links to share specific candidate-related information with their teammates. For example, teams can use go/scorecard/jenny or go/scorecard/carl.
8. Lever
Another popular recruiting platform, Lever offers a host of solutions for better managing talent—including LeverTRM, the company's cloud-based Talent Relationship Management Platform. LeverTRM combines applicant tracking system (ATS) and candidate relationship management (CRM) functionality into one easy-to-use platform. It allows recruiters, hiring managers, and other HR team members to more effectively manage the sourcing and interviewing processes, build stronger relationships with candidates, and hire the right people for the right roles.
How to use GoLinks and Lever:
HR teams can use go links to easily share and access information on the Lever platform. With links like go/lever, go/interview-process, and go/candidates, employees don't have to search through bookmarks to find the resources on Lever that they use daily.
Use HR software to streamline your HR processes
HR is all about taking the best care of a company's most important resource—people. And in order to best take care of their people, HR teams need the right tools.
Want to experience how GoLinks can help you maximize your HR tools—including the software on this list? Try it for free today—no credit card required.