In today's digital era, there's a software-as-a-service (SaaS) tool that can help with pretty much any pain point your team faces. The problem, of course, is employee buy-in. Not all employees are quick to adopt new tools — if they do so at all. In fact, at the average organization, a full 40% of applications are underutilized or unused.

And this lack of employee buy-in has repercussions. Not only does the average 1,000-person company waste $1.5 million a year on unused licenses, but uneven software adoption can also harm collaboration. When teams operate across too many different tools, employees end up wasting hours a week hunting down information across apps, recreating work that already exists, and working within departmental silos.
Unfortunately, these issues often go unaddressed at organizations, since many leaders don't track software adoption. In fact, one poll found that only 5.5% of IT leaders report having full visibility into how many employees are actually using their software licenses.
If you're among the other 94% of leaders, not to worry: tracking teams' existing SaaS usage is easier than it seems, and there are many ways to encourage software adoption going forward.

How to effectively track software usage and adoption rates
Some SaaS tools will allow admins to track employee license usage within their products. Unfortunately, however, the average company has 110 apps within their tech stack — making it nearly impossible for IT managers to routinely track usage on a product-by-product basis.
Fortunately, a SaaS spend management solution like GoLinks can give you visibility into how frequently every SaaS tool in your organization is used, all from a single dashboard.
GoLinks is a short link tool that primarily helps teams to find, share, and access information using memorable short links called "go links." It allows employees to transform unwieldy URLs into short, intuitive go links that link to helpful resources. For instance, at one company:
"go/roadmap" might redirect to the product team's roadmap on Notion
"go/analytics" might redirect to the marketing team's Google Analytics dashboard
"go/onboarding" might redirect to the HR team's onboarding presentation in Canva
On the administrator side, GoLinks also provides valuable insight into how frequently employees are linking to different tools in an organization's tech stack. Within GoLinks' comprehensive workspace analytics, admins can easily see:
How SaaS usage breaks down by product and team
Which apps are most (and least) frequently used by employees each month
Newly discovered apps that employees have added to their tech stack (to track shadow IT and any tool overlap)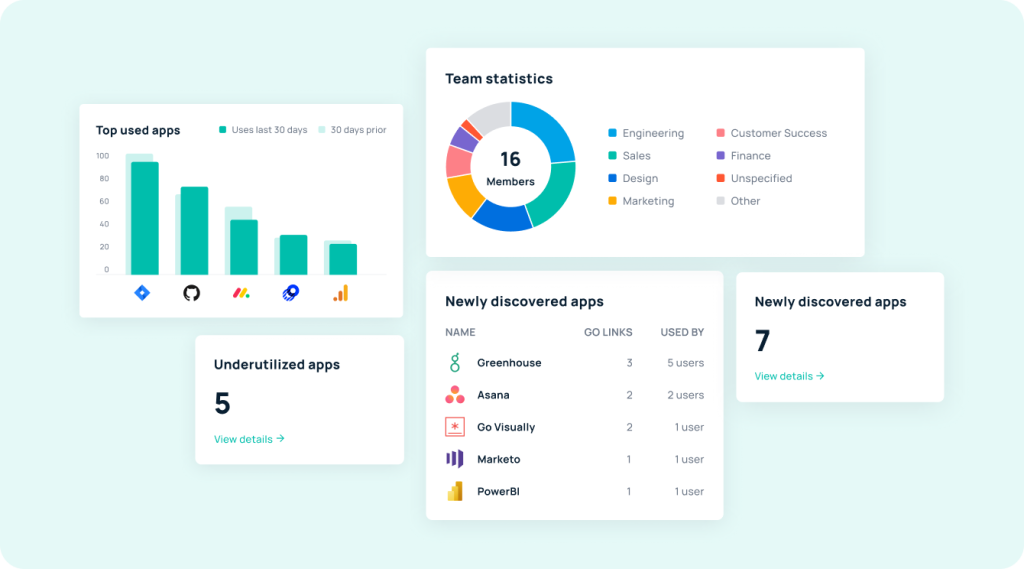 By reviewing GoLinks' SaaS usage analytics on a regular basis, IT leaders can explore which tools employees have been slow to adopt, the new apps employees are integrating into their workflows, and if there is any tool overlap that should be addressed.

Strategies to improve employee buy in and adoption rates
If team members haven't adopted software quite as readily as you'd like, there are ways to improve adoption rates — whether you're introducing a new tool or you simply want to increase employee adoption of your existing tools.
Create a video demo
Create a Loom video that includes a demo of the tool, walking employees through how to use it and how it can help them meet their goals. This can be especially helpful when you're introducing a new SaaS tool to the company.
Create a knowledge base
Make it easy for employees to find information on how to use company tools by creating a separate page for each SaaS app in your company's knowledge base. Within each page, you can share a step-by-step guide on how to use the tool, examples on how to integrate it into your workflow, and tips on getting the most from it.
Launch a survey
If employees aren't using a tool as much as you'd like, there may be a good reason why. Send employees a survey asking for feedback on a tool with low usage rates. Based on the answers, you may find that you need to move to a different tool or upgrade employees' plans in order to encourage usage.
Gamify software adoption
Gamify software adoption by sharing different teams' SaaS usage statistics within your company's Slack or monthly newsletter. With GoLinks, you can see just how much time employees are saving each month by creating and using go links. Make it a game by sharing your time-saving statistics each week!
Share new ways to use existing tools
Many employees don't take full advantage of tools because they don't know how to. Create a new channel in your company's Slack dedicated to sharing tips and tricks on getting the most out of your tech stack. Within it, users can share helpful tips with one another, such as how to automate tasks in Trello, use Zapier to connect apps, or schedule emails.
Audit your teams' software adoption today
Encouraging employee buy in and software adoption is crucial to increasing collaboration and making the most of your software budget. To learn how you can monitor (and increase!) software adoption across your company, schedule a demo with GoLinks today.