Companies today largely run their businesses in the cloud — and for good reason. Specialized apps and tools make it easier for teams to get their work done efficiently and affordably.
However, all this app usage comes at a cost.
Most departments now use 40 to 60 tools each, with over 250 apps used company-wide. Yet less than half of the app licenses in a company's SaaS portfolio are used regularly.
These low levels of app engagement are a large contributor to revenue leakage. When companies pay for SaaS tools that employees don't use, they overspend on tech — to the tune of $135,000 a year, on average — and overcrowd employees' work processes, leading to hours of lost productivity each week.
Fortunately, monitoring your teams' SaaS usage can help you reign in your software spending, cut down on unnecessary tools, and streamline teams' work processes. Below, we'll dive into the benefits of optimizing your tech stack, and how you can use software to easily audit, improve, and maintain your tech stack.
The benefits of an optimized tech stack
With a recession looming in 2023, more companies than ever are paying close attention to their spending. Optimizing your tech stack can cut down on company expenses by improving employee productivity and reducing SaaS spend.
Improved employee productivity
Just like Goldilocks, companies need to walk a fine line when it comes to using SaaS to improve employee productivity. Too few tools, and your employees will waste time carrying out tasks that could have been automated, repeating their work, and entering data manually. Too many tools, and they'll struggle with context switching and keeping track of information across platforms.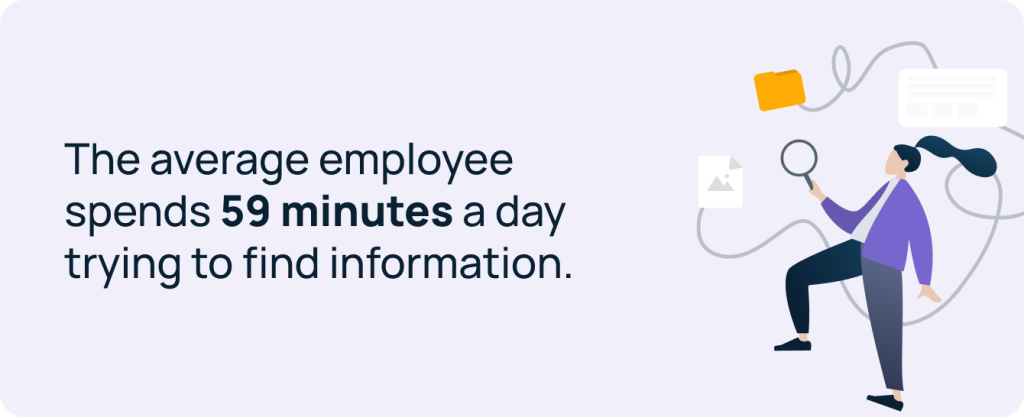 According to a 2021 report by Qatalog, the average employee spends 59 minutes a day trying to find information lost in a maze of apps. Nearly 70% of employees say that finding the information they need to do their job is time-consuming, and many report needing to interrupt at least two coworkers — up to five times a day — to find the information they need. All of that lost productivity adds up.
When you streamline your tech stack, you cut down on this wasted time. Optimizing your company's tech tools means only using platforms that the majority of your employees find value in. That way, employees know exactly where to find information, data remains centralized, and nobody spends time redoing work because they don't know where to find it.
Reduced SaaS spend
Compared to the massive layoffs currently dominating the news, saving money by optimizing your tech stack may seem like small potatoes. But in reality, wasted and underutilized SaaS costs companies an estimated $7M to $40M a year.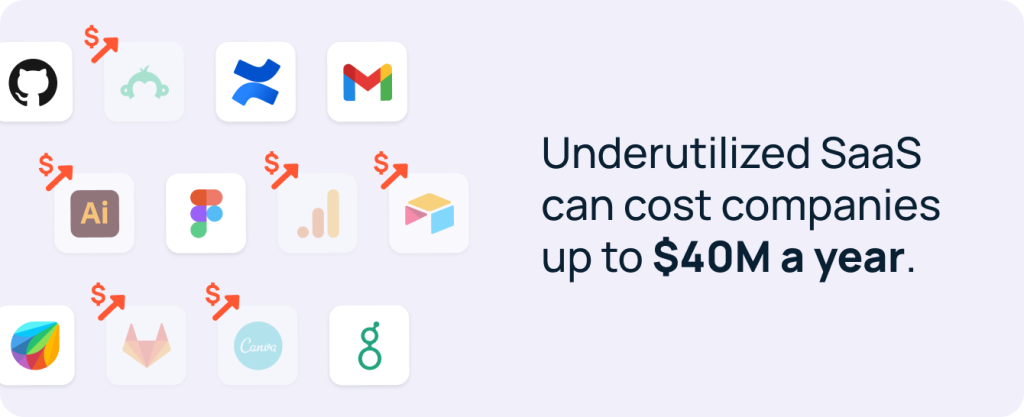 Your company may not even be aware of how much of your SaaS budget is being wasted each year. Usually, if you're not tracking your teams' SaaS usage, it can be hard to tell. But when you begin to track app usage, you'll quickly become aware of:
Just how many paid SaaS licenses go unused (or severely underused) each month across different platforms
How many teams are using shadow IT, which increases your SaaS spend
How many antiquated apps remain in your tech stack, despite no longer being a part of your teams' work processes
By streamlining the apps you work with, you'll boost employee productivity and cut down on your tech stack spending.
How SaaS spend management software can help
So, how exactly does one go about optimizing their tech stack?
Today, most companies manage SaaS spend with the help of software. SaaS spend management tools give you centralized visibility into your different SaaS subscriptions' utilization company-wide, all in one easy-to-access panel. 
Understanding software usage is helpful in several ways:
You can compare how often tools are being used to how much you're spending on them to determine whether subscriptions should be renewed.
You can identify unnecessary software overlap, so you're not paying for several tools that do the same job.
You can adjust the number of licenses you pay for (or the pricing tier you're in) depending on teams' software usage.
SaaS cost management software gives you the data you need to make smart decisions about your SaaS budget planning — both today and on an ongoing basis.

How to audit your tech stack with GoLinks
GoLinks (that's us!) is an intuitive link manager that makes it easy for teams to manage and share information across platforms. It also gives admins visibility into teams' app usage, allowing you to see which tools make the most impact and which are underutilized.
After your company gets up and running with GoLinks, you can easily explore employees' app usage in your GoLinks analytics.
Start by exploring your top-used apps, which will show you how often each app has been used in the last 30 days.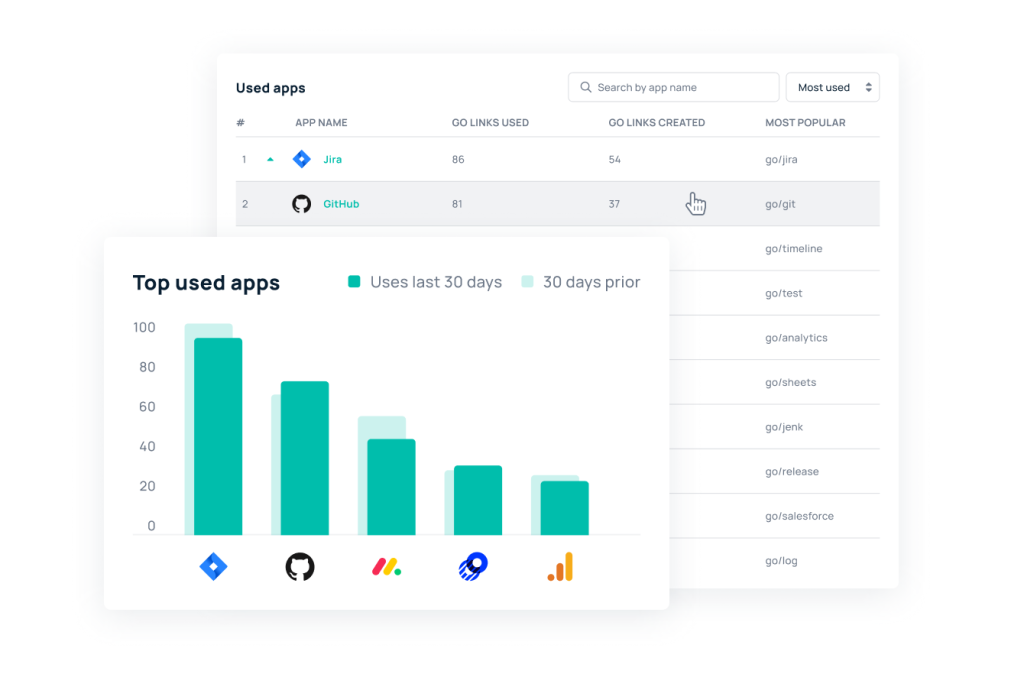 Note any apps that aren't frequently used. If an app isn't widely used company-wide, that doesn't mean it should be immediately cut from your tech stack — some tools are frequently used on a departmental level, but aren't as useful to other teams.
You can see if this is the case by exploring app usage by role in your GoLinks analytics. This lets you further break down app usage by team.
When you explore app usage by role, you may realize — for example — that an app is still frequently used by the engineering team, even if it's less popular company-wide. And that makes sense: most sales and marketing teams don't need a coding platform, nor do they have reason to frequent one.
You can also use the analytics page to discover apps that have been added to your tech stack. Teams and individual employees will often branch out to new tools without prior approval, but this can lead to siloed information and software overlap. By catching these tools early on, you can keep your tech stack streamlined, and your SaaS spend under control.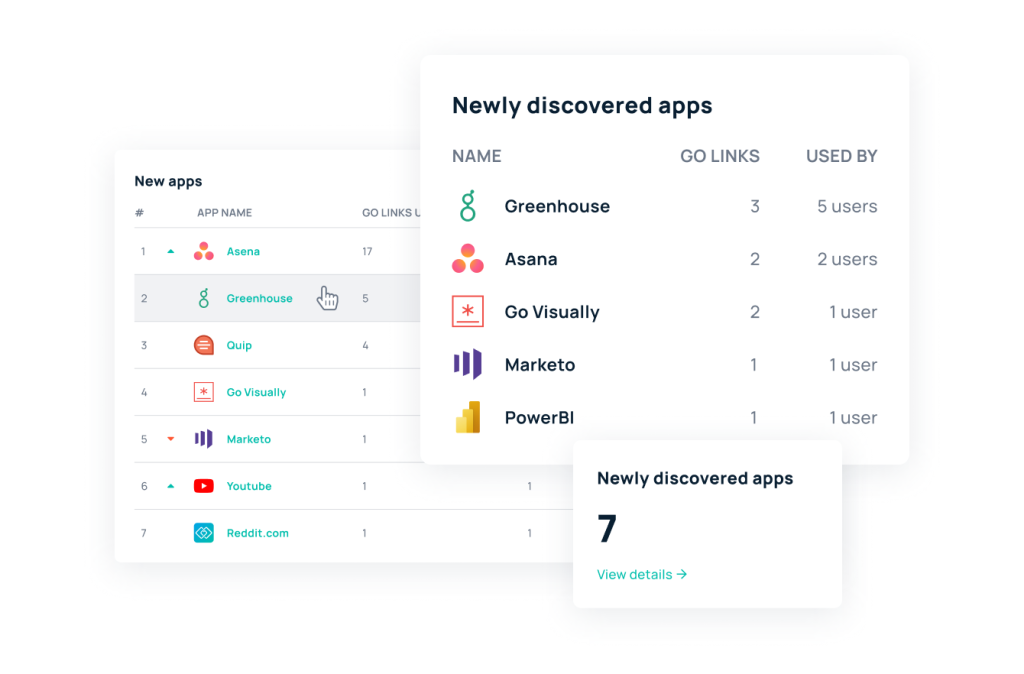 SaaS spend optimization might seem overwhelming initially, but it has the potential to simplify your work processes, increase cross-team collaboration, and save your company thousands.
To learn more about how to optimize your SaaS spending, read our 2023 Guide to SaaS Spend Management. If you're ready to get started with spend management today, sign up for a demo to learn how GoLinks can help you.