You've probably been in this situation before: You're wandering around the grocery store—circling all of the shelves in search of pasta sauce.
Finally, you give up your aimless roaming and check the one-sheet directory hanging at the end of each aisle. You trace your finger down to "s" for sauce, and you see it right there: You can find your jar of marinara in aisle three.
Even if you aren't in the grocery store, there's a lot to be said for the time and hassles you save by knowing exactly where to find what you need. That's the value of enterprise search solutions.
Here are the questions we'll answer in this in-depth guide:
What is enterprise search?
What is enterprise search as a service?
What is the goal of enterprise search?
What are the pros and cons of enterprise search?
What should you look for in an enterprise search solution?
What Exactly Is Enterprise Search?
To put it simply, an enterprise search solution makes all of your company's information searchable and accessible.
It pulls together your company's data, resources, and documents from across all of your sources—like your company intranet, knowledge base, email, file storage systems, databases, and anywhere else you keep information—into one easily searchable place.
From your employee handbook to that meeting recap, enterprise search makes it easy for anyone within your organization to find what they need at the exact moment they need it—without tons of scrolling and digging.
Think of it like our grocery store example: Someone could simply type "leads spreadsheet" into your enterprise search solution and be brought directly to that document.
What Is Enterprise Search As A Service?
Companies manage a lot of internal data that their employees need to easily access. And failing to organize that information in an intuitive and searchable way can be detrimental to productivity, morale, and even company growth.

Research from Deloitte states that knowledge management is one of the top three issues affecting company success, and it's become even more imperative as teams have moved to remote or hybrid approaches.
Now more than ever, organizations need to ensure that everybody can easily find and use the information they need. That's given rise to enterprise search as a service, which is simply a term used to describe software companies offering enterprise search solutions to businesses.
What Is The Goal Of Enterprise Search?
The goal of any enterprise search strategy or solution is to make it easier, faster, and more intuitive for company employees to find the information and resources they need to do their jobs.
Ultimately, enterprise search is focused on successful knowledge management within a company, so that information and resources are shared in an efficient and effective way.
What Are The Pros And Cons?
Enterprise search solutions offer many advantages for companies who want to prioritize knowledge management. But, as with anything, there are a few drawbacks to be aware of. Let's take a closer look at the most notable pros and cons of enterprise search.
Pros Of Enterprise Search:
Improved Knowledge Management: The most obvious benefit is that it improves the organization and sharing of knowledge across the company. When inefficient knowledge sharing costs enterprises at least $47 million per year, having the right enterprise search strategy in place can significantly impact the bottom line.
Saved Time: With an enterprise search solution, employees don't have to waste time digging through endless email threads, spreadsheets, and files. It gives them more time to focus on valuable, high-impact activities.
Fewer Errors: Because workers can more easily access the information they need, they can complete tasks correctly the first time—which means fewer mistakes and rework.
Reduced Frustration: Wasted time can quickly breed irritation and resentment. When employees can quickly and easily find what they need to get their work done, they're likely to have better morale and motivation.
Cons Of Enterprise Search:
Data Migration: For your data to be searchable in an enterprise search solution, it must first be there. Moving all of your company's data, documents, and resources over to an enterprise search tool can be a daunting undertaking for your IT team.

Employee Adoption: Enterprise search is a benefit for your employees. But even so, it's only an asset if they use it. Some employees might be resistant to new tools or processes, which means adoption of the solution can be a struggle.
What To Look For In Enterprise Search Solutions
When you've decided that your company could benefit from an enterprise search solution, it's time to find the one that's the right fit for you. It's also important to keep in mind that a link management solution like GoLinks may be a better option for you than enterprise search. Here are some things to look for.
Accessibility: You want information to be accessible, but you also want the solution to fit seamlessly with your existing workflows and processes. GoLinks helps teams find and share information fast using memorable short links called go links. It works with any tool (no integrations needed!), so your team can keep moving forward without hiccups.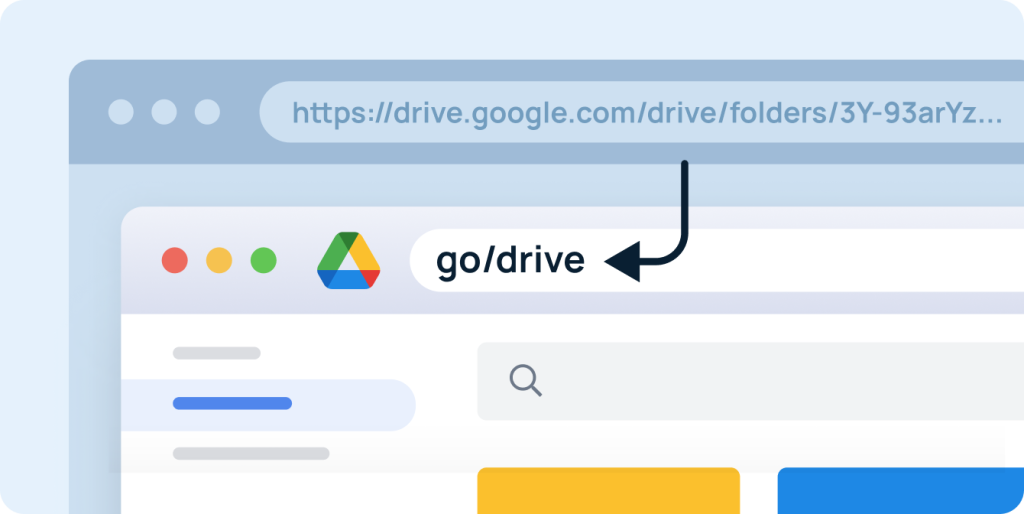 Adequate Data Protection: The solution will have access to all of your company's information, so you need to ensure it's secure. With features like single sign-on, GoLinks' enterprise-grade security will help you level up knowledge management and your peace of mind.
Seamless Data Transfer: If you're worried about a heavy lift from your IT team, look for a solution that will take care of the hard stuff for you. GoLinks provides a turnkey experience by migrating all of your data and information for you.
Ease Of Use: Your employees are far more likely to use your enterprise search solution if you opt for something intuitive and user-friendly. GoLinks is incredibly straightforward—workers only need to type a simple and short link (for example, "go/org" to get to your company's org chart) to get directly to the resource they need.
Simple Maintenance: Finally, your company's information and resources are constantly changing. Look for a solution that is easy to update and maintain. GoLinks' dashboard allows you to access all your golinks in one place and keep tabs on everything. Adding new golinks and changing URLs couldn't be easier too.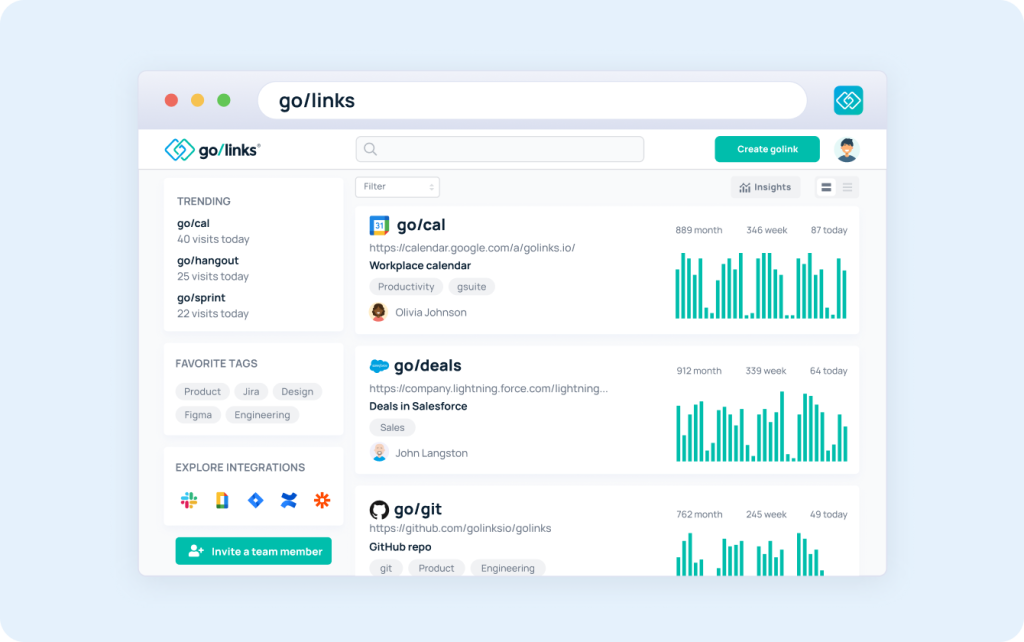 Less Time Searching, More Time Succeeding
Nobody wants to waste time aimlessly searching for what they need, whether it's an important document or a jar of pasta sauce.
Fortunately, the right knowledge management solution makes it easy for everybody in your organization to efficiently find information and resources from all of your company's data sources—no directionless wandering required.