Remote work is far from a new concept. According to data from Google Trends, there was measurable interest in remote work as early as 2004. Due to COVID-19, many companies have now switched to remote work and have made the call to make it permanent. With now more than 4.7 million Americans working remote at least half of the time, it's safe to say that remote work is here to stay.
If you were resistant to remote work, you likely discovered that work actually gets done — even if your teams aren't all under the same roof. Want to make sure your employees keep thriving in this remote work era? Here are 3 things our team at GoLinks has found to be most beneficial when it comes to remote team communication.
1. Make an effort to champion asynchronous remote team communication
In the office, you're used to instant, real-time responses and reactions. You walk up to someone's desk, chat with them as you run into them in the hallway, or hop into an ad-hoc meeting.
In other words, as you communicate, you expect an immediate response. Although it may seem efficient, it's quite costly.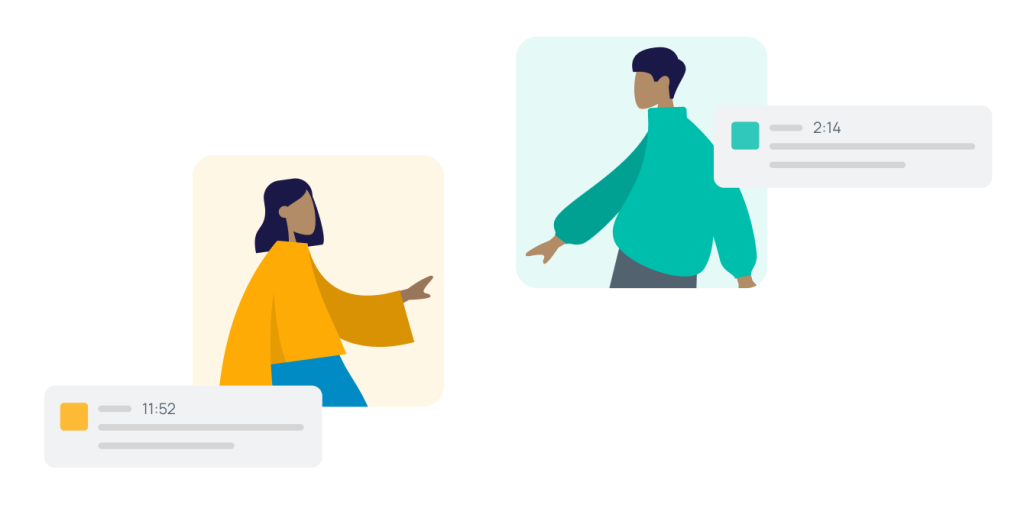 The cost of synchronous communication
One study showed that pointless meetings have cost US companies close to $400 billion in 2019. Then, there's the cost of creativity, efficiency, and deep work. As a Harvard Business Review essay described it, "time is zero-sum. Every minute spent in a wasteful meeting eats into time for solo work that's equally essential."
If your team of five spends an hour in a meeting, the cost isn't one hour — it's five.
The benefits of asynchronous remote team communication
Remote work gives you an advantage, but only if you're intentional about it. Founders of Basecamp, a project management tool and a fully remote company, wrote: "If you're going remote, it's a mistake to try and replicate how you work in the office."
Basecamp's Jason Fried goes deeper into this in his TED talk. In it, he recommends passive modes of communication, which means you check your emails or instant messages on your own schedule, when you're available and can be "interrupted on your own schedule," instead of multiple times an hour.
Here's why this works:
Most questions or items that come up aren't urgent and can wait for a few hours.
Different people are most efficient at different times of day, and this asynchronous approach lets them maximize it.
When people can focus deeply for long periods of time, they'll likely produce better work (and feel more accomplished thanks to it).
The key is to set expectations across the board and allow everyone to communicate their response times openly. Champion the culture of deep work instead of the 'always-on' approach, and you'll be amazed at the results you'll see.
2. Create a single source of truth
Office-based work often feels more productive or faster-moving because everything is just a meeting, a shoulder tap, a knock on the office door away.
So if you switch to remote work and encourage deep focus, you may run into an obvious hurdle: how will you get anything done if you have to wait for hours to get a single piece of information? If what you need lives on someone's hard drive, notepad, or in their head, you're stuck.
This is where a single source of truth becomes invaluable. It's the idea that everyone in your company has easy access to all information they need to do their best work.
These could be documents, tools, or guidelines, such as:
New employee onboarding process
Up-to-date notes on a project
Customer support knowledge base
Dashboard with marketing analytics
Without a single source of truth, your employees either won't know where to look for this information, or they won't be confident they have the most recent version of it. That will spark more emails, more interruptions, and slow down quality work.
Examples of the single source of truth in practice.
1. Customer relationship management (CRM). Your CRM tool can have details about your sales process, such as leads, prospects, negotiations, lost deals, deal value, and much more. It can also have specifics of current customers, such as products they bought, their customer support issues, and their total spend. Many teams, such as sales, marketing, customer success, and finance can all benefit from that centralized information.

2. Project management platform. Projects can get complex and, without the right tool, messy. There are documents, details, tasks, research, and deadlines involved. A project management tool can help people within a team always be on the same page and quickly sync up, as well as allow managers to view the big-picture progress. (By the way, see our blog on GoLinks for Project Management for more insights).

3. Company-wide short links (go links). This is our wheelhouse. With GoLinks, you can make it easy for everyone to reach the right URL without messy bookmarks or back-and-forth emails. For example, go/wiki will always take them to your company's knowledge base, and go/expense will land them on the form to reimburse their expenses.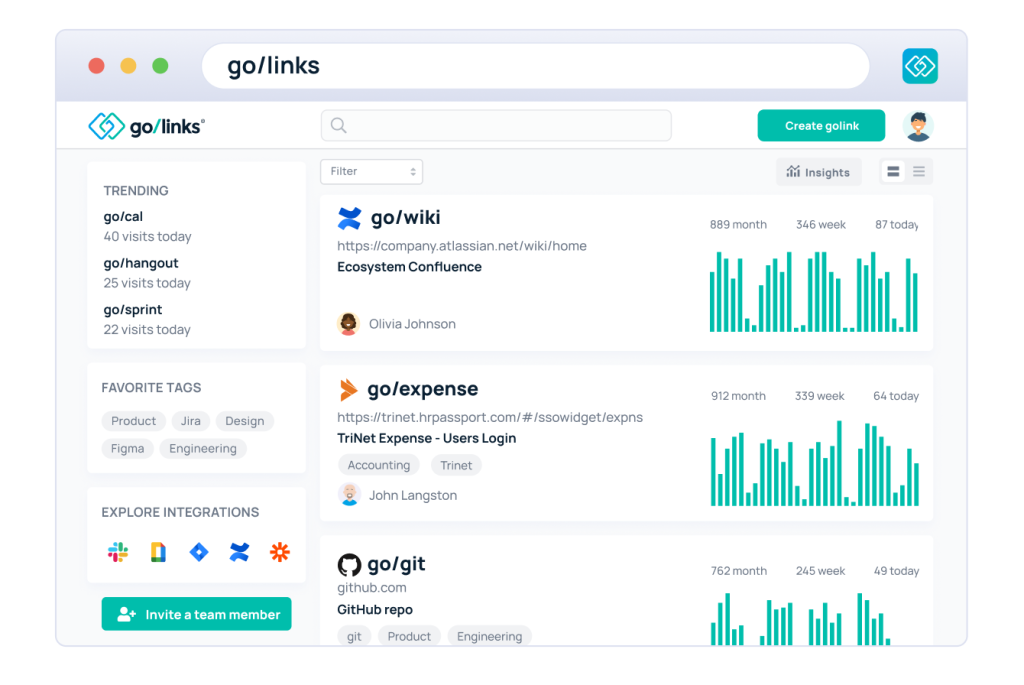 Start with these ideas to give your teams and employees instant access to resources they need to hit their KPIs and goals.
3. Double down on building trust and empathy
By now, you've learned what it takes to foster a remote workforce packed with creative, focused, self-reliant people. But a big part is missing — how will you and your employees build meaningful connections?
Unlike companies with a physical office, your employees:
Don't have a physical space as a way to sit together, have spontaneous conversations, and communicate with the help of body language
Bring additional advantages and disadvantages since everyone works in an environment unique to them
Think about how different everyone's lifestyle, health, family circumstances, childcare, and routines can be. Without in-person interactions, the feeling of community and empathy may suffer.
It's called the empathy gap. Without in-person employee interactions, there's a chance you won't develop the conditions that will allow your remote workers to thrive and feel included as an integral part of the team.
Remote work can also bring feelings of isolation and loneliness. Here are some ideas to overcome this gap and proactively create the space for team bonding.
3 ways to build trust and empathy remotely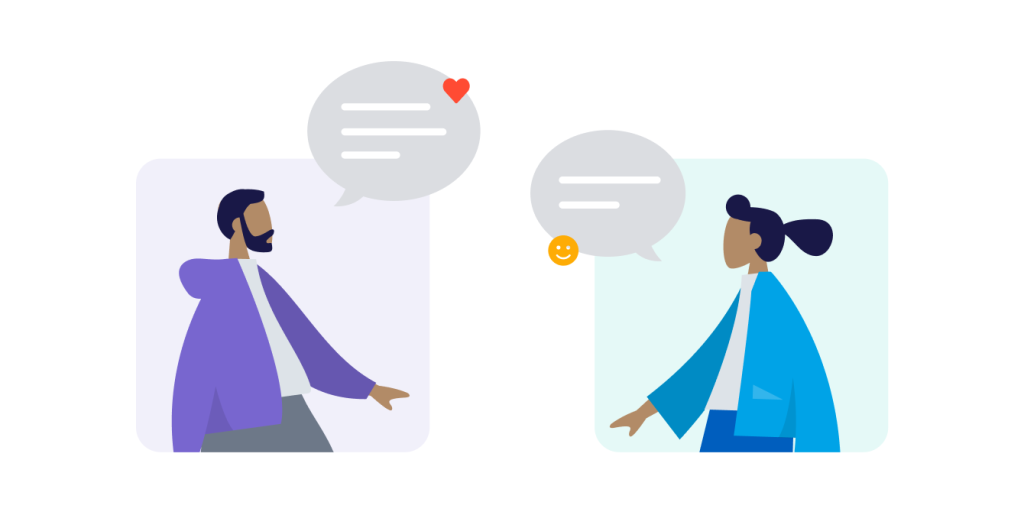 1. Create off-topic, informal spaces to chat and socialize. Wade Foster, co-founder of (fully remote) Zapier, suggests to:
Have Slack channels that are entirely off-topic and dedicated to fun things like pets and sports, which is what folks at MeetEdgar do
Set up random chats with people throughout the company every week using Donut, which is what they do at Zapier
Break out your all-hands meeting attendees into small group meetups, which is what HubSpot does
2. Run an in-person company retreat. They're fun, they create space for deep conversation, and they spark random ideas. Yes, they're expensive, but they're a valuable investment into the long-term growth and culture of your company. Zapier ran retreats for a team as small as 7 members and as big as 185. Check out their tips here.
3. Focus on the output, not on the hours worked. The trust element is built on the foundation that everyone you've hired can manage their time, energy, and tasks in a way that works for them. The additional layer is the knowledge they can come to you if they're stuck or they need extra support. It's a win-win.
Empower successful remote team communication
We've shared the ideas, essays, resources, and tools that will make your remote team successful. Whatever the upcoming months bring, you'll be ready.
If and when you start hiring, you'll be able to not only hire the best person for every position (location is no longer a limit!), but keep your entire workforce productive, connected, and happy.
Make GoLinks a part of your remote work plan. Try for free or check out enterprise features.