As companies increasingly embrace distributed work models, ensuring information security in the workplace has become more important than ever. With employees working from homes and offices across the country (and the world), seamless & secure access to corporate knowledge helps reduce organizational silos, lower response times, and ensure everyone is on the same page.
At the same time, leaders need to balance ease of access with maintaining IT security controls across their remote workforces. Today, the average data breach costs companies $4.45 million, with many of these cyber attacks caused by employee mistakes — whether that's the use of unapproved shadow IT, the reusing of weak passwords, or falling for phishing scams.

So, how can you ensure ease of information access while still keeping corporate data secure?
This is an area where generative artificial intelligence (AI) can help. Read on to find out the importance of streamlining information access in the workplace, how generative AI can aid knowledge discovery, and how you can maintain information security in the workplace while breaking down organizational silos.
The current state of information access in the workplace
In many ways, technology has made employees' jobs easier than ever: no matter what kind of task an individual faces, there's an app that they can use to lighten the workload.
While this is great for productivity, it can also lead to the fracturing of company information — today, the average organization has their projects, information, and data spread out across no less than 130 software-as-a-service (SaaS) apps. (And that's only counting known cloud usage. If you factor in shadow IT usage, that number is estimated to increase by 10x.)
Unfortunately, this fragmentation of company information has its own negative effects on employee productivity. Today, the average employee spends over three hours a day searching for existing company information. And that loss of productivity comes at a cost: every year, large enterprises lose an estimated $70 million a year thanks to lost or undocumented knowledge.

The role of generative AI in knowledge discovery
New technology — generative AI — can help employees better track and access corporate knowledge. Generative AI is a type of artificial intelligence in which a tool "learns" from massive data sets in order to produce new, unique content.
Generative AI can aid in information discovery by consuming relevant corporate information and then helping surface that information to employees at the right time. Since generative AI is trained to process the information itself, it can be far more helpful in finding and surfacing information than traditional methods of information discovery (which generally depended on the inclusion of specific keywords or having information carefully organized by tag or category).
The reality is, individuals aren't great at keeping things organized or following complex rules for storing, sharing, or accessing information. Generative AI solutions make it easier to work with that reality by letting employees discover and surface scattered information anyway.
Improving information access and security with GoLinks
For those looking to improve information access while tightening cyber security, we recommend using a knowledge discovery tool like GoLinks (that's us).
GoLinks is an intuitive link manager that makes it easy for teams to share, manage, and access information internally. With GoLinks, employees can transform long URLs into short, easy-to-remember links (called "go links") that they can disseminate company-wide. For instance:
Your HR team can use the go link "go/onboarding" to redirect to an onboarding manual in Google Drive
Your IT team can use the go link "go/support" to connect to a form in Jira
Your marketing team can use the go link "go/requests" to link to a form in Trello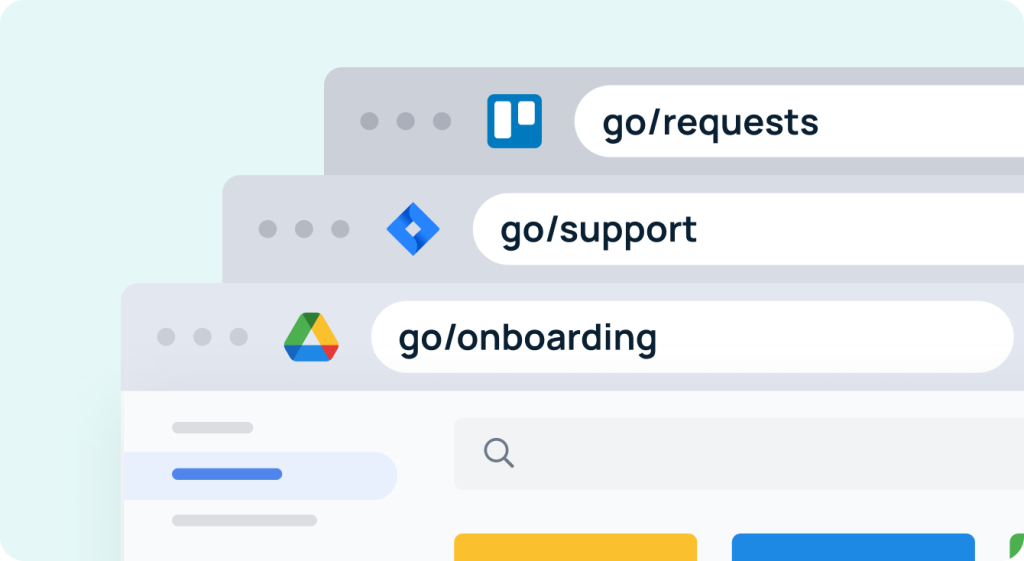 GoLinks aids knowledge discovery by making it easier for team members to track down information without remembering or bookmarking cumbersome URLs. GoLinks also makes it easier for employees to find and surface information thanks to its search functionality, which is powered by leading generative AI technology ChatGPT.
Whether an employee is using the search bar in GoLinks' dashboard or accessing GoLinks through its Slack integration, they can count on ChatGPT's information-crunching abilities to be able to find and surface the resources they need. Rather than having to intuit a certain go link or ask a coworker for a document, users can enter a prompt or question into GoLinks' search bar, and ChatGPT will offer relevant go links based on the go links' names, descriptions, and content.
For instance, a new marketing coordinator might be looking for certain resources to include in new marketing copy. Rather than wait to ask their manager or ping the team in Slack, the coordinator could simply type into the GoLinks search bar: "Where can I find customer quotes?"
ChatGPT would then return the most relevant go links in its database, with descriptions as to why each of them may be a good fit: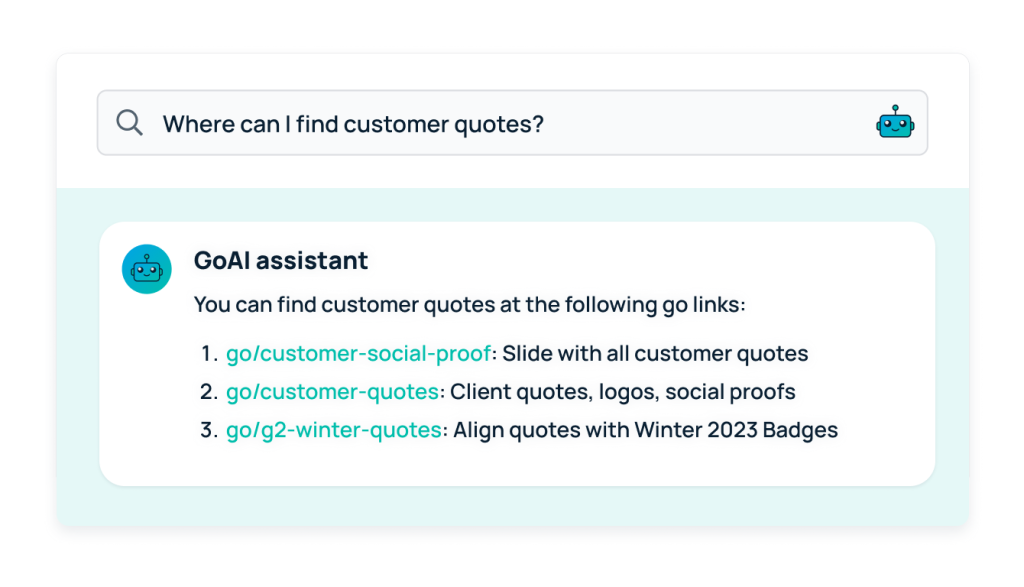 Because GoLinks can surface knowledge instantly, it helps employees avoid spending time tracking down or recreating lost information. It also helps cut down on the number of times team members are interrupted with questions like, "Hey, where can I find the monthly sales reports?"
"Qualitatively, this really makes the experience of finding things a lot easier," says Johan Dowdy, Global Head of Information Technology (IT) & IT Security at Asana, about using GoLinks. "It makes the ability to share data and information a lot easier, especially in real-time."

Since GoLinks is also an internal tool — versus an open-source solution like bit.ly or other link shorteners — it also ensures top-notch security measures to protect your sensitive data, including single sign-on, SOC 2 Type 2, 22048-bit SSL encryption, and audit logs. This helps ensure information security by protecting sensitive information against security risks. (And knowing that security breaches today cost companies over $4.45 million a pop, it's hard to downplay the importance of information security in the workplace.)
The GoLinks admin dashboard also helps IT admins track the use of any shadow IT among teams. Within GoLinks' workspace analytics, admins can see newly discovered apps that employees have added to their tech stacks. By tracking newly discovered apps, IT leaders can easily look out for shadow IT and ensure that teams are only using tools that meet their security standards.
Try GoLinks for information security in the workplace
Ready to gain the same time-saving, security-enhancing benefits that Asana, Salesloft, and other companies have enjoyed? Sign up for GoLinks for free and get unlimited go links — no credit card required.