As a recruiter, your primary role is to source, assess, and onboard top talent to help drive the success of a company.
But we know that building out a dream team is a daunting task.
One of our amazing recruiters here at GoLinks, Jenny Kenny, has some recruiting tips and tricks we knew we had to share. Jenny has learned a thing or two about what it takes to attract top talent and build a cohesive, high-performing team.
In this article, we'll share her thoughtful advice on how to raise the bar when it comes to your recruiting process. Whether you are new to recruiting or looking to improve your skills, these recruiter tips and tricks will help you be more effective in your role.
Recruiter Tip 1: Treat every candidate with respect and enthusiasm
As a recruiter, you likely interact with thousands of candidates. On average, 118 people apply for a single job.
That's a lot of people!
While communicating with so many people, it's easy to forget that you're interacting with real human beings — with real feelings.
Jenny shares, "Sadly, I hear from talent way too often that they don't usually meet recruiters who seem to care about them. It breaks my heart."
You never know which candidate will end up being "the one," so make sure you treat them with respect and enthusiasm that will make them excited to join your organization. Don't make them feel like just another number.
Recruiter Tip 2: Frequently call candidates by name
From a recruiter's perspective, this may seem like a no-brainer; what else would candidates be called?
The pivotal word here is "frequently."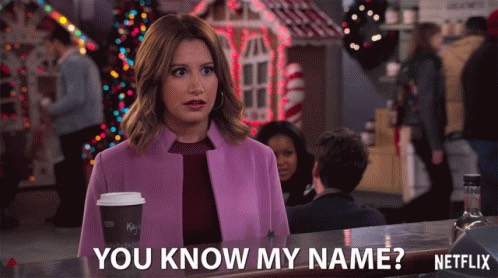 It's easy to say, "Hi Joe, this is Jenny! Is now still a good time to talk?" and then never say Joe's name again. Dale Carnegie said, "A person's name is to that person the sweetest and most important sound in any language." Whether we like to admit it or not, we enjoy hearing our name.
Do your best to say candidates' names a few times in your calls, so they understand that you care about them as a person. Also, try using the candidate's name in messages, texts, calls, and emails (without being excessive/disingenuous).
Recruiter Tip 3: Text candidates if you're running late
Respect is huge, and disregarding someone's time can be seen as extremely disrespectful.
On top of that, the interview process is already nerve-wracking. Candidates may prepare for hours or even days in anticipation of what questions may be asked.
When you make a candidate sit by the phone or computer waiting for you, you're likely adding to their stress. So if you can't help but be late, try to send a text to the candidate to let them know, and say when they can expect to hear from you.
Recruiter Tip 4: Don't leave candidates hanging over the weekend

73% of job seekers are stressed. So making them wait long periods of time for an update just adds to that anxiety.
Don't leave your candidates (stressfully) hanging!
In addition to managing candidates in an applicant tracking system (ATS), Jenny suggests keeping a manual record/spreadsheet of all candidates for all positions you're working on. This allows you to see precisely where all candidates are in the interview process.
From there, you can sit down on Fridays, visit your spreadsheet, and follow up with every pending candidate. You may not always have an update for them, but keep the role top of mind by letting them know they aren't forgotten.
Recruiter Tip 5: Prep candidates for interviews

Prepping your candidates can greatly improve the interview process for them.
Why is this important? 15% of candidates with a positive hiring experience put more effort into the job.
Throughout the interview process, share whatever details you can to help candidates go into the interviews as prepared as possible. This may entail:
Clarification on what step / where in the interview process this interview is
A run-down of the interview structure
Background on the interviewers' personality/interview style
Links to the interviewers' LinkedIn profiles (to get to know them ahead of time & do a little research)
Potential scenarios/questions to be prepared for
Interviewing can be nerve-wracking, so shedding some light on what a candidate can do to prepare will make your interview process stand apart.
Recruiter Tip 6: Let candidates ask you anything
As a recruiter, your main job is to make sure a candidate is a good fit for your company — but it's also important to make sure your company is a good fit for the candidate.
Make it known to your candidate that you're happy to be a resource and answer any questions like:
How to prep for an interview
Personality types they may encounter
How to use Google Meet to share a presentation
How many meetings they'll be in each week
What the benefits package entails
🚨 Disclaimer: Of course, it's important to refrain from sharing proprietary information about the company or how to answer questions for the interviews.
Recruiter Tip 7: Prep your candidates and your interviewers
If you're following the tips above, then you're already going above and beyond to prep your candidates — but don't forget about your interviewers.
Interviewers are the unsung heroes of the interview process, willingly taking time out of their days to help make sure you hire great people. And because they're doing you and the company such a service, it's important to make sure they also have a good interview process.
Here are a few things Jenny suggests to make the process a pleasant experience for the interviewers:
👉 Work with the hiring manager to create detailed interview logistics.
👉 Facilitate a pre-brief, so everyone knows their role in the interview.
👉 Double check that the resumes, LinkedIn profiles, and portfolios (or anything else the candidates provide) are updated and available in the system for the interviewer.
👉 Provide instructions on how to pronounce a candidate's name if it's unique/tricky.
👉 Have a Slack channel to update interviewers and allow them to ask any questions.
👉 Facilitate a debrief where everyone can openly share their thoughts and discuss how the interviews went.
Recruiter Tip 8: Use GoLinks to stay organized and save time
As a recruiter, you are juggling many different things: scheduling, screening calls, interview coordination, and the list goes on…
Fortunately, productivity tools like GoLinks exist!
GoLinks is a link-shortening tool that lets you create custom links (aka go links) that take you to a specific URL. If you haven't heard about this tool before, you can learn more in our Guide to Go Links.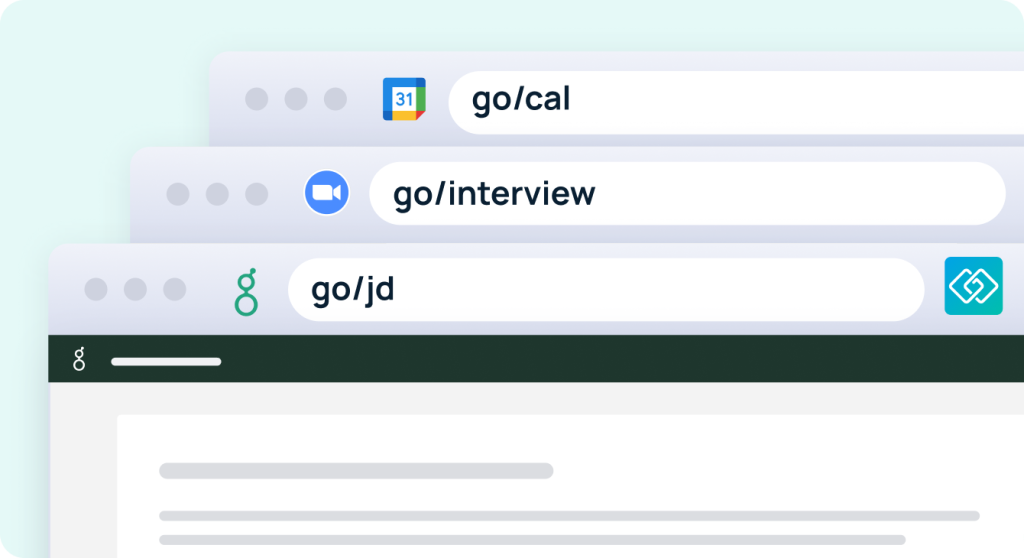 By creating these shortened links (go links) for frequently visited websites, resources, and job postings, recruiters can quickly access the information they need without having to type out long URLs — or search through bookmarks.
Here are a few ways you can use go links to save time throughout your workday:
Create go/jd to ensure new interviewees' job descriptions are readily available with a few keystrokes.
Create go/interviews to help interviewers easily navigate to the hiring calendar with the schedule you have laid out.
Create go/referrals so any employee can quickly and easily refer a candidate for an open position.
Create go links for all the recruiting tools you use daily so you can access them in seconds.
GoLinks is so helpful for recruiting and onboarding that DoiT International was able to seamlessly increase their headcount by 5x. Click here to read how they did it!
Recruiter tips and tricks: getting started
The interview process should be a two-way street. By connecting with candidates on a human level and implementing the right productivity tools, you'll increase your chances of securing the right fit for your team.