Wondering how to cut costs at your company? With a potential recession on the horizon, you're far from alone.
Last year, multiple tech companies prepared for the downturn with layoffs and hiring freezes. And for companies navigating turbulent economic waters, being wise about expenses is prudent. However, many companies have jumped straight to reducing their crew without first patching the holes in their business that cause revenue leakage.
Below, we'll explore what revenue leakage is, how it's costing your business, and how you can patch those leaks so that you're shipshape for 2023.
What is revenue leakage and what does it mean for your company?
Revenue leakage refers to any revenue that your business unintentionally loses — usually without realizing it.
These leaks can be a one-time or recurring loss of revenue. Often, there are steps companies can take to prevent revenue leakage, but only if they know where those leaks are occurring.
Two major causes of revenue leakage
Revenue leakage can happen across any department in an organization. A few examples include:
Under-billing clients
Losing revenue to human error or data entry errors
Reaching out to incorrect contacts for business development
Failing to end provider contracts on time
Decreasing employee productivity due to inefficient or manual processes
Spending on software that goes underutilized
While some revenue leakage can be attributed to errors in specific departments (such as an accountant making a billing error), two major causes of revenue leakage come down to company-wide inefficiencies — which means, unfortunately, that they affect every part of your business.
Productivity loss
Employee productivity is one of the hardest metrics for a business to measure — making it equally hard to know when that productivity is being lost. And yet, according to Gartner, lost productivity costs businesses a whopping $7.8 trillion a year.

Productivity loss is a multifaceted problem. In the news, experts often mention how unengaged workers are less productive. While this is true, managers can often identify unengaged employees — whereas it's harder to spot when decreased productivity springs from poor collaboration or inefficient processes.
When employees are hampered by inefficient processes, they may seem busy. However, what's keeping them busy is busywork, not the tasks that actually push organizational goals forward.
Consider the fact that the average employee spends 3.6 hours a day searching for information: that's close to half the workday spent hunting down existing data, rather than closing deals, writing code, or coming up with the company's next great marketing campaign.

Unnecessary SaaS spend
Today, the average company's tech stack is made up of 110 software-as-a-service (SaaS) apps — and yet at least a quarter of those apps go underutilized by employees. That means businesses are overspending on hundreds of licenses that bring little to no value to the company.

Tracking employees' usage of apps, however, can be tricky. Asking employees to use time tracking, or track their own software usage, adds to their busywork and can lead to inaccurate results. On the other hand, having managers or leadership track application usage across dozens (or hundreds) of app dashboards can take valuable time away from their day.

How to prevent revenue leakage
Fortunately, the right tools can patch both of the revenue leaks above. A short link platform like GoLinks makes it easy for employees to organize, find, and share information using intuitive short links and tags. This tool also keeps track of employees' app usage.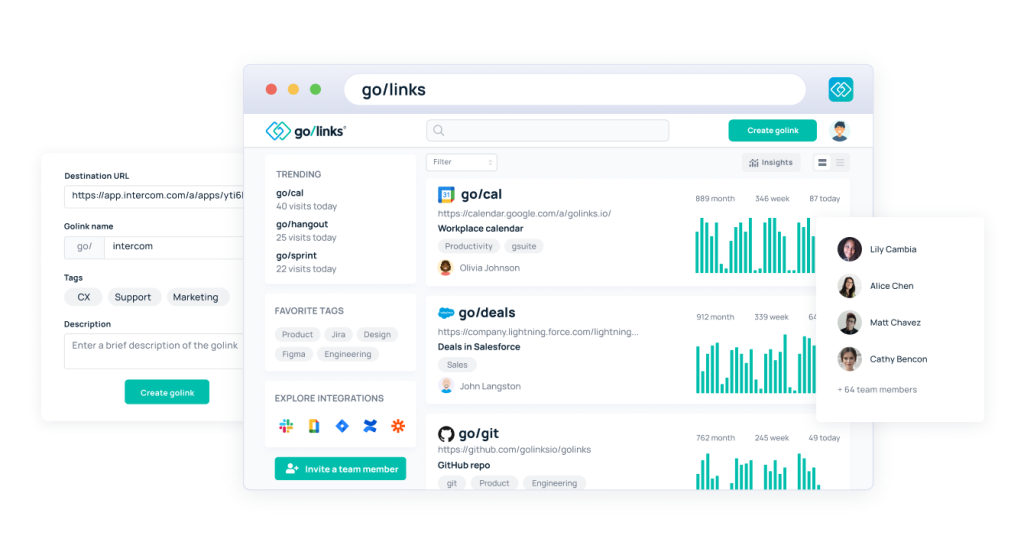 Below, we'll walk you through how to use GoLinks to stop revenue leakage in its tracks.
How GoLinks reduces productivity loss
With GoLinks, employees can find and share short links (or go links) to commonly used projects, apps, and platforms. Go links can be organized and searched for by name, description, and tags, and users can search their GoLinks dashboards to find go links shared by others in their organization.
Making existing information easier to access may not seem radically transformative at first glance — but using GoLinks has helped Instacart save over 1,000 hours each month.
"Having that [go link] for everyone just to click on or type into the search bar is more convenient than going into a wiki, searching for articles, and trying to figure out which to click on," says Jack Canio, Instacart's IT Project Manager. He continues:
"Nine times out of 10, when you search in a Confluence, a slew of links pop up and you're just like 'okay, which one is it?' GoLinks is an easier way to access information rather than having to dig into places. It makes information instantly available versus having to search."
How GoLinks measures SaaS usage
Employees use GoLinks to both organize their own resources and share work with others — making it the perfect platform to track which apps are most (and least) frequently used by team members.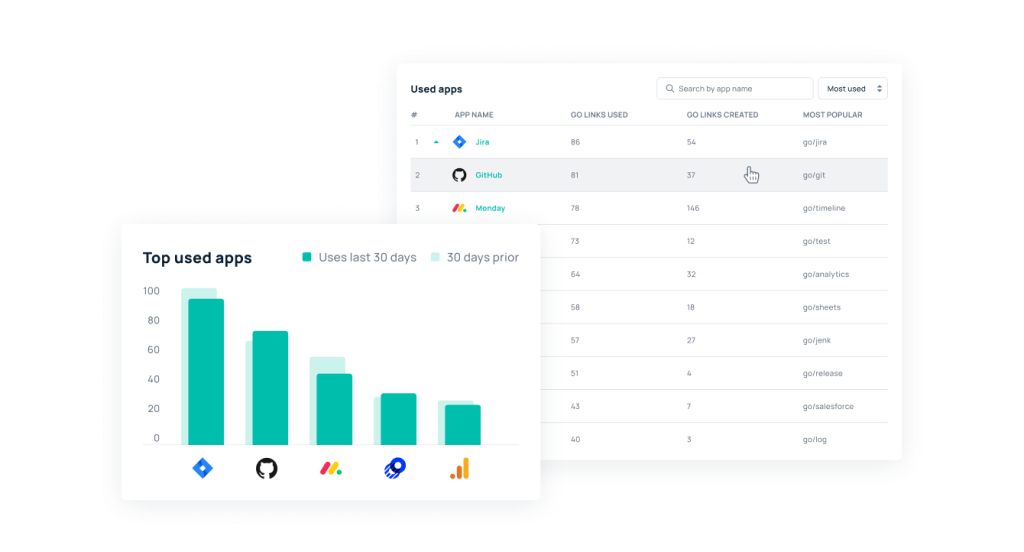 By simply peeking at your GoLinks dashboard, you can see how many go links have been created for each app, and how frequently go links from each app have been used. At a glance, you can tell which tools teams are using most, and which should probably be cut from your tech stack.

To learn more about how GoLinks helps companies like Instacart, GitHub, and Freshbooks plug revenue leaks in their processes, schedule a demo.