As your organization grows, so too will the amount of content and information that your employees create and share. And employees will use links to spread this information. As time passes, these links are impossible to keep track of. Rather than being productive, employees begin to spend more and more time searching for internal resources. Enter URL shorteners to the rescue. What is a URL shortener?
Where links were previously bulky, unattractive, and easily forgettable, a URL shortener allows you to turn long links into intuitive and memorable short links. Rather than a string of random digits, you can name your go links in a way that's easy to remember for team members.
For enterprise clients, URL shorteners improve internal knowledge sharing among employees and help you keep track of organizational URLs.
In this article, you'll learn what a URL shortener is and how to use URL shortening tools to create branded links that increase employee productivity.
What is a URL shortener?
A URL shortener is a tool that turns a long URL into a short, customizable URL.
To avoid any confusion, a URL shortener is the same as a link shortener, link compressor or link shrinker. It's just a different way of saying the same thing.
Shortened URLs are achieved through a redirect which links to a web page with the long URL. For example:
This lengthy URL https://example.com/human-resource-training-product-department-guides
Becomes this shortened URL go/ProductGuides
If you're trying to share resources, the first link is bulky, takes up space and is impossible to remember. Contrast with the second link that's short, customized, and memorable. You can use go/ProductGuides in a one-on-one conversation just as easily as typing it into Slack.
A Brief History of URL Shorteners
Tim Berner-Lee first coined the term Uniform Resource Locator in 1994. He's also the inventor of the world wide web. Tim's dream for the web was to create a digital space for sharing information.
The first patent for the URL shortener was filed in September 2000 and issued in 2005. The idea was a shorthand link associated with a registered URL and both logged in a registry database. When a request for the shorthand link is received, the registry database fetches the associated URL.
In 2002, Kevin Gilbertson founded TinyURL, the first URL shortening service. He was an avid unicycling fan and wanted to convert postings on unicycling newsgroups into web pages without long URLs.
The popularity of TinyURL led to the creation of at least 100 similar websites. Large companies like Twitter and Google soon developed their own URL shortening services.
Google URL shortener was called goo.gl and only available for use through their native products such as FeedBurner, Google Toolbar, and Google Chrome.
However, Google later announced that they were replacing goo.gl with Firebase Dynamic Links, but existing goo.gl links would continue to work.
A brief history of go links
The go links application has been around since late 2009. Nick Young first developed the application while working in IT at the North Carolina State University. The student body and faculty used the system to create short links that were shared in emails, posters, social media, and classrooms.
Around this same time, Benjamin Staffin developed a similar go link system at Google to improve link sharing around the company. The application surfaced with a twist at Yahoo where Xoogler Marissa Mayer had just taken the position as CEO. Rather than go/links, Yahoo had yo/links.
As more employees left Google to join other tech companies, the application increased in popularity and soon became a Silicon Valley staple.
While working at Yahoo, Jorge Zamora, CEO and founder of GoLinks, visited some of his friends in Silicon Valley tech companies and found that go links were used everywhere. Company break rooms, cafeterias, and even hallways.
However, Jorge saw several problems he wanted to solve:
Expand the functionality of go links to do more than redirect URLs
Make this tool available to the public
Get past the problem of abuse, malware, and phishing attempts that plague most URL shorteners
Help companies that were frustrated with their employees spending more time searching for internal resources than getting to the work at hand
Alongside his old college buddies, Jorge began working on a go links system that would be available to everyone, not just tech giants.
On August 29, 2016, the first SaaS version of GoLinks was announced on Twitter. It's an intuitive URL shortening tool for small and large companies alike to find and share information within their domain – fast.
What can you do with a URL shortener?
Link shortening
Link shortening is the obvious benefit of using a URL shortener. A short link encourages click-through on links such as HR files or onboarding documents. It also comes in handy for offline resources like print media where you don't have the option of adding UTM tags or click tracking.
You can share a customized URL like go/WorkingLunch and your employees will understand what the link means. It's also easier to remember. For example, rather than looking for a sales revenue dashboard, you can easily access the resource by simply typing go/SalesRevenue into your search bar.
Link tracking
How do you know if people are clicking on the links you've shared? Link shortener platforms like GoLinks let you track clicks. GoLinks also tracks link creation so you know which tools, apps, or topics your employees and teams use the most.
You can shorten links and add campaign UTM parameters to track data in Google Analytics. If you can see actual visitors (humans) clicking your links, then you have an accurate representation of conversion rate and traffic data.
Link masking
One of the obvious benefits of URL shortening is that it changes the original web address. While this seems bad when you think of hackers and spammers hiding malicious links, most tools like GoLinks have security features to prevent this.
An example of proper use of link masking is taking a URL from a popular blog post you've created and simplifying the link to share with team members.
To be clear, link masking is not the same as link cloaking. That's a black hat SEO practice used to present false information to search engine bots.
What are the benefits of a URL shortener?
Internal knowledge sharing
When knowledge sharing works properly within an organization, your employees can access historical data to learn, make informed decisions and get work done quickly.
So far, the biggest challenge with knowledge sharing is transferring company-specific knowledge. Yet, only 20% of companies believe knowledge sharing is effective.
Link management is one of the top ways to make knowledge and resources easier to share. Sadly, the most important links are usually clunky and messy.
Knowledge sharing tools like GoLinks empower employees to access important resources faster within the organization.
Create brandable links
Brand awareness should be part of your business strategy. With a custom URL, employees will recognize your brand name immediately.
Short links are also easier to remember. You can use them on physical signage, videos, and even emails. If people can type links into their browser with a few characters, you'll earn more traffic.
Increase click through
Searchers pay attention to URLs and it does influence click-through. Shorter URLs on search have a 250% higher click-through rate. They offer a competitive advantage because longer URLs distract your readers from reading your content. 
Include your brand name when sharing links online. When you use a generic tool to shorten links, your brand name is no longer visible. For social sharing, add a keyword in the shortened link to improve relevance to the topic you're sharing.
Make sure you capitalize the first letters so it's easier for readers to process the information when scrolling through their feed.
Promote sharing on internal social platforms
Creating great content is half the battle. Getting your content in front of your audience is the second half. It has to be shareable and user-friendly to encourage users to click and share it with others.
Long links on Slack, Google Chat or GDocs (especially when you add a UTM tracking code) sometimes look like spam. Team members won't click on a link they don't recognize. Custom URL shorteners turn those lengthy links into concise, legible links.
Maximize social media character count
Think of the character limit on platforms like LinkedIn and Twitter. LinkedIn has a character count of 700 and Twitter has a character count of 280. Throw in a long URL and a few hashtags and you'e quickly run out of space to write content that promotes your message. URL shorteners help you communicate your message with short links that take up less space.
Shortened URLs also look more brandable and cleaner on Twitter, Instagram bios and other social media profiles. It makes your wall appear more organized in a sea of generic, cluttered links.
Are URL shorteners safe?
It's true that hackers and spammers use shorter links for illicit internet activities. The security risk with a shortened URL is that you can't tell where the link is going.
A few rogue cases with URL shorteners include:
2010: Trend Micro researchers found malware in shortened URLs used to spam instant messaging services like Yahoo Messenger and MSN messenger.
2012: A computer worm spread quickly through Skype with the help of a shortened URL. Clicking on the link turned your PC into a botnet.
2014: Hackers used Google URL shorteners to spread a malware-laced ZIP file.
However, part of the problem isn't with shortened URLs, but the malware created to take advantage of vulnerable systems.
A few ways to stay safe when working with short URLs include:
Destination previews allow you to get an overview of the page before opening it fully
Include a description when creating a short URL to help intended users understand where the file leads. if you see a weird or inappropriate description or tag, do not click on the link
Be careful when downloading zip files or resources from unfamiliar websites
Most web hosts offer an add-on to provide real-time analysis of threats to protect your website
Here's how GoLinks protects you
Security is a priority at GoLinks. We test rigorously and follow extensive processes to protect your information
All GoLinks servers utilize the strongest grade of HTTPS security to ensure that requests are protected from hackers and middle-man attacks
We encrypt all traffic in transit with the latest secure cipher suites and protocols
We store customer data redundantly at multiple locations to ensure its availability
Teammates can view who created a link before opening it
Enterprise-level admins can integrate a Single Sign-On provider. We also track user log times in your GoLinks with details about their IP address and type of device
7 of the best URL shorteners that aren't Google URL shortener
GoLinks
About GoLinks
GoLinks is an intuitive tool for creating internal short links shared by teams. GoLinks was inspired by Google's internal link sharing solution and the public-facing, Google Short Links app. While the resource is no longer available, Xooglers have implemented similar homegrown tools at their new companies.
In 2014, former Yahoo! employee, Jorge Zamora, anticipated that the problem of finding and sharing internal resources would only get worse. He created the GoLinks app as a tool to transform long URLs into human-readable go links for employees to use in conversation, work correspondence, and emails. Companies using GoLinks can share work information and resources at scale.
Is GoLinks the same as other URL shorteners?
Here's where GoLinks differs from other URL shortening tools. It's created for enterprises and controlled by the licensing organization, such as a company or school. That means unruly spammers with malicious intent can't get their hands on GoLinks or use our service to spread malware.
Think of that presentation you have in the morning. You want to share it with your colleagues at work, so they can include a few notes to make the presentation better. You're looking for the file on your PC, but it's buried under a horde of Google Docs.
GoLinks turns that long, messy URL into a short and clean link that's easy for both you and your colleagues to remember.
This link:
turns into:
go/MorningPresentation
It's private to your organization, so only employees with access can sign in and open the link.
You may confuse GoLinks with other link shortening services because, at the core, we do the same thing. But tools like Bitly, TinyURL and others, are public-facing links while GoLinks is for internal use. This means you must log in to your organization's private system to create or open your business' go links.
GoLinks eliminates the challenge with security issues, phishing, and malware attacks that other URL shorteners face because it's created by your team members for other team members. No eavesdropping allowed.
More than a productivity tool, GoLinks streamlines knowledge sharing and makes it easier to find information quickly within your organization. Employees don't have to remember the names of platforms or cloud-based documents they need. Rather, they just need to know a word or two and can find the document fast.
How to shorten a URL with GoLinks
There are two ways to create a go link
From the website dashboard
Copy the URL you want to shorten
Next, navigate to the Golinks dashboard and click on the Create Go link button on the top right corner of the page.
You'll see a short form to enter the Destination URL, which is the URL you want to shorten and a Link Name which is the custom URL.
You won't be able to use a go link name that already exists. If you do, a warning will appear beneath the field.
You can enter a brief description to help your teammates better understand what the link is about.
When you're done, click Create Go link and you'll see your new go link at the top of your comprehensive dashboard.
Using the Chrome Extension
From the resource page, click the Chrome Extension and you'll see that the URL is already populated for you.
Your dashboard opens in a new tab where you can view your newly created go link to share. You and your team can access your go link from any device.
Rebrandly
Rebrandly is a public-facing custom URL shortener to brand, track and share shortened URLs with custom domain names.
Rebrandly also includes tools to track link popularity, data about link views, and automatically generate QR codes. You can also use Rebrandly to understand email marketing, social media, SEO, and ad click stats.
Features include:
Traffic routing to set up 301 redirects, link retargeting, and mobile deep linking
Link management for QR codes, managing link expirations, and creating bulk links
Domain name management to define the main domain redirect and encrypt links with HTTPS
Bitly
Bitly is a leading custom URL shortener that offers link management alongside data and analytics for business owners to improve customer experiences.
From the dashboard, you can view link performance metrics like channel stats, click-through rates and geographic information. It integrates with social media services like Buffer, Sprinklr, HubSpot and Hootsuite.
You don't need an account to use Bitly and the free account includes 1,000 unbranded links plus 30-day link reporting.
To improve your campaigns, Bitly allows brands to monitor clicks, top referrers and click locations. This means you can see who is sharing your content and interacting with it.
Bitly encrypts links with HTTPS to prevent short links being hijacked or tampered with. Similar to Rebrandly, you can add QR codes and use mobile deep links to drive traffic to your content. While you can use Bitly without an account, you need a premium plan to get a custom domain or create branded links.
Tiny URL
The interface may not be the best, but TinyURL works as a free link shortening tool. If you need a tool to shorten links without worrying about organizing or tracking links, this works.
You may run into difficulties if the links need updating such as when the page is taken down or redirects to a 404 error page. Without an interface to manage links, you can't track or replace the broken link. You can only create one custom link that redirects to a webpage on your site.
BL.INK

BL.ink allows businesses to link smarter by using real words to create custom-branded short links. Similar to Rebrandly, they offer an intuitive dashboard where you can track link clicks based on time of day, location, language, device type and referrers.
You can create multiple custom short links with a paid account and even secure your links with user permissions.
Ow.ly

Hootsuite, the social media management platform developed Ow.ly as a link shortener that's included in all Hootsuite accounts.
With Ow.ly you can shorten links, distribute them and track performance for your shortened URL from the Hootsuite dashboard.
Yourls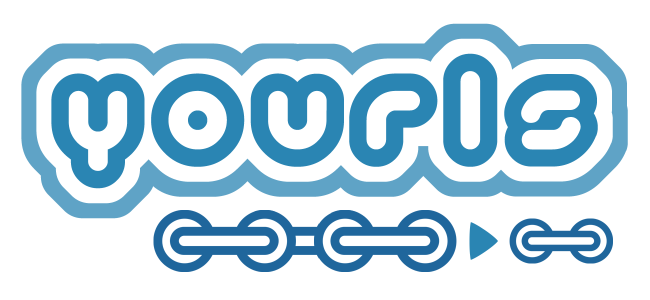 Yourls means "Your Own URL Shortener". It's a self-hosted, open-source URL shortening platform that's ideal if you know how to code and enjoy building things yourself. You'll have to install and run it on your server to use this tool.
Some of Yourls features include private and public link shortening, custom created links, click statistics and sample files to create your public interface.
The Best URL Shorteners are Secure and Customizable
A good URL shortener does more than trim links. It helps you stay organized, improves employee productivity, and enhances your brand image. It's also easier for employees to find and share knowledge at scale.
Most of the free URL shortener services let you create, share and track short links. But there's a gaping security problem with the public-facing short URLs. Anyone can create a link, including hackers and spammers.
URL shorteners for internal communications are more secure. They prevent hackers from intercepting links and ensure that only teammates can access resources through your secure platform.
Now that you know what a URL shortener is, why don't you check out our post on how URL shorteners work?