Tailscale is a VPN service that makes the devices and applications you own accessible anywhere in the world, securely and effortlessly. It also allows for easy 1 click support for using GoLinks. This guide will show you how you can setup golinks on Tailscale in less than 1 minute.
In this guide, you will be using the Search Domain setting in the DNS settings page in order to setup golinks.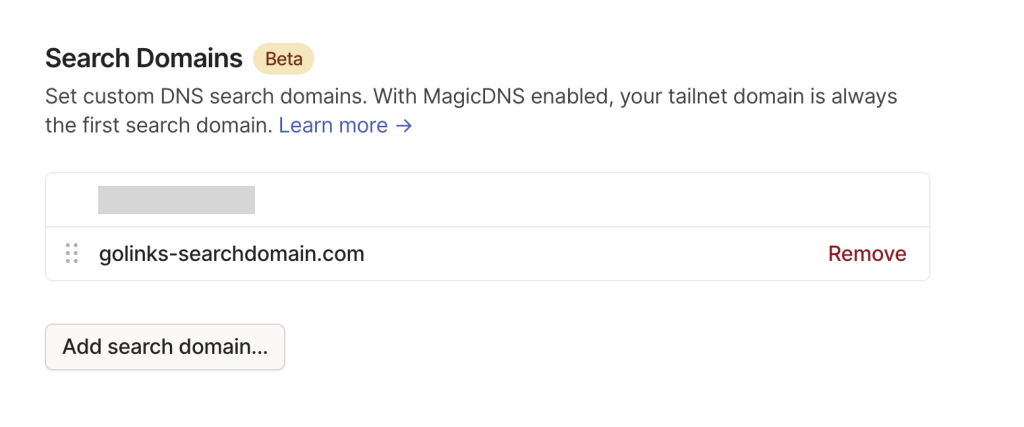 First, login to Tailscale and navigate to the DNS Settings
Next Scroll down to the section called: Search Domains and click "Add search domain…"
Add the search domain: golinks-searchdomain.com then click "Add search domain"
You're all set! Type http://go/links to redirect to the correct go link.
If you want to test if the installation was successful, go to any device in your tailnet, then open a browser such as Chrome, Firefox or Safari, but open it up in Incognito mode. Navigate to http://go/links and there will be one of two things that happen.
If the browser presents a DNS error, and does not resolve, then it was not setup correctly. Go through the steps again to see if you followed all steps.
If the installation was successful, you will be redirects to the golinks homepage.
Make sure you are testing in an Incognito Browser to make sure it is not the browser extension that is performing the redirect.
Using go links with Tailscale makes it easy to access and manage your golinks from any device on the network. This works for iOS devices, Android devices, Desktops, and any other device on the tailnet.
Tailscale MagicDNS and GoLinks
MagicDNS automatically registers domain names for devices in your tailnet. This lets you use a machine's name instead of its IP address. In this case, golinks is not a machine, so to get setup, the search domain is the best option.
How do I create a golink?
To create a golink, visit the dashboard and find the "Create Go link" button. Find out more in this article: How to Create Go Links
How does GoLinks Work?
GoLinks works after the Search Domain is setup on Tailscale in the DNS Settings.
Thanks for your feedback!