According to Zippia, less than 60% of the workday is actually spent being productive, but it's not because your team is slacking off. The average employee is interrupted 56 times per day and checks their email 36 times per hour. For sales teams, these numbers are even higher.
Consider this: the productivity loss from these distractions isn't just the time it takes to check an email or direct message. Productivity is lost when your team members have to refocus on what they were doing before interruptions. This is called task switching.
Sales productivity tools can help reduce the mental load of task switching by streamlining processes and communications into a few powerful tools that work together.
How to Choose Sales Productivity Software
The right stack of tools can empower your sales team to work more efficiently, shorten their sales cycles, and close more deals. The types of sales productivity tools you choose should depend on your biggest priorities and inefficiencies on your sales team.
You can use sales productivity tools to:
When building out your tech stack, keep in mind that you'll want to avoid duplication. Choose productivity and collaboration tools that integrate with your other tools.
The Best Sales Productivity Tools for 2023
1. Monday
Best for: Project Management
Monday is a Work Operating System used to streamline workflows, projects, and processes. Their built-in CRM supports sales activities, including custom sales pipelines, lead management, and post-sale management.
Monday is a powerful tool for cross-functional teams. They have robust capabilities designed specifically for sales, marketing, operations, and dev. Sales reps can connect with other teams in one platform, reducing time typically wasted on knowledge transfer between teams.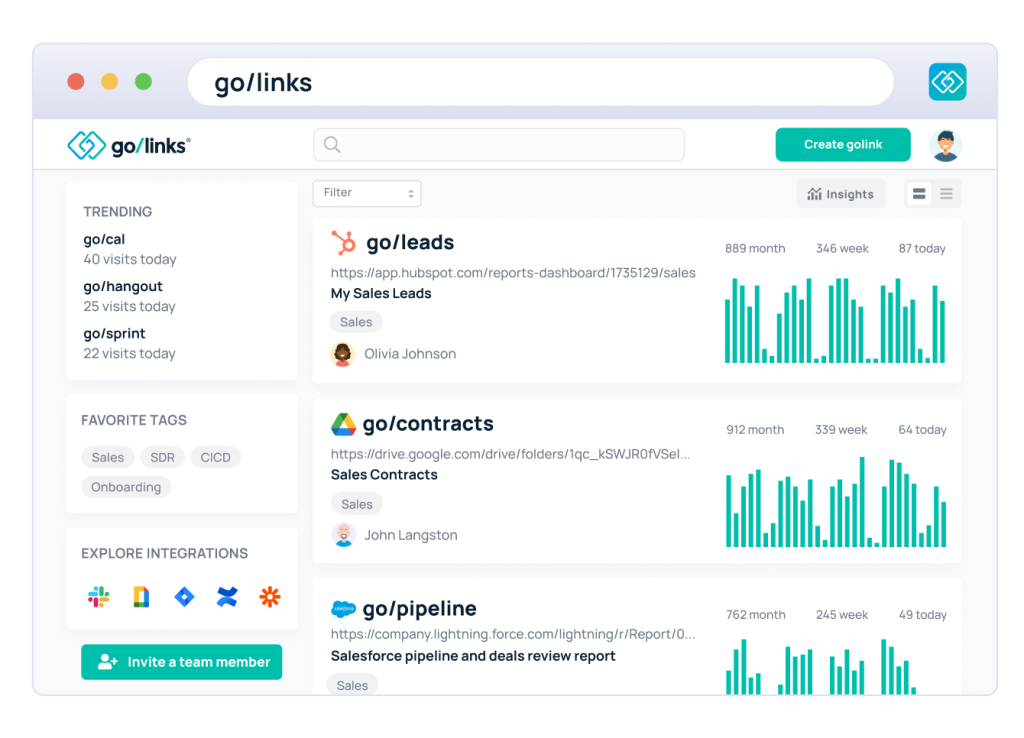 2. GoLinks
Best for: Knowledge Management
Go links are shared short links that connect you to crucial tools and resources quickly. For example, you can use go/leads to connect to your current pipeline or go/contracts to quickly pull up pending documents.
Instacart uses GoLinks to streamline their onboarding process and make it easier for employees to share and access information quickly. Implementing GoLinks has saved Instacart's team 1000 working hours per month.

3. Chili Piper
Best for: Scheduling Meetings
A whopping 54% of salespeople say that scheduling meetings wastes a huge chunk of their time. With Chili Piper, reps can quickly and easily schedule sales calls with one-click booking and automated reminders and rescheduling.
Chili Piper offers integrations with the other tools in your tech stack, including Salesloft and Salesforce. The platform automatically logs meeting details and recordings in your CRM to help you manage your pipeline without adding extra steps to your sales process.
4. Salesloft
Best for: Prospecting
Salesloft's Modern Revenue Workspace is one of the top-rated platforms for sales engagement, prospecting, and email outreach. With Salesloft, you can manage your pipeline, automate workflows, forecast deals, and take the guesswork out of your sales process.
Detailed call tracking and sales reporting can help you replicate the success of top-performing reps and optimize workflows to close more deals.
5. Dropbox Sign
Best for: Document Signing
Preparing contracts is one of many repetitive tasks for sales reps. Your team can waste hours of time each week manually updating documents, sending contracts out to prospects, and following up on signatures.
Dropbox Sign (formerly known as HelloSign) reduces time-to-close, automates manual tasks, and improves contract completion rates by as much as 26%. Their eSignature platform allows you to quickly and securely sign contracts and NDAs. Plus, they offer integrations with Salesforce and Hubspot, so you can seamlessly manage contracts without leaving your CRM.
6. Airtable
Best for: Streamlining Processes
Airtable is a cloud-based platform for building dynamic databases and collaborative applications. Airtable is a time saver for sales teams, because it can help you create smarter processes and break down silos between customer-facing teams.
Easily standardize your most important sales workflows with Airtable templates for your CRM, pipeline, asset management, and customer success management. Plus, automate repetitive tasks like sending a Slack message when your prospect completes a step in your workflow.
7. Slack
Best for: Instant Communication
Sales teams often work on the go, making it difficult to connect in person or via email. Slack is a real-time messaging and video conferencing platform with direct messaging and group channels.
Slack makes it easy for sales reps to connect with clients and team members directly from their mobile phone or laptop. You can even use Slack as a prospecting tool by joining thought leadership communities.
8. LinkedIn Sales Navigator
Best for: Growing Your Network
Sales teams are no stranger to LinkedIn, the world's largest professional network. LinkedIn is a free social media platform where sales reps can connect to customers, prospects, and colleagues.
Upgrading to Sales Navigator saves time for sales reps by making it easier to filter and save prospect lists. Set up alerts on saved leads, track engagement, and connect to new prospects using the LinkedIn relationship manager.
9. Toggl
Best for: Time Tracking
Time tracking can be a divisive topic among leaders. One recent study found that monitoring employee behavior can increase stress and decrease motivation. However, that same study found that time tracking can boost productivity.
Toggl is a time-tracking platform that seamlessly connects to your other tools. It's designed to empower teams with insights rather than micromanage work. You can use Toggl to measure how much time your team is actually spending on different tasks, identify inefficiencies, and provide tools or strategies to help reps improve productivity.
10. Dewo
Best for: Focused Work Blocks
Constant distractions and meetings can negatively impact your sales team's productivity. Deep work is a state of peak concentration, where you can produce higher-quality work more efficiently. In order to achieve a deep work state, you should cut out distractions for at least 60-90 minutes. This can sound counterproductive, or even impossible, for sales teams.
Dewo is a new app from Timely designed to protect deep work periods across your team. The Dewo app allows you to schedule meetings during optimized windows that piggyback on other meetings and don't interrupt workflow or breaks. Plus, Dewo automatically silences notifications and updates your Slack status to prevent distractions.
Use GoLinks with Sales Productivity Tools
Sales productivity tools can help simplify your sales process and empower your team to close more deals. As you implement new sales tools, use GoLinks to maximize efficiency and make collaboration seamless.