If you've done your homework on enterprise search, then you are probably already envisioning how your org can benefit. Easily findable knowledge, enhanced collaboration, and seamless onboarding are just a few things that an enterprise search strategy can help enable.
What's not to love?
At its core, enterprise search is a company-specific search engine. It allows employees to search internal databases. Like Google, you can type in what you're looking for, and through AI machine learning, it uses search indexes to pull up results based on previously stored information.
If you think this is a tool your team needs, then you should know a few things before investing your time and effort. In this article, we'll cover five things to consider before implementing an enterprise search strategy so that you can make an informed decision and provide your company with the best tech stack.
Let's jump right in!
1. Enterprise Search is Just One Type of Knowledge Management Tool
The first thing to understand is that enterprise search is essentially a subcategory of knowledge management. You can find a handful of definitions for these two terms, so here are a few ways to understand how enterprise search and knowledge management are different yet related.
Traditional knowledge management involves the manual work of creating processes to gather, share, and organize information. Enterprise search tools and search applications stand apart because, as mentioned before, they use machine learning to adopt information and continually update. After the initial setup, it runs automatically without the manual effort that traditional knowledge management requires. 
With the advances in knowledge management and content management technology, there are now many tools on the market to help make this process less manual or time-consuming. So at this point, enterprise search is more of a subcategory of knowledge management.
Here's a little visualization to help.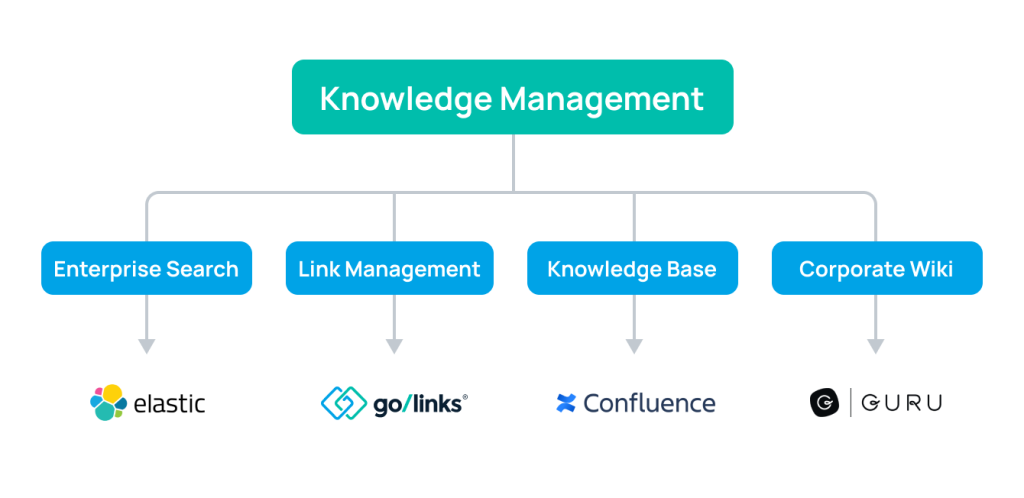 When trying to solve knowledge management problems, you must remember that enterprise search is just one of many tools you can use. Typically one individual tool won't solve all your knowledge management needs. You may need a few tools that work together to optimize knowledge sharing. We'll dive more into this later.
2. Google Sets a High Bar for Enterprise Search
If you were to give someone a search tool and tell them that it's similar to Google, they'd likely have high expectations for functionality. Google has been around for nearly 25 years, organizing the world's information and making it easily accessible. Though enterprise search does the same thing with internal company information, the search experience for enterprise search users won't be as smooth.
Machine Learning Takes Time
Enterprise search software use machine learning to grow more intelligent over time. Because of this, the tool won't have the intelligence to be as helpful right off the bat, and search relevancy may be low.
Business Information Isn't SEO Optimized
Unlike articles written for the internet, business information is often summarized and may lack the context that helps search engines. Because of this, the type of intuitive searches that people usually do on Google may not work with enterprise search.
It's important to keep these things in mind and to communicate the differences during onboarding, so employees don't start with too high of expectations.
3. An Enterprise Search Strategy Won't Meet All Your Knowledge Management Needs
As we mentioned above, enterprise search is just one tool to help with knowledge management. Though it may help solve some of your problems, such as information findability, it might not be your company's be-all and end-all solution. Here are two downfalls of enterprise search.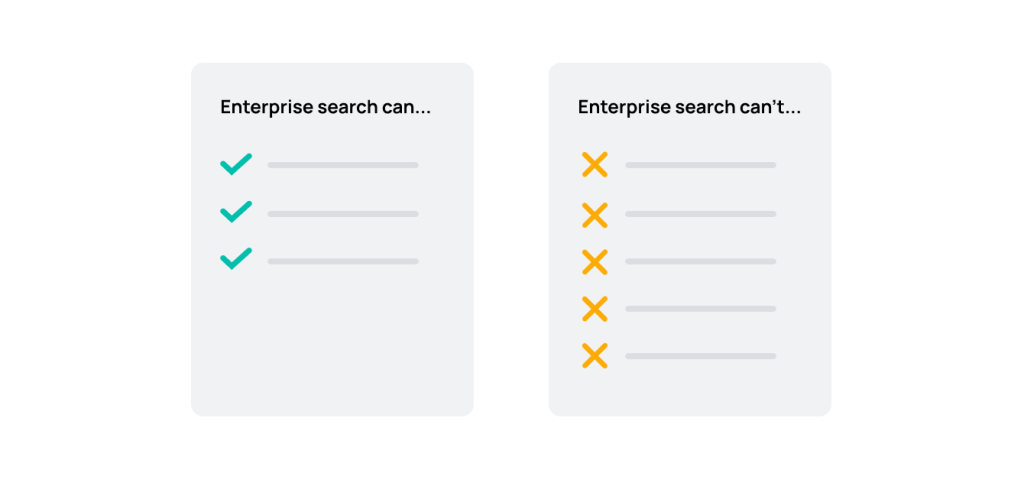 Enterprise search will filter through information, but it won't organize information.
When data is structured and organized, it's far easier to find – for both employees and the enterprise search tool. But if you don't have tools or processes to organize information, things get sloppy pretty fast. It can become challenging for enterprise search to sift through applications for the information you need.
Enterprise search will find information, but it won't necessarily help employees access and share information.
Even with enterprise search, your information may be scattered across platforms where certain employees have access and others don't. Because of this, not all information will be accessible to everyone who needs it. Your org will need additional tools that help create a single source of truth where employees can access the knowledge they need.
4. Your Enterprise Search Strategy May Work Best When Combined with Other Tools 
Because of the pitfalls mentioned above, your organization may need to implement additional knowledge management tools to optimize employee productivity. Here are a few suggestions:
For knowledge organization, try a knowledge base tool like Confluence.
Confluence is a popular knowledge management tool from Atlassian that organizes information into collaborative documents. These documents allow employees to create, share, edit, and discuss their work in real time.
For a centralized source of truth, try a corporate wiki tool like Guru.
With features like Collections and Boards, Guru is a company wiki that helps you centralize your knowledge and content sources and streamline internal communication.
5. Link Management May Be the Better Choice for Your Company 
Search solutions aren't the only tools out there that make internal information easily findable.
Let's talk about link management!
Link management allows you to organize, access, store, edit, and share links within an organization.
With an enterprise search tool, depending on your type of search, you may enter a keyword and get dozens of results. At that point, you have to comb through the results to find what you need. With a link management tool like GoLinks, you can save more time. You have the ability to create short links for any resource. So when you type in this go link, what you need comes up instantly; no need to search through results.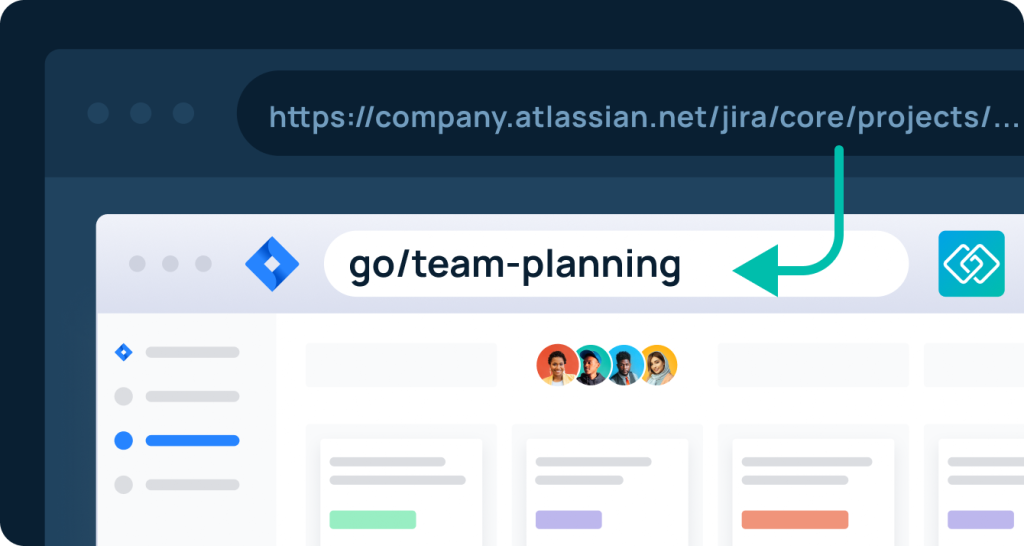 For instance, your team planning doc could be turned into go/team-planning, or you could access your project management tool in just a second using go/asana.
Because any link can become short, intuitive, and easy to remember, knowledge sharing across an organization is a breeze. Employees can find the information they need when they need it. Go links are also easy to update, ensuring that none of your knowledge is out-of-date or irrelevant—helping your company prevent knowledge loss.
At a high level, GoLinks…
Eliminates steps in finding information
Brings you directly to any resource
Surfaces company information easily
Still on the fence? You and your team can try GoLinks for free to see if it could be the better option for your team. Click here to try it out.