Often, as sales teams scale, they'll start to feel growing pains around their workflows. In the early stages of growth, it may work to track prospects in an Excel sheet and jot down customer notes in a shared Google Doc. But as a team grows, these processes start to break down.
Having a good workflow in place is critical for sales. A sales team uses repeated and scalable processes in order to sell, with team members reaching out to prospects, booking meetings, negotiating, and signing contracts.
In the same vein, your sales workflow should be systematic and scalable. It should streamline and automate team members' tasks, decrease human error, and increase collaboration and efficiency. The right workflow should leave no doubt in your team's mind about when, where, and how they should carry out certain tasks.
Below, we'll walk through seven steps you can take to improve your sales workflow management — helping your teams get more done in a day, so they can close more deals.
1. Find the gaps in your existing processes
Before you start making any changes to your workflow, you'll want to know which areas need to be addressed. Start by talking to your sales team, tracking where team members are spending the most time, and uncovering bottlenecks and pain points.
Is your team struggling to follow up promptly with prospects? Are they reaching out to the wrong contacts at an organization? Are they spending too much time entering data into a customer relationship management (CRM) system? Are customer notes getting lost when prospects are handed from a business development representative (BDR) to an account manager (AM)?
Take a look at your gaps, rank how pressing each problem is, and then prioritize finding solutions.
2. Find the best productivity tools
Sure, you can dig a hole with a spoon — but a shovel will get you far better results, far faster.
Similarly, you should be tackling each step in your sales process with a productivity tool that's custom-built for the job. The right tools should streamline communication, boost collaboration, and make it easy for team members to find exactly the data they need.
A few sales productivity tools that we recommend include:
Salesloft is a sales engagement platform that lets reps easily manage their pipelines, forecast their deals, and automate their workflows.
LinkedIn Sales Navigator allows sales reps to find leads, track engagement, and connect directly with decision-makers.
Chili Piper is a meeting scheduling platform that lets sales reps schedule calls with prospects, automate meeting reminders, record calls, and log relevant details in your CRM.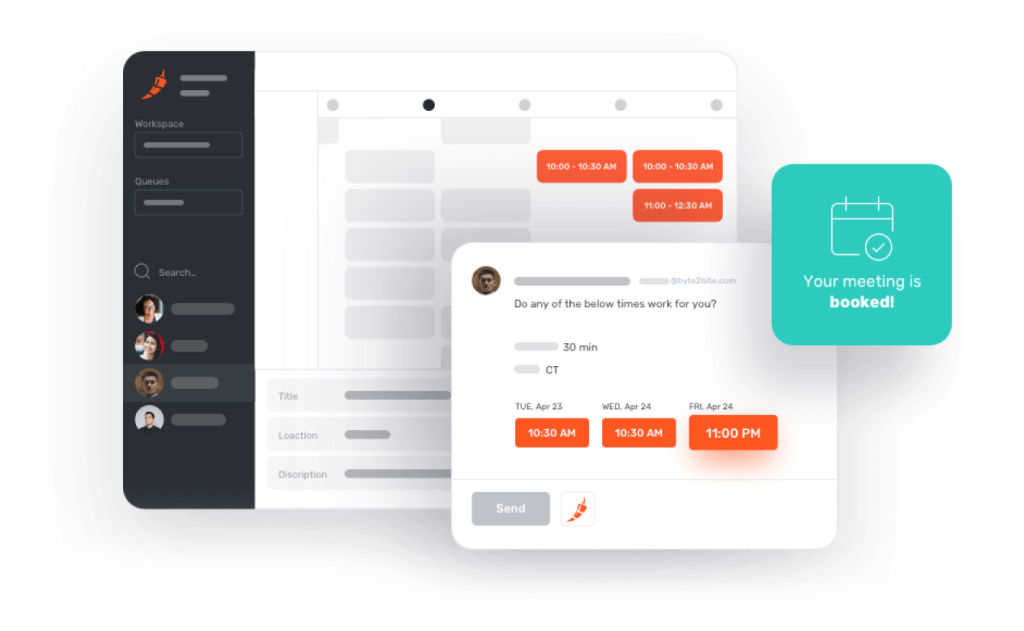 3. Simplify workflow navigation
According to Salesforce's 2022 State of Sales report, 66% of sales reps say they're "drowning in tools." The average sales team uses 10 separate tools to close deals — and that doesn't even include the other 100 SaaS tools used by their wider organization.
Unfortunately, these tools are needed to store data, communicate, and track deals. But you can help your sales team navigate their plethora of tools and resources by using an internal link management system like GoLinks.
A link management system lets your team organize tools and resources using memorable and intuitive short links. This allows team members to access the information they need without needing to remember (or religiously bookmark) where every piece of data is stored. Some short links commonly used by sales teams include:
go/leads can redirect to your team's CRM
go/demo can open a slide deck or video that shows off your product
go/pageviews can redirect to a list of leads from homepage visits
You can create an endless number of short links to ensure tools, resources, and data are easy for your sales team to access.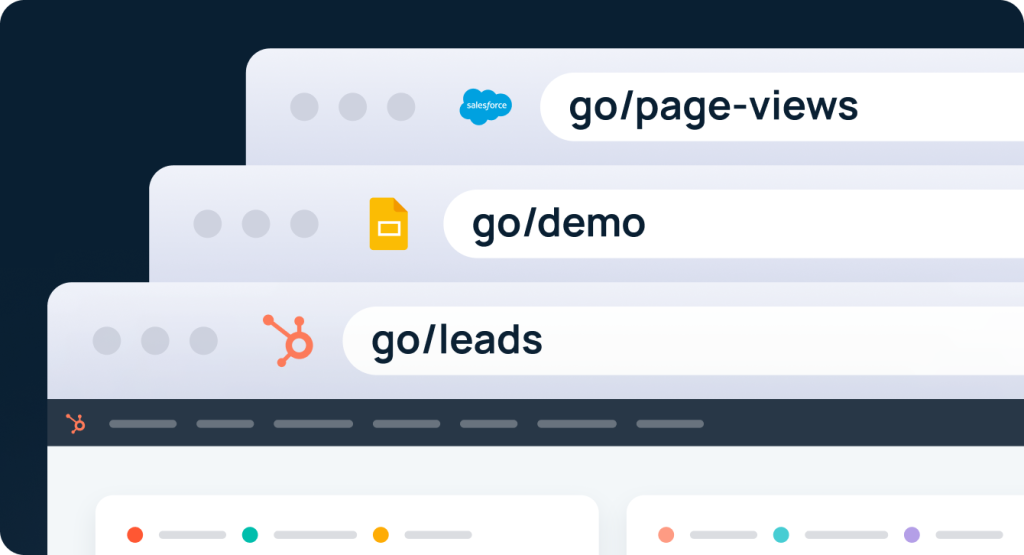 4. Document everything
Far too many teams operate mainly on implicit knowledge. Over the years, senior employees have established processes and learned helpful information they use daily, but they haven't documented it anywhere.
This can make it challenging (and time-consuming) for new employees to get up to speed. To learn your team's workflows and processes, they need to learn directly from senior employees, which can slow down the entire team.
Expedite the onboarding process by creating playbooks that document your team's processes and all necessary knowledge about your industry, client types, and techniques. All of this information can be recorded within a knowledge base and shared company-wide.
5. Streamline knowledge sharing
Now that you've documented your team's workflows, processes, and knowledge, it's critical to make it accessible — to both your team and the wider organization.
Streamline knowledge sharing by making links easy to find and share. Link management software like GoLinks does just that by letting employees create, find, and share short links across your organization. For instance, you can share institutional knowledge with new hires through a go/onboarding short link, or communicate monthly sales results to the wider organization at go/salesmetrics.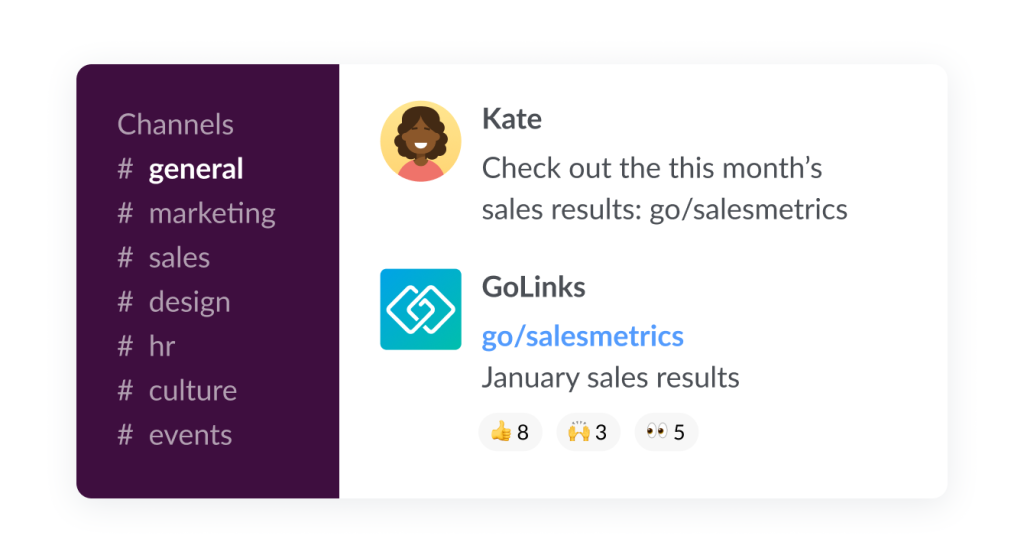 6. Automate tedious and recurring tasks
Are your sales reps entering prospect data into your CRM manually? Sending follow-up emails to leads one at a time? Reviewing sales calls to take detailed customer notes?
Workflow automation can help with that.
Cut down on the amount of time your team spends completing tedious, recurring tasks by using automation. A few examples include:
Using a tool like Gong, Salesloft, or Otter to automatically join virtual meetings and transcribe (and summarize) conversations.
Creating email sequences in Salesloft or Outreach so that sales reps are automatically prompted to email, call, or text prospects on time.
Using Zapier to automatically import prospect information from different platforms into your CRM.
7. Use data to improve performance
Improving your sales workflow shouldn't be a one-and-done deal. Tracking sales metrics helps uncover the areas where your sales reps are excelling, where they may need more help, and any bottlenecks that remain in your processes.
You can also use data to understand where your workflow may be unnecessarily bloated. For example, GoLinks' workspace analytics allow you to see which tools your team is using most — and which they aren't. Track app usage to help cut down on revenue leakage and to make sure your team's tech stack is lean, mean, and — most importantly — useful.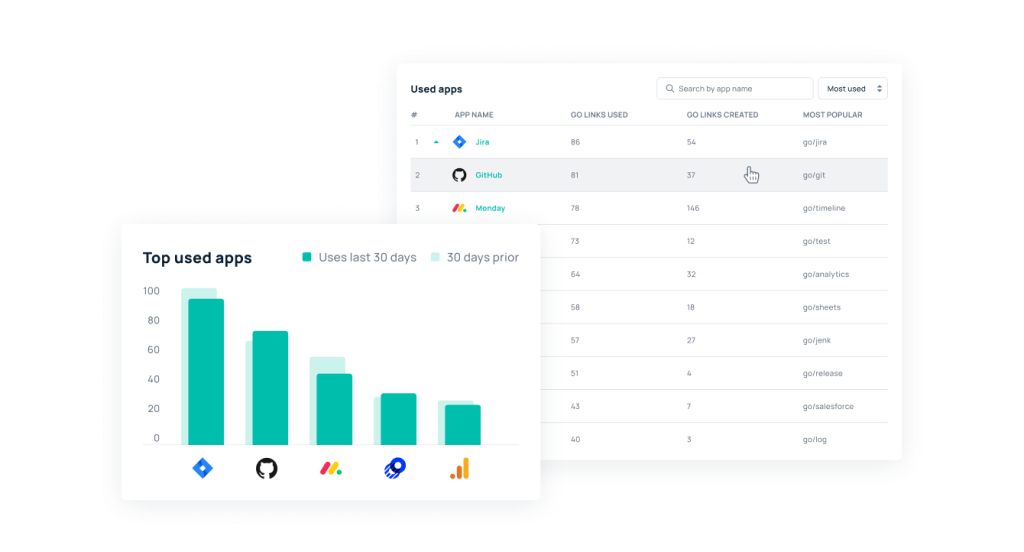 Transform Your Sales Workflow Management
Ready to transform your sales workflow management? Schedule a demo to learn how GoLinks can help you simplify your workflow navigation, streamline knowledge sharing, and track tool usage in real-time.