As technology becomes an increasingly intractable part of companies' operations, it's never been more important for information technology (IT) teams to offer employees fast, efficient, and reliable tech support.
And yet, in many ways, IT teams are also more overwhelmed than ever. The average organization today has 110 software-as-a-service (SaaS) apps in its tech stack — and IT teams are in charge of ensuring those apps' security, maximizing their usage, and responding to employees' questions and support requests.

Managing dozens of apps and responding to support requests can put many IT teams into constant firefighting mode. However, establishing a dedicated support process can streamline your IT management and help your team members take back their time and attention.
Below, find our top three tips for improving IT support at your organization.
1. Implement an omnichannel support system
When an IT team is receiving dozens of support requests through email, Slack messages, and phone calls, it can be easy for tasks to fall through the cracks.
And yet, anyone who has ever tried to implement a new support process at a company can tell you that employees aren't always great at adhering to it. Often, employees will forget where to submit support tickets or mention issues in an off-handed Slack conversation, email, or meeting.
This is where an omnichannel support system comes in handy.
An omnichannel support system automatically centralizes support requests — whether they come in via Slack, email, or Jira — onto a single platform. That way, employees can continue to use a variety of channels to submit requests, yet your IT team can respond to requests from a single platform. This makes it easier for your IT team to manage their work, while also reducing the chances of tasks slipping through the cracks.
You can set up an omnichannel support system using a service desk like Jira Service Management, Freshservice, or SysAid to handle support inquiries. This lets your IT teams see requests from different channels within a single service portal, resolve issues in an orderly queue, and easily respond to tickets.
(Bonus: a service desk will also let you track metrics like resolution times and customer satisfaction levels with ease.)
2. Leverage a knowledge base for self-service support
If you've ever had to answer the same question multiple times a week, it's time for you to set up a knowledge base.
A knowledge base is an online library that lets your team gather and disseminate important information to a wider audience — in this case, other employees at the company. It should be organized and searchable, and can contain how-tos, manuals, frequently asked questions (FAQs), and examples on topics like:
The tools your company uses
Instructions on installing and configuring software
How to get the most out of company tools (with use cases and examples)
Cybersecurity and IT policies
Common technical support questions
The beauty of a knowledge base is that — after you've created it — it's mostly self-serve, so employees can find answers for themselves rather than repeatedly coming to your IT team. If an employee comes to your team with a question already answered in your knowledge base, your team can simply link them to the information they need.
You can create a knowledge base using any wiki or knowledge base software, such as Notion, Confluence, Trello, or Zendesk. Keep in mind that your knowledge base should be a living document: even after you've built it out, update it with any new information and add in any new questions that are frequently being brought to your team.
3. Integrate GoLinks for easy access to support ticket process
Make it easy for employees to submit support tickets and access your knowledge base using GoLinks.
GoLinks lets your IT team share internal resources in the form of short, memorable links (called "go links") so that others are able to easily find and access information. For instance, your IT team could set up the following type of go links:
"go/training" might redirect to a cybersecurity course for new employees in LearnUpon
"go/learn" might redirect to your knowledge base in Dropbox
"go/support" might redirect to Jira, where employees can submit support tickets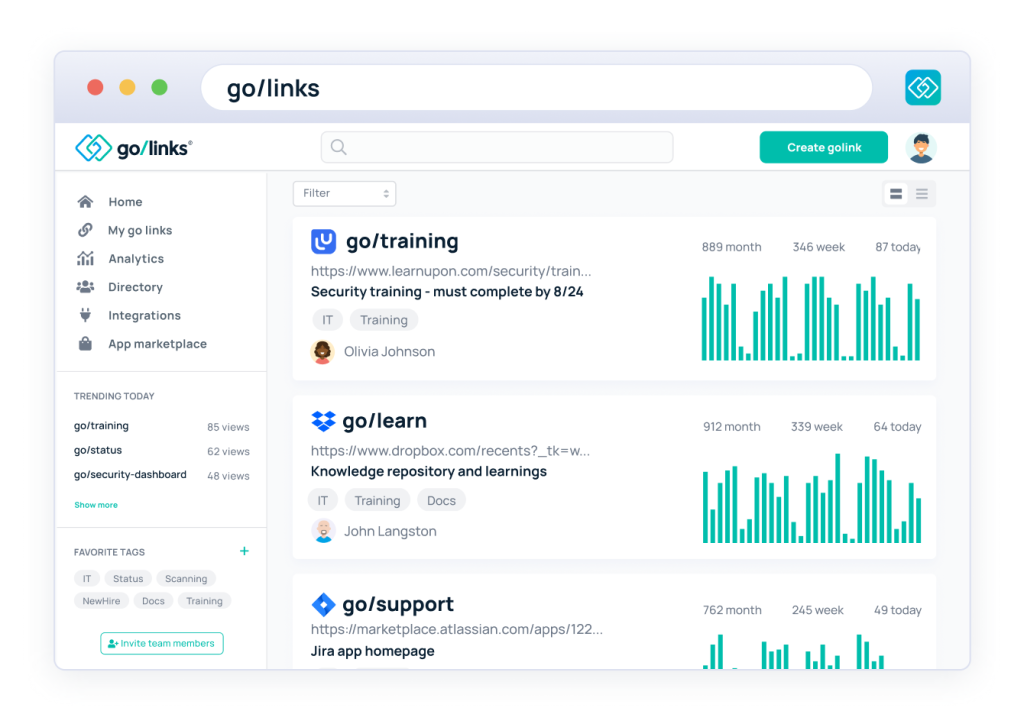 GoLinks are especially helpful for disseminating resources since your team can always change the URL that a go link redirects to. That way, even if your support process changes, your go link stays the same — so employees don't even have to bookmark a new URL.
Johan Dowdy, Global Head of IT and IT Security at Asana, has said this has been a huge benefit to the IT team at Asana. Even as the IT team's support processes have changed, employees have been able to access support as easily as ever.
"[GoLinks] really makes the experience of finding things a lot easier," he says. "…it makes the ability to share data and information a lot easier, especially in real-time." 

GoLinks also integrates with most commonly used tools, like Slack, Zoom, and Microsoft Teams. This makes it easy for your support team to direct employees to the appropriate resources, no matter where they're asking a question or seeking support.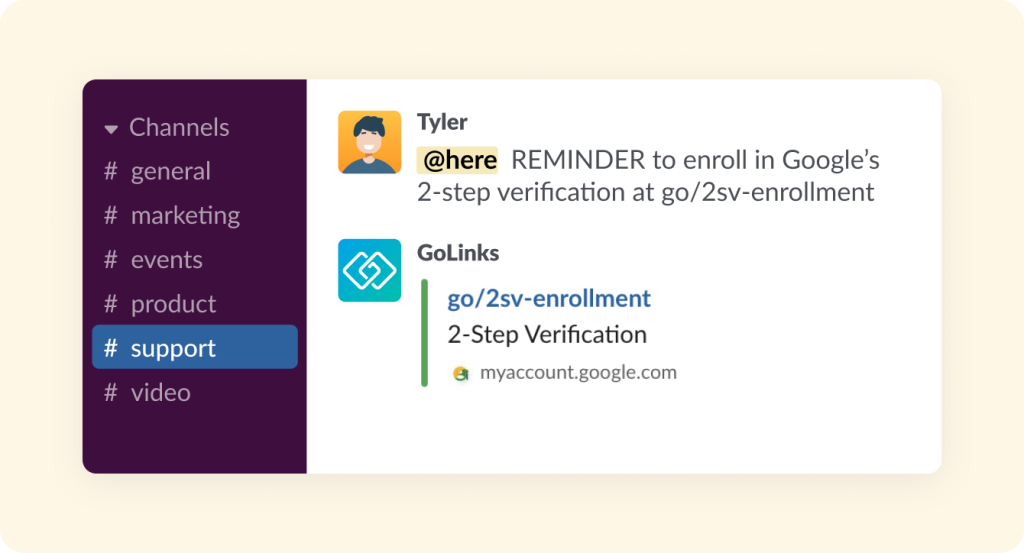 Analyze SaaS Usage with GoLinks
Finally, empower your IT team to manage your company's tech stack more easily by using a spend management tool like GoLinks.
When IT teams manage 100+ apps in a tech stack, it can be hard to keep track of employees' SaaS adoption or the introduction of shadow IT, which can often go undetected until it becomes a security problem. A tool like GoLinks, however, allows you to see just how often teams (and individuals) are relying on apps in your tech stack, and if any new apps are being adopted by employees.
This allows your IT team to understand, at a glance:
If certain tools are being underutilized — which can be a surprisingly significant contributor to revenue leakage.
If there are multiple SaaS apps in your tech stack being used for the same purpose — this can not only waste budget unnecessarily, but make it harder for employees to track down information across your organization.
If employees have introduced any unapproved apps into your tech stack, posing a security risk.

Ready to revamp your IT support process?
Today's IT teams are busier than ever, but the right support process can make it easier for them to address support issues quickly, efficiently, and effectively. To learn more about how GoLinks can help your team collect support queries, disseminate information, and track SaaS usage, schedule a demo with our team.